Introduction
Hello dear readers!
Today I have something special for you – a perfect guide for a deck that we played at the Pro Tour Guilds of Ravnica. For this event, as usual, I was testing with team Channel Fireball/Ultra PRO. My personal score wasn't super exciting, I finished 8-8, with 5-5 constructed, and 3-3 limited record, but Luis Scott-Vargas who played the same list as me (except one sideboard card) finished 2nd, losing to another White Weenie deck.
In the Top 8 of Pro Tour Guilds of Ravnica, we had 5 White Weenies (and one Boros Aggro, which is a similar archetype), so I believe it's a really good time to write about the deck. As always, my main goal is to teach you something about the deck, so instead of talking, let's move to the essential part!
Decklist
I think our biggest achievement of this PT was finding out quickly how good 《Ajani's Pridemate》 is. On Monday before the event, we all agreed to not play our version on MTGO competitive leagues to don't show this tech to the world, and in the end, I think we managed to hide it until the PT (at least we didn't see anyone outside of our team playing the powerful cat).
《Knight of Grace》 is really mediocre everywhere except versus GB and being able to replace him with creature usually bigger than 《Tarmogoyf》 was something that pushed me into the White Weenie. Our version was also slightly ahead in a regular mirror, because of lifegain that comes with playing 《Ajani's Pridemate》, and the cat itself.
General Game Plan and Things You Should Know
This is the important part. I'll try to put here all basic stuff that you should know about the deck, and some tips and tricks.
Even though you're aggro you shouldn't always attack. This deck scales with a number of creatures you have. Your main goal is to hit Ascend fast, flip 《Legion's Landing》, or make your army bigger with 《Benalish Marshal》 or 《Pride of Conquerors》. Usually, when I play a one drop, and my opponent does the same, I don't trade (unless we're playing mirror, and my hand doesn't have many options to take advantage over a wide board).
If you have exactly 10 permanents without Ascend, and 3rd chapter of 《History of Benalia》 going on the stack, you can draw a card, and play 《Pride of Conquerors》 before Saga goes to your graveyard, to give your boys +2+2. It's a corner case, but it actually happened to me during the PT, when I was empty-handed and drew 《Pride of Conquerors》 from the top for lethal.
You always have to flip 《Legion's Landing》 (there's no 'may'), so if you have one in play flipped already, and want to play the second one, it's always good to tap the legendary land first, so you get a 'free mana' post-combat.
When you have 《Skymarcher Aspirant》 in play, 8 permanents, and want to play one permanent card and one land this turn, play a spell first, so when you play a land you get the 10th permanent and get Ascend right away. Less experienced opponents are way less likely to answer for your spell when you're casting 9th permanent, than 10th.
If you're learning a deck, you should mulligan 100% one lander with 7 card hands. It's a nice habit because some of them look so promising, but keeping most of them is a big mistake. Remember, that you're playing 20 lands deck. When you learn more and get some experience you will be able to recognize that ~5% of one lander that is worth to keep, but you will sacrifice a lot of win rate if you start doing it early.
When you have 2+ creatures, play 《Leonin Vanguard》 before combat. The Trigger doesn't require 《Leonin Vanguard》 to attack, so you will gain a free life (or even a +1+1 counter on 《Ajani's Pridemate》) at the beginning of combat.
When you attack with multiple creatures with lifelink you will get a counter on 《Ajani's Pridemate》 for each one that deals damage.
《Dauntless Bodyguard》 ability is not a trigger, so you will be able to protect a creature even with 《Tocatli Honor Guard》 on board. Also, when your opponent let you choose a creature to protect it will happen immediately, so he wouldn't be able to kill the chosen creature 'in response'.
Match Ups and Sideboarding
UR Drakes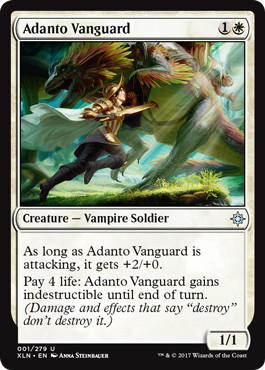 The main reason why we decided to play White Weenie. Very good match up, their mass removal is bad, no answers for 《Adanto Vanguard》, and in general low number of interactive cards. The best card against you is 《Murmuring Mystic》, so I would expect people to play more of this. The best cards against them are 《Adanto Vanguard》 and 《Conclave Tribunal》. You're the aggressor, so you should put as much pressure early as possible. Don't keep slow hands, as it's the best gift that you can give them.

vs. UR Drakes
Jeskai Control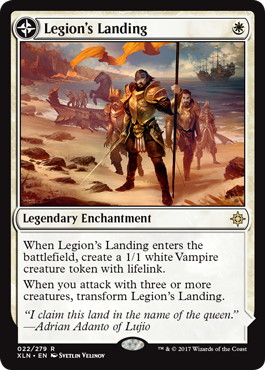 Matchup depends on the number of 《Settle the Wreckage》 and 《Seal Away》 they play in the main deck. Just try to be fast and don't give them time to draw additional cards. The Deck is full of over costed answers and card draws, so you give them a really hard time with your good draw. The Main goal is flipping 《Legion's Landing》, as they don't have much to do about it.
Always kill the 《Crackling Drake》, when you have 《Conclave Tribunal》, because 《Deafening Clarion》 + 《Crackling Drake》 might steal the game pretty easily. Postboard they have more removal, but you have a new plan. Don't be afraid to attack into 《Settle the Wreckage》 when you have 《Experimental Frenzy》 or 《Banefire》. Mana advantage works really good for us, and 《Experimental Frenzy》 is almost unbeatable if they don't destroy it right away.
Be careful of 《Lyra Dawnbringer》 or 《Rekindling Phoenix》, always have 4 《Conclave Tribunal》 against control. The reason why you want to cut 《Skymarcher Aspirant》 on the play and 《Healer's Hawk》 on the draw is 《Ajani's Pridemate》. On the play, with 《Healer's Hawk》 turn one you can get out of 《Deafening Clarion》 range before they can cast it, but on the draw, it's not possible, so you want more aggressive one drop.

vs. Jeskai Control
-2 《Healer's Hawk》 (on the draw) or, 《Skymarcher Aspirant》 (on the play)
Mirror
I expect 《Ajani's Pridemate》 version to be more popular right now, so it will be really hard to get an edge. If you expect a lot of White Weenie in your meta, you should definitely add 4th 《Baffling End》 to your sideboard. 《Pride of Conquerors》 and 《Benalish Marshal》 are the most important cards, so the general rule is – if you have them, try to make your board as wide as possible, if you don't, try to trade early.
Always try to cast 《Ajani's Pridemate》 on turn two if you have a lifelinker on the battlefield. Getting him bigger early is the best bonus you can get, as it attacks and blocks really well. It's always more important than trying to flip 《Legion's Landing》 etc (you can easily flip it later, while if you don't play 《Ajani's Pridemate》 early you will lose value forever).

vs. Mirror
Mono Red
This matchup is pretty bad. 《Goblin Chainwhirler》 is a nightmare. Game one you should go all in, and just hope they stumble. There is no way to win a 'fair' game if they draw a reasonable hand. Post-board things are different. You have way more tools to win the game and it's kind of 《Experimental Frenzy》 war, while you can answer their 《Experimental Frenzy》, and they can't kill yours. Just play like a control and try to win the late game. Aggro plan almost never works. Try to trade as much as possible, and keep removal for important cards like 《Runaway Steam-Kin》, 《Goblin Chainwhirler》, 《Experimental Frenzy》.

vs. Mono Red
+3 《Baffling End》 (if you have 4, because of White Weenie match up, you should also bring it here)
-2 or -3 《Skymarcher Aspirant》 (depends on number of this)
Golgari Midrange
Everything depends on their build. The more 《Wildgrowth Walker》 or 《Doom Whisperer》 they play the main deck, the worse it is for white mages. You can never beat them if they have everything, so you always should make a plan to play around certain things.
For me usually, the best plan is to make 《Ajani's Pridemate》 big enough to survive mass removal and try to protect it with Bodyguard from 《Ravenous Chupacabra》. When you don't draw your cat, try to go wide and hope they don't draw 《Find+Finality》 or 6th mana. GB always has a better late game, than White Weenie, so being patient and playing the game slowly doesn't work. Try to find one hole in their plan, and exploit it!

vs. Golgari Midrange
If they have 《Doom Whisperer》, you should keep 2 《Conclave Tribunal》 and cut 1 《Legion's Landing》.
Boros Angels
Game one is good, games 2 and 3 are nightmares. You're the way faster version of Boros Angels, and being aggressive usually works, unless they play turn 5 《Lyra Dawnbringer》. The angel is really hard to beat, and you have to kill it right away, so better have 《Conclave Tribunal》 ready. Some other creatures like 《Rekindling Phoenix》 or 《Resplendent Angel》 are annoying, but beatable if you go wide and don't give them enough time to prepare a defense.
Post-board, when they bring mass removal it's not that easy anymore. It's almost impossible to go through their guard fast, so you should play a control war against them. Bring the control stuff and try to win the game with 《Experimental Frenzy》. It's not gonna be easy, but there's no better way to do this.

vs. Boros Angels
《Baffling End》 is a trap, because other than 3 mana angel you don't have anything that you really care about killing, and it might be a dead card too often.
Conclusion
I really recommend to at least try this deck. After the PT I expect to face slightly more hate against White Weenie, which can give us a hard time, but I'm pretty sure, it's not gonna last long, and after that White Weenie will be great again. Even though it's a 20 lands aggro deck, it's not that easy to play, and mastering it takes time.
Understanding whether you should attack or not is really challenging and might not be obvious the first time you play with the deck, but if you spend enough time to learn the deck, you won't regret it. Remember, hard work pays off!
Thank you for reading, and see you next time!