Introduction
War of the Spark finally hit Standard and I couldn't be more excited. Since Arena came out, I found myself in the shoes of a brewer. I think I just needed a way to channel all this brewing energy inside me. Or maybe I was too lazy to bother building decks on Magic Online.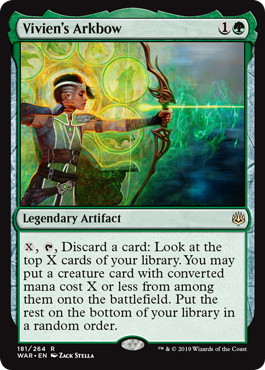 I started with a 《Vivien's Arkbow》 deck, featured in the Hareruya Wayfinder, a deck I enjoyed building and that may have potential. While playing that deck, I got paired against SpecialK589 (Paul Kaczorowski), who crushed me with a deck that really inspired me. At the end of our match, and with the help of some screenshots, I rebuilt the deck and changed a few things I didn't like (the original version had 《Evolution Sage》, which is a build option). This is more or less how it looked like:

The idea was to use Explore creatures to fill your graveyard with more Explore creatures and Planeswalkers and bring everything back with 《Command the Dreadhorde》. 《Wildgrowth Walker》 is the glue that sticks everything together as it gains you life for each Explore creature that arrives on the battlefield… and that comes back from the graveyard.
I loved the concept (graveyard shenanigans and me… don't need to say more), so I started working on it. Man was that complicated. When I first submitted this article, the list was almost finished. After a few more days of testing, I think I reached a version that became super competitive (Paul and I reached Mythic on Arena in a matter of hours): here's the list I have for you:
Command the Superfriends
There is a lot to say about this deck, and since it's four colors, a lot of options are available too.
Problem #1: The Manabase
How do you fix a deck that runs green early drops, Planeswalkers in all four colors, and a double-black card at the end of the curve? I tried a lot of things and here's what seems to be working the best:
It's possible that the land base is wrong, in terms of colored mana and Shock/Check lands. You'd prefer to not lose too much life as it will be relevant when you cast 《Command the Dreadhorde》 and you want to play your spells on curve (so not have comes-into-play tapped lands). After hours of game play, this is what I came up with and that's been working just fine.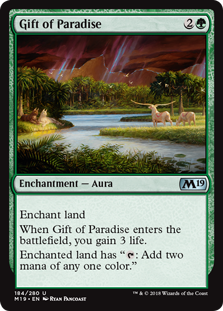 But it's not the only problem. With 24 lands, if you want to reliably cast a card that costs 6, including double black, you need to do something about it. For a while, I tried 《Gift of Paradise》, which would solve the extra mana you need, plus the double black. However, I would go down to 22 lands not to flood, and sometimes I wouldn't hit the 3rd land (and wouldn't be able to cast it), or would just draw too many mana sources.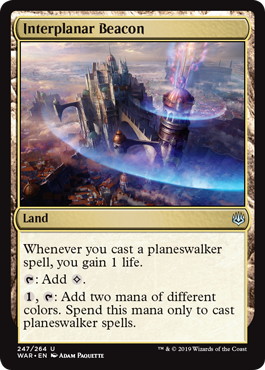 《Interplanar Beacon》 fixes a lot of your problem by single-handedly casting all you gold Planeswalkers (it also makes the deck viable) and gain a lot of life which is relevant to survive the early turns and buff your 《Command the Dreadhorde》.
The early version had 《Incubation Druid》 and 《Jiang Yanggu, Wildcrafter》, but the 《Incubation Druid》 were shot too easily in the early game and 《Jiang Yanggu, Wildcrafter》 wasn't doing enough on his own.
《Bond of Flourishing》 was the right mix of mana fixing in the early game and digging for a threat in the later game. The life it gives you is relevant as you want to keep your life total as healthy as possible to allow yourself to bring back as many permanents from the graveyards as possible.
The one 《Swamp》 adds a black source to the deck (that really needs double black) and gives you a target for 《Field of Ruin》 and 《Assassin's Trophy》.
Problem #2: The Creatures
Playing 4 《Wildgrowth Walker》 alongside 4 《Merfolk Branchwalker》 and 4 《Jadelight Ranger》 is the obvious call. It allows the deck to randomly beat Mono Red – the shell has already proven that it worked – and have draws that can put early pressure on control decks while you build up your strategy.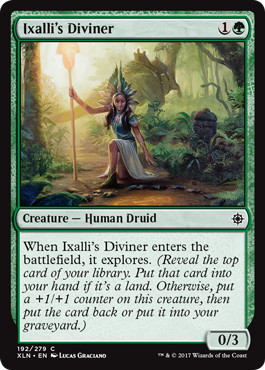 Now the thing is, the deck is low on two-drops and the mana isn't able to support 《Seekers' Squire》. Against aggro decks, this could be a little "light", that's why I decided to run 《Ixalli's Diviner》. I'm going to agree with you, they aren't very exciting, but they do their job. I wanted to have at least one more Explore creature to make sure I can fill the graveyard and defend my early Planeswalkers. 《Ixalli's Diviner》 happens to be the only one available.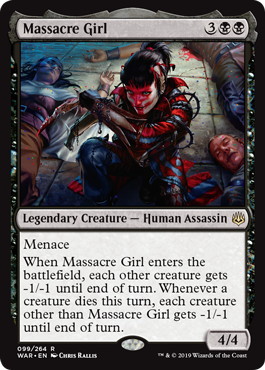 For a while, the deck folded to white weenie and wouldn't be able to come back from the 《Hero of Precinct One》 draws from Esper Midrange. It all changed when I added 《Massacre Girl》. The Legendary Assassin solved most of the problems the deck had and that I was trying to fix. I didn't want to add main deck mass removal like 《Golden Demise》 which are too situational and don't fit the deck's strategy.
《Massacre Girl》 gets you out of seemingly unwinnable setups, can be brought back with 《Command the Dreadhorde》… and can just be a threat tough to deal with. Be careful to order your triggers correctly if you bring her back along with 《Wildgrowth Walker》 and Explore creatures. You want your 《Wildgrowth Walker》 to be around when the Explore triggers resolve so you gain the life back (put the 《Massacre Girl》's trigger on the stack first).
Problem #3: The Planeswalkers
What's the right mix of superfriends?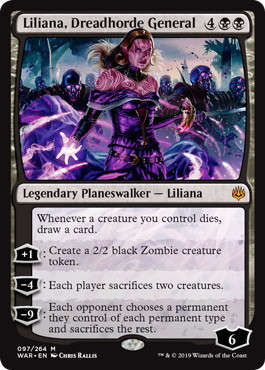 In the early versions, 《Liliana, Dreadhorde General》 was the top hitter. Your gameplan was to either play to 《Command the Dreadhorde》 or to 《Liliana, Dreadhorde General》. Slowly but surely, I figured that 《Liliana, Dreadhorde General》 wasn't as good as she looked.
Sure, in some games, there's nothing your opponent can do. But most of the time, it's stuck in your hand, when it's in your graveyard, you don't want to bring it back for 6 life as it won't always kill the threat you want to kill (a Planeswalker or a specific creature for example). It's just not worth the investment. At 6, we have 《Ugin, the Ineffable》. It's probably one of the only card I still consider cutting: it's great, but most of the time overkill.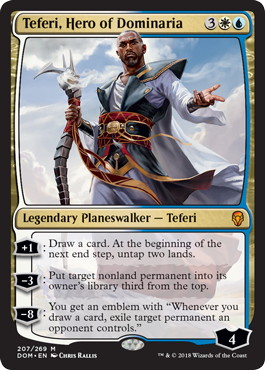 Just one notch under, at 5 mana, we have 《Teferi, Hero of Dominaria》. He is not as good in this deck as in a control deck as you can't really use the mana from the lands you untap at the end of turn, but it's still great. You want your big Planeswalker to get rid of a threat, any threat. he's -3 gives you just that.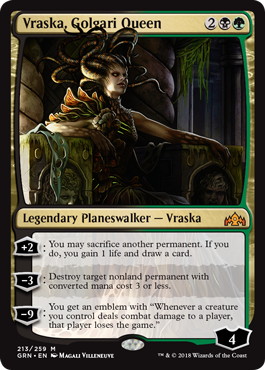 At 4, we have 《Vraska, Golgari Queen》. She's a great way to deal with small to average creatures (including 《Benalish Marshal》 and 《Thief of Sanity》), help you gain some life and draw cards in long games.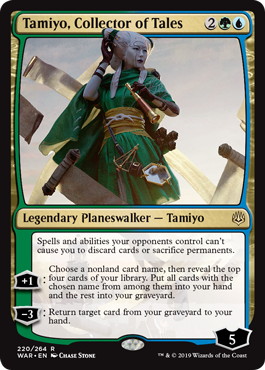 And one important piece of the puzzle: 《Tamiyo, Collector of Tales》. She helps you find your 《Command the Dreadhorde》, or bring it back from the graveyard if it's been discarded or played while filling up your graveyard with crucial elements (more 《Wildgrowth Walker》, one of each Planeswalker). When ticking up and looking to cast a big 《Command the Dreadhorde》, don't name a card that you want in your graveyard (as you would put it in your hand).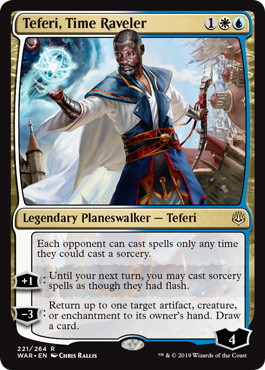 At 3, we have 《Teferi, Time Raveler》, a great tempo play (if you manage to play it on turn 3) to bounce a creature, and a key player to beat control decks. When you cast a huge 《Command the Dreadhorde》, usually by paying all but 1 or 2 life, you'll most likely regain life with 《Wildgrowth Walker》, unless they kill it with the Explore triggers on the stack. He makes sure it doesn't happen, so be careful if you don't have a 《Teferi, Time Raveler》 or not bringing one back.
《Narset, Parter of Veils》 helps you find other threats while keeping your opponent from drawing too many cards. 《Kaya, Orzhov Usurper》 does some crowd control on critters while being able to gain your life.
There are a lot of other interesting Planeswalker that could make the cut, some of them are in the sideboard for specific matchups:
《Dovin, Hand of Control》 keeps Izzet Phoenix in check, both on the board (by canceling a 《Crackling Drake》 attack) and in the graveyard (to keep them from playing too many spells).
《The Wanderer》 is great against any deck running big creatures and burn spells. In the current metagame, it doesn't deserve its maindeck slot as it's useless in many matchups. However, it is nice to be dealt no damage from 《Command the Dreadhorde》 when it's in play (you still take the damage if you bring it back from the graveyard.) Also, keep in mind that it will prevent all the damage from "fights", which will save your 《Kraul Harpooner》 every time.
《Sorin, Vengeful Bloodlord》 gives you a way to gain an insane amount of life when you have a big 《Wildgrowth Walker》, brings back dead or milled creatures repeatedly and some reach to tick down opposing Planeswalker. Also great with 《Kraul Harpooner》 (your creatures have lifelink during your turn, so you'll gain life when it fights).
Honorable mentions (and by that I mean Planeswalkers that were once in the deck but that have left since):
Problem #4: the Sideboard
It took me a while to figure out what I really wanted there, but I'm pretty happy with the sideboard now:
vs. Mono Red
vs. Mono Red
With so much lifegain, unless Mono Red has their best draw on the play, it is a pretty good matchup. They would spend a lot of time in the early turns killing your Planeswalkers (that will net you life with 《Interplanar Beacon》), 《Massacre Girl》 would eventually reset the board, not counting that you can just win with 《Wildgrowth Walker》 alone.
vs. Esper/Grixis (Heavy Control decks with counterspells)
vs. Esper/Grixis
Against control decks, you will need to board in the last 《Teferi, Time Raveler》 to dodge the counterspells. These are usually pretty good matchups as you'll overload them with threats and a single 《Command the Dreadhorde》 will seal the deal. 《Kraul Harpooner》 is again there to fight 《Thief of Sanity》. Don't bring them in against WU Control obviously.
vs. White Weenie
vs. White Weenie
A pretty tough matchup that can be turned around completely by 《Massacre Girl》. Just like in most aggro matchups, try to survive the first couple of turns in order to play your powerful spell on turn 5 or 6.
Conclusion
I haven't covered all the matchups, but you should get the just of it by now. I hope you'll enjoy playing the deck as much as I do, and good luck!
Thank you for reading and if you have any questions, you can come to ask them on my twitch channel. Oh, and I'll soon be giving away Hareruya products, so don't forget to tune in and follow!