Introduction
Today, we will draft with: War of the Spark
I did a simulation of the 8 first pick of a draft and asked 4 Hareruya Pros Players what they would pick.
Here are the 4 gentlemen who accepted to participate in this experience:
For more details, please visit here: Hareruya Pros
It will be interesting to see if they will do the same choices or not.
Pick 1
Javier Dominguez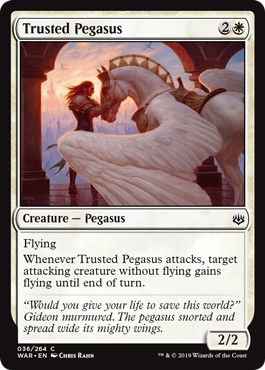 Even though there are fine playable cards of other colors I just think 《Trusted Pegasus》 is the best card of the pack.
Petr Sochurek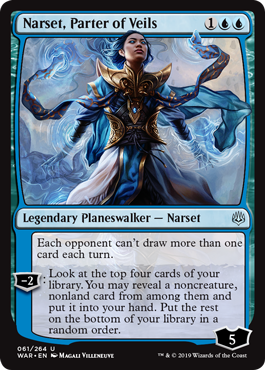 《Narset, Parter of Veils》 requires some setup to be good, but I believe that it's power level is high enough to justify that, the second best card is 《Bloom Hulk》, but there are a lot of 4 drops in the set and it's also less important in the best green decks (the x-color ones)
Lee Shi Tian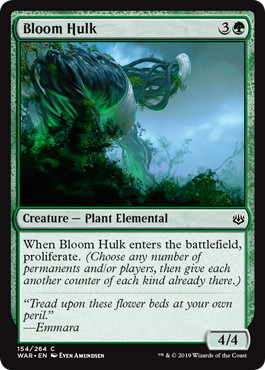 I want to pick 《Narset, Parter of Veils》, but my experience told me blue is over-drafted all time. I don't mind sending the player on my left to blue spell based deck (where 《Narset, Parter of Veils》 shines) and I draft a creature based Proliferate deck.
Jason Chung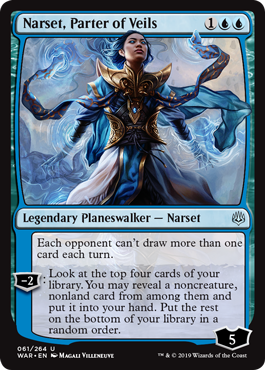 I prefer first picking a planeswalker especially one as powerful as 《Narset, Parter of Veils》. At the minimum, it fetches two non-land cards as long as we fill our decks with spells.
Pick 2
Javier Dominguez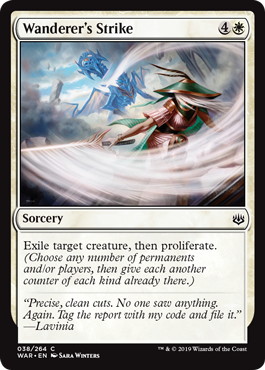 《Ob Nixilis's Cruelty》 is clearly a better card to me, but I think staying in the white color is better here.
Petr Sochurek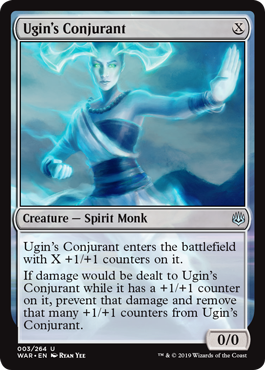 This is a close pick again, but it's still super early and I know for sure that I will put 《Ugin's Conjurant》 in my deck regardless and it's going to be great (always fills a curve + great late game).
Lee Shi Tian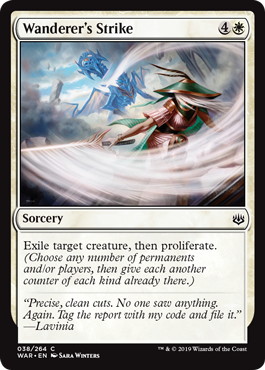 A good removal and Proliferate is simply good and in line with what we did in pack one.
Jason Chung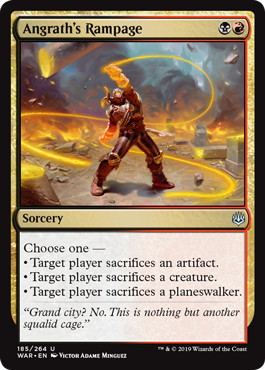 If we want to stay open we could pick 《Ugin's Conjurant》 but I prefer the more powerful pick in the planeswalker.
Pick 3
Javier Dominguez
More Pegasus, yay!
Petr Sochurek
It's possible that the black card is a better pick, but 《Saheeli, Sublime Artificer》 keeps my option more open.
Lee Shi Tian
I will keep my eye on any 《Wardscale Crocodile》 as they are very good buddies.
Jason Chung
We have already picked up two controlly noncreature spells so Saheeli slots perfectly into our gameplan.
Pick 4
Javier Dominguez
The curve is the most important thing in a 《Trusted Pegasus》 deck, and it's not like the other options are very exciting either.
Petr Sochurek
Best card in the pack that goes well with my walkers.
Lee Shi Tian
It's big and the Trample ability is relevant in many situations.
Jason Chung
Another removal spell, we are aiming to be a control deck looking for some mana fixing to allow us to play Grixis.
Pick 5
Javier Dominguez
I will try to draft white if possible, but the power level of this card is too high compared to the rest of the deck.
Petr Sochurek
Broken uncommon, not close.
Lee Shi Tian
It is a fine splash lot of the time. Also, we could go UG if white turns out to be closed. Green is capable of splashing in the set.
Jason Chung
Another spell that interacts well with our planeswalkers including getting them back. It will be easy to get a two for one too since we already have multiple walkers.
Pick 6
Javier Dominguez
I keep trying to draft the white aggro deck.
Petr Sochurek
You obviously don't want to play many 6 drops so the 5/6 isn't a high pick, but there is nothing in this pack anyway (the 4/3 isn't great in UR) and it's going to be good in my deck, so I would just take it.
Lee Shi Tian
Jason Chung
Unfortunately no good cards in our color, but the other way to look at it is the person we are passing to is unlikely to be in our colors.
Pick 7
Javier Dominguez
While I think 《Makeshift Battalion》/《Rising Populace》 are slightly better cards, I still go with the curve.
Petr Sochurek
Potentially a very strong card that I can play/sideboard/splash.
Lee Shi Tian
I have no clue how the card still in the pack. Remember you can Proliferate opponent's creature with +1/+1 counters to put them into 《The Wanderer》 range.
Jason Chung
Although this planeswalker isn't very good, it is quite late and also combos with some cards that exist in the format (《Command the Dreadhorde》) and we don't sacrifice much picking it.
Pick 8
Javier Dominguez
At this point, I'm clearly a white drafter for this draft and this is an excellent trick.
Petr Sochurek
Still not really sure which colors I am, so sticking to picking the best cards, 《Ob Nixilis, the Hate-Twisted》 can be very powerful.
Lee Shi Tian
Good combat trick for fatties. Also could lead to potential Proliferate value afterward.
Jason Chung
Lol. Nice 8th pick.
Conclusion
The first pick was very close and it influenced the players a lot during the rest of the draft.
You can see people opinions about this pick here.
What is your Pick ? p1p1 (next draft with pro article on https://t.co/0OBLzoetW4)
"Picture of the pack in the comment"

Pros : @JavierDmagic @leearson @PetrKikac and @Sqlut #hareruyapros #draft #mtg #WarOfTheSpark #MTGArena

— Jérémy Dezani (@JDezani) 2019年5月3日
War of the Spark is a very good set to draft where some pick can be very interesting.