Introduction
Hi everyone, I have been playing a lot of Esper Control the past few weeks and have been having a good result when the format was more about White Weenie, Mono Red Aggro, Esper Midrange and Simic Nexus. This is the list and sideboard I was playing if anyone is still interested in Esper Control but I would not advise so if able as I believe it is not as good as before.
Esper Control
The meta is changing every week and with the rise of Planeswalker decks. Esper Control is starting to have trouble answering everything and with so many things that need to be removed, 《Teferi, Hero of Dominaria》 also have to act as an answer to the permanent which make winning with it harder and also the risk of running out of win condition.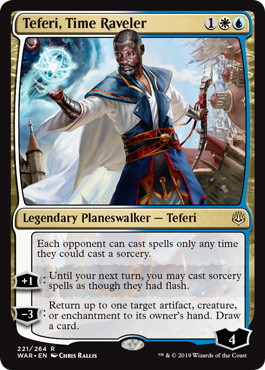 However, I am impressed with the Planeswalker package when I was playing Esper Control. The counterspell was much worse in this meta, with 《Teferi, Time Raveler》 blanking all your counterspell when it resolves which can be devastating and sometime on the draw, it is hard to keep up 《Absorb》 while needing to answer threats also.
I just felt that the deck lacks a win condition that allows me to close the game fast when I was ahead or pull back when I was behind. I tried 《Liliana, Dreadhorde General》 and 《Ugin, the Ineffable》 and creating a 2/2 on turn 6 is not what I wanted.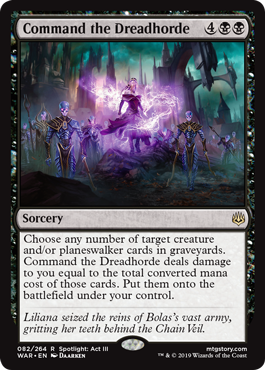 Whenever I was playing against 4C 《Command the Dreadhorde》, I was always impressed when they cast the card against me. I began to explore with it in Esper and the card certainly felt broken to me whenever I cast it. These are few of the scenario that no other card could win me the game. I managed to 5-0 in the first league I played with it.
Esper Super Friends
This is the decklist I have been playing and tuning and seeing Oliver Tomajko placing 2nd in SCG Open with Esper Super Friends make me confirm my deck choices more.
The Card Choices
I would like to explain the card choices in the deck.
This is the bread and butter for the deck. It has the ability to kill creatures or Planeswalker while gaining you enough life to cast 《Command the Dreadhorde》. It also combo well with 《Teferi, Time Raveler》, allowing you to bounce 《Oath of Kaya》 for another reuse while drawing a card.
Since we are also playing so many Planeswalker, the passive ability is also quite useful if a opponent is trying to attack your Planeswalker which buys you enough time to stabilize the game.
I like 《Search for Azcanta》 a lot. It helps to fuel your graveyard while also smooth out your draw. With so many high impact cards to find with 《Search for Azcanta》, not playing it is a mistake. Against Midrange and Control deck, 《Search for Azcanta》 allow you to outgrind them by digging for the specific cards you need for the matchup.
With 4 《Narset, Parter of Veils》 and also 2 《Search for Azcanta》, digging for the 1-of is actually quite easy. 《The Elderspell》 have a lot of use since most of the Planeswalker like 《Narset, Parter of Veils》, 《Teferi, Time Raveler》 will be left with 1 loyalty when use and it can be used to destroy to ultimate 《Teferi, Hero of Dominaria》 immediately which act as a mini combo. It can also save you in some unwinnable situation by killing all their Planeswalker.
With the increase of 《Arclight Phoenix》, having an out to remove them is very useful.
Normally, the deck just needs to buy time and don't really care about your own Planeswalker dying as most of the Planeswalker just replace itself when we use its ability. 《Teferi, Time Raveler》 also allow us to tempo our opponent while leaving a Planeswalker behind that might generate card advantage if it survives.
Spells that Interfere with your Opponent
I like having 8 ways to interfere with an opponent on turn 2 so that I am able to land a turn 3 Planeswalker uncontested.
This is the card that holds the deck together. Since we are a control deck, we can discard or kill opponent creatures or Planeswalker to reanimate it with 《Command the Dreadhorde》. The format is full of stuff that can punish you for not having a way to close up the game when you are ahead.
I like 《Hostage Taker》 to combat 《Legion Warboss》 from Jeskai Planeswalker as they only can bounce it with 《Teferi, Time Raveler》. It is also best against any creature matchup, as they usually do not keep removal for it.
Conclusion
That mark the end of my article.
If you have any questions regarding the deck or sideboard, I will be happy to answer them in the comments section or via Twitter. Thanks!
Kelvin Chew (Twitter)