Final Decklist and Result
This is the list I settled on for Mythic Championship III. It's a relatively boring version of Esper Control. In the event itself I had a strong start going 6-0 and becoming the only undefeated player on day one. Unfortunately my luck dried up quickly on day two and I was out of the tournament after only 2 more rounds. Still I'm happy with how I did and glad that I did well enough to qualify for the next Arena MC.
Sideboard Guide
The Mirror

Against Esper Control Mirror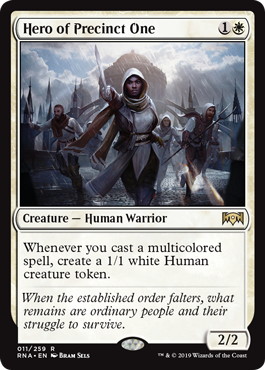 It may seem like a bit of a strange 2 of, but I generally think very few cards actually need to be 4 or nothing. In this case I didn't really want to draw multiples. Also there were open decklists and when I boarded them in against decks with creature removal I wanted their sideboarding decisions to be slightly more difficult.
Esper Hero

Against Esper Hero
This is a bit of a tough match up to sideboard for. The key is to try to balance answers for their creatures while also being able to battle through the supply of Planeswalkers.
Mono Red
Mono Red is probably the easiest matchup in the format for Esper Control. The 《Basilica Bell-Haunt》s were not added specifically for this matchup but they are quite good here. All you really need to do is not get run over in the early game and have an answer for 《Experimental Frenzy》. Esper Control is pretty good at doing both of those things. Also with all of the life gain in Esper it is pretty hard to get burned out.

Against Mono Red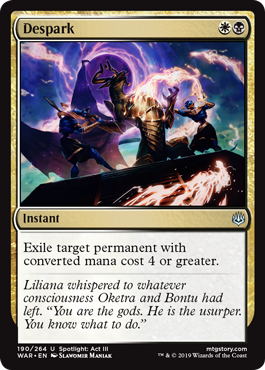 You have to have a decent amount of answers to 《Experimental Frenzy》 and 《Despark》 does that and also kills 《Chandra, Fire Artisan》 which can be a problem.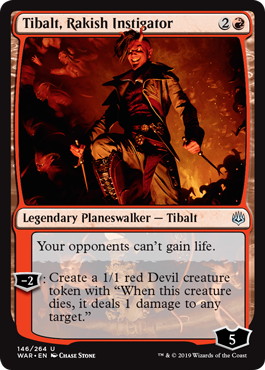 I think Tibalt is a reasonable sideboard card but it is not one that you really have to keep in mind too much. The tokens often get swept up with 《Cry of the Carnarium》 or 《Kaya's Wrath》 and the static ability is only somewhat inconvenient.
Mono White
Mono White is a bit scarier than Mono Red. I think Esper Control has the edge but a lot more can go wrong. Mono Red is most threatening when it casts a bunch of creatures and Mono White is much better at doing that. They have better creatures and no burn spells that don't really accomplish much.

Against Mono White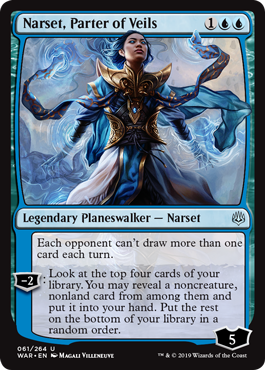 You often don't get to get 2 cards out of the Narset and the static ability doesn't do anything against Mono White but digging for 《Kaya's Wrath》 or 《Cry of the Carnarium》 can still be pretty nice. Keeping 1 or 2 in the deck is reasonable.
Izzet Phoenix
I think this matchup is pretty close. Narset is pretty good against them but it is not always easy to keep her around. A lot of the games don't feel super close in either direction but I suppose that is how the format is with so many powerful cards running around.

Against Izzet Phoenix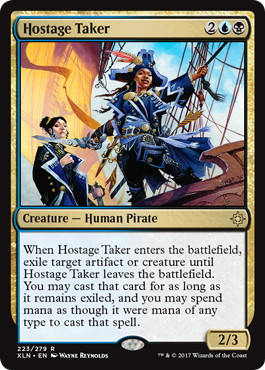 It can be a nice answer to 《Sorcerous Spyglass》 if they have it.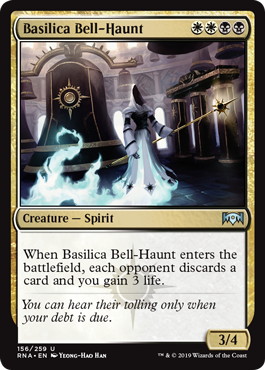 It doesn't get to block very well in this matchup but it can attack the occasional Planeswalker.
Bant Ramp
I think this matchup is also relatively close. 《Kaya's Wrath》 is usually pretty good against them. Also taking their payoff spell with 《Thought Erasure》 can be really back breaking sometimes.

Against Bant Ramp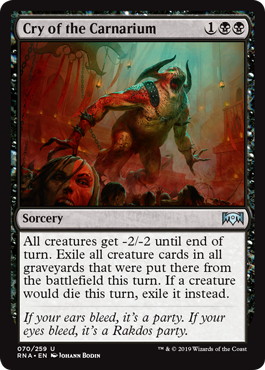 It is a pretty good answer to various ramp creatures. It is a particularly good answer to 《Paradise Druid》 since it gets around Hexproof.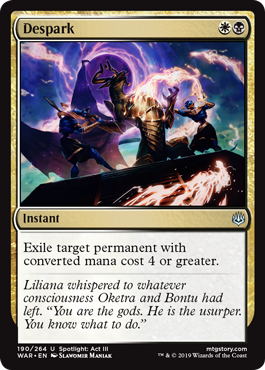 It is important to answer 《Nissa, Who Shakes the World》 and 《The Immortal Sun》.
Sultai Dreadhorde
You both get to cast 《Command the Dreadhorde》 but you don't have to play a bunch of green creatures in your deck.

Against Sultai Dreadhorde
Conclusion
Thanks for reading,
Gregory Orange (Twitter)