Introduction
Hello everyone! My name is Ricardo Beja, a Hareruya Hopes member from Portugal and I got 2nd place at the Red Bull Untapped Qualifier in Brussels.
The event was limited to 226 players that were selected to play it and I was very lucky to be one of them. The tournament was 3 rounds of Modern Horizons sealed, 5 rounds of Modern and then Modern again in the top 8. Both formats used the London Mulligan. With this result I qualified for Red Bull Untapped Finals in London on 4th August.
Deck Choice
Testing Process
Before Modern Horizons came out, I was playing Tron most of the time but with Modern Horizons being released it didn't look well positioned, so I decided to try out some other decks like Izzet Phoenix, Mono-Red Phoenix, Burn and UW Control.
Over time it was very clear that Hogaak Bridgevine was the deck to beat for this tournament.
From the start I decided that I didn't want to play Hogaak mirrors, so I wanted a deck that could beat it while being good against the rest of the metagame.
Hogaak was so oppressive that it was keeping away several decks from the metagame, so the metagame was very restricted compared to normal. That's where UW Control shines because it had the tools to beat graveyard strategies like Hogaak and with a predictable metagame you could tune it to beat what you expected to face.
During the testing I kept doing good results at MTGO Leagues and I Top8ed the MCQ on the weekend before the Red Bull Untapped Tournament, going 8-1 on the swiss and losing on Quarterfinals.
This is the decklist I played:
New Cards to UW Control
"It's insane how good it is" – These were my words in my top 8 profile for why this was the best card for me during the Swiss rounds. It lets you easily control the game with your opponent only being able to play at sorcery speed. You can use it to bounce hard to deal with permanents like enchantments and artifacts and counter them on the way back.
Provides you card advantage and card selection while possibly disrupting your opponents by not letting them draw extra cards.
It helps you find most of the cards you need for the matchup you are playing and can also team up with 《Vendilion Clique》 to put a card from your opponent hand on the bottom of their deck without them drawing a card from Clique.
Allows you to counter problematic non-creature spells early in the game and protect your planeswalkers later when you tap out for them. The card disadvantage of playing a free Force normally doesn't matter that much because you get card advantage with your planeswalkers. It's great against non-creature combo decks and the exile clause is very relevant against 《Faithless Looting》.
A great card that is not seeing as much play because 《Force of Negation》 got printed at almost the same time but at least one in the sideboard is nice to have as an upgrade to 《Negate》.
Card Choices
A Portuguese player named João Moreira (MTGO grinder Do0mSwitch) was having a lot of success with UW Control in MTGO premier events and he had a well-tuned decklist so I started playing it and made some minor changes.
Here I'm going to talk about some card choices in the deck:
I needed a way to attack Hogaak decks maindeck while also being good or at least OK against other decks. 《Surgical Extraction》 is good vs Hogaak, UR and Mono-Red Phoenix, Scapeshift, Tron and Dredge while also being OK but not great against the mirror.
Great against Aggro decks and Hogaak. After I stopped Hogaak's graveyard shenanigans, I needed a way to stop the creatures and this was a great way to do it.
Why 《Supreme Verdict》 over 《Terminus》? Narset allows you to find cards with her ability and it's better to find a Supreme than a 《Terminus》. Also the only cards that let me put 《Terminus》 back on top were 2 《Jace, the Mind Sculptor》s.
Why 《Supreme Verdict》 over 《Wrath of God》? It's a blue card you can exile to 《Force of Negation》.
Why play a 《Wrath of God》 in the sideboard over 《Supreme Verdict》? It gives you one more diversity vs 5C Humans to better play around their 《Meddling Mage》s, while also being relevant against 《Welding Jar》 and 《Thrun, the Last Troll》.
After sideboard, my opponents were taking some, if not all of their creature removal out and that's where 《Monastery Mentor》 shines. It lets you finish games quickly against combo decks or land decks like Tron and Scapeshift.
With Hogaak being the deck to beat, 4 《Rest in Peace》 were a must. With the banning of 《Bridge from Below》 this number will probably go down to 2 or 3.
《Celestial Purge》 is a card you need to have to answer problematic permanents like 《Aria of Flame》, 《Wrenn and Six》, 《Arclight Phoenix》 and Hogaak, amongst others.
Tournament Report
Sealed Portion (Modern Horizons)

Sealed worried me a little more, because you never know what are you going to get, but when I saw my sealed pool I was happy with it. I had a good enough WB deck with 5 token generators, 5 changelings, 3 ways to pump my team and also 《Giver of Runes》. I didn't have much removal but my manabase let me flashback 《Smiting Helix》.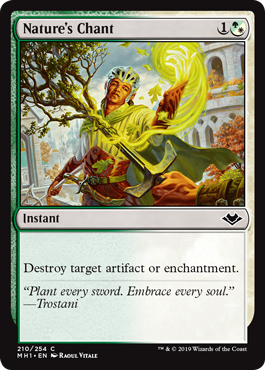 《Nature's Chant》 was good as a sideboard card in rounds 1 and 2 because my opponents had cards like 《Sword of Sinew and Steel》 and 《Force of Virtue》 while also having some artifact creatures like 《Farmstead Gleaner》, so it was never a dead card.
I managed to go 3-0 with it, winning every round 2-1.
Modern Portion
Round 4 – Bant Devoted Druid: 2-0 – Key card: 《Teferi, Time Raveler》
Round 5 – Branco Neirynck on UW Control: 2-0 – Key moments: G1 I 《Brainstorm》ed into 《Vendilion Clique》, 《Teferi, Hero of Dominaria》 and 《Force of Negation》, my opponent played 《Detention Sphere》 that got countered by 《Force of Negation》 and I proceeded to play Teferi. G2 I had more lands than him, so I could play 2 cards per turn while he could only play 1.
Round 6 – UW Control Mirror: 1-1-1 (Draw).
Round 7 – Marcio Carvalho on Hogaak Bridgevine: 2-1 – I had graveyard hate in all 3 games but I wasn't able to deal with the board in G2 while the other 2 I managed to.
Round 8 – ID.
Quarterfinals – Matti Kuisma on Hogaak Bridgevine: 2-1 – Key moment: I was at 1 life, down a game, facing lethal and got 《Timely Reinforcements》 from 《Narset, Parter of Veils》 to stabilize and turn the game around.
Semifinals – Piotr Glogowski (kanister) on Hogaak Bridgevine: 2-0 – Key moments: Both games I used 《Surgical Extraction》 on 《Vengevine》 and also ripped one from his hand.
Finals – Jund: 1-2 – G1 my opponent lost a lot of life to his own manabase and 《Dark Confidant》, and I was able to kill him, despite a bad boardstate, with 2 attacks from 《Celestial Colonnade》. Games 2 and 3 I couldn't find my answer for 《Wrenn and Six》 and 《Liliana of the Veil》 and I ended up losing.
Sideboard Plans for the Tournament
Hogaak Bridgevine

Against Hogaak Bridgevine
Izzet Phoenix

Against Izzet Phoenix
UW Control

Against UW Control Mirror
Eldrazi Tron

Against Eldrazi Tron
5C Humans

Against 5C Humans
Mono-Red Phoenix

Against Mono-Red Phoenix
BGx

Against BGx
Grixis Urza

Against Grixis Urza
Bant Infect

Against Bant Infect
Burn

Against Burn
Tron

Against Tron
Conclusion
Going into the event, I believed I had the best positioned deck for the metagame I expected to face, and thankfully It was good enough to get to the final. I'm extremely happy to have qualified for the Red Bull Untapped Finals in London on 4th August where I'll be battling Standard on Arena with the other 7 qualifiers on Red Bull Channel, I'm very excited for the challenge!
Going forward, the changes to the deck depends on how the metagame shifts but I expect to cut down by at least 1 《Rest in Peace》 from the sideboard and add some number of 《Stony Silence》 and/or 《Damping Sphere》 if artifacts decks or big mana decks get too popular. I could also see one of the 3 drop creatures in the sideboard being cut to add one of those cards. The main deck 《Surgical Extraction》s could also stay or be gone depending on how the metagame shifts.
I would like to thank João Moreira for passing onto me his knowledge about the deck, it made my testing much easier. I would also like to thanks Hareruya and all my friends for their help and support.
If you have any question, please let me know on the comment section below.
I hope you enjoyed,
Ricardo Beja