Introduction
Hello everyone! Even though I would have preferred to make this article a glorious victory report of GP Atlanta, a 4-3 drop on day 1 quickly thwarted my hopeful plans. Still, I want to tell you all about my testing results over the past months and how my 《Show and Tell》 builds changed during that time of metagame shifts. I hope you find it informative and enjoyable!
My Testing Process with the New Legacy Landscape
After I wrote my first article, the Legacy landscape underwent some major shake-ups in the following months, mostly due to the impact War of the Spark and Modern Horizons planeswalkers had on the format. 《Karn, the Great Creator》 gave strong boosts to existing archetypes such as Moon Stompy, and even "created" completely new ones, like the 《Mystic Forge》 "KarnForge" deck.
《Narset, Parter of Veils》 and 《Teferi, Time Raveler》 were hyped up at the beginning and definitely found their place in some control and midrange decks, but – thankfully for Sneak & Show – didn't have the same lasting impact that Karn and Modern Horizon's 《Wrenn and Six》 had. 《Wrenn and Six》, as a cheap value engine that also enabled 《Wasteland》 recursion and threatened to lock-up the game by going Ultimate, was a perfect fit for RUG Delver, which replaced UR Arcanist Delver as the most popular deck.
Another Modern Horizons card I want to mention is 《Force of Negation》. As a fifth or sixth 《Force of Will》 that could permanently get rid of 《Life from the Loam》 was a welcome inclusion for most fair blue decks. Unfortunately for all combo players, that made it more likely for opponents to pass the "Force-check".
I had been very confident in OmniSneak as my number one deck choice, but the completely new metagame I found when returning to Legacy testing in July meant I had to examine if there were better options available now. The London Mulligan was another factor which made OmniSneak seem less appealing to me. My logic was that the new rule would lead to more mulligans overall, thus weakening 《Omniscience》, which requires two additional cards to combo off, as a card in general.
Following that premise, I wanted to try a Sneak & Show list without 《Omniscience》, with 《Simian Spirit Guide》 as additional acceleration and 《Daze》 as protection, enabling an early and protected combo, even with fewer cards due to more frequent mulligans. 《Simian Spirit Guide》 as an additional accelerant has always been a prudent inclusion alongside 《Daze》 in Sneak & Show, since you often have to set yourself back a turn from comboing when using 《Daze》 reactively. I recalled a 2017 list from Legacy GP Chiba finalist Atsuki Kihara and came to this variation of it after some initial tuning:
Although the list felt powerful and performed fairly well, I didn't like the lowered consistency and more all-in nature that came with maxed out 《Simian Spirit Guide》s. More minor gripes I had with this list were the rather low main-deck blue count of 22 (24+ has been the perfect standard for 《Show and Tell》 decks) and a sometimes awkward manabase with 18 lands and 2-3 less blue sources than the average Sneak & Show list. However, the idea behind including some number of 《Daze》s and 《Simian Spirit Guide》s still resonated with me and I decided to revisit it at some point.
Afterwards, I played Hogaak Zombardment to some success, including a 21-4 run. The deck was very good against the fair blue decks of the time and great at winning through all kinds of disruption, be it graveyard hate, counter magic or removal. It had problems against fast combo, Lands / Dark Depths and most of all against 《Chalice of the Void》 strategies. When Moon Stompy with 《Karn, the Great Creator》 gained popularity online, I abandoned Hogaak and returned to Sneak & Show.
Revisit EurekaTell
Meanwhile, some RUG Sneak & Show lists with 《Veil of Summer》 had been making waves and caught my attention. Even if the splash was relatively free, it didn't seem worth it to me overall after some testing. 《Veil of Summer》 is very effective against counter spells and discard, but I prefer my one mana soft-counters to have more versatility as well as the ability to be used defensively to counter planeswalkers (《Spell Pierce》) or sometimes even cantrips (《Flusterstorm》, 《Pyroblast》). Additionally, 《Liliana's Triumph》, which Veil doesn't protect you from, replacing 《Diabolic Edict》 was another argument against it.
While I didn't find 《Veil of Summer》 worthwhile in Sneak & Show, it did inspire me to revisit EurekaTell, which I had originally tuned for a Top Miracles metagame of 2017 to maximize 《Boseiju, Who Shelters All》's effectiveness. Moreover, 《Eureka》, unlike 《Sneak Attack》, can put 《Omniscience》 into play. Overall, I still always preferred Sneak & Show over EurekaTell, as well as 《Sneak Attack》 over 《Eureka》 specifically, in most open metagames. Being able to jam a 《Sneak Attack》 without a creature in hand is very convenient, mostly since it can often protect you from discard spells and is easier on your mana than needing two of your splashed color right away (this is especially relevant when you have multiple sol-lands, but only one colored mana source). Having to dig for 《Omniscience》 before you can combo off safely is also a huge disadvantage against other Show & Tell strategies, and the mirror is erratic enough already.
Despite these flaws, I definitely wanted to test EurekaTell with the new M20 toys 《Veil of Summer》 and, more obscure, 《Shifting Ceratops》. 《Veil of Summer》 seemed like a great remedy for EurekaTell's weakness to discard and 《Shifting Ceratops》 was unbeatable for most Delver decks at the time. UR Delver was still the deck to beat of the format, and 《Wrenn and Six》 only started getting hyped up. This also meant no recurring 《Wasteland》s in both tempo and control decks, which made a post-board strategy centered around Boseiju more appealing.
During the few weeks testing EurekaTell (alongside my perennial standby Sneak & Show), I easily broke a 70% winrate and especially enjoyed 《Shifting Ceratops》, further accelerated through 《Carpet of Flowers》, as a way to beat UR Delver. This was my last, most tuned, list at the time:
As expected, 《Veil of Summer》 did great work against both discard and counters – especially the usually tough-to-get-around 《Flusterstorm》. My boarding plan against UR Delver back then included boarding out 4 《Force of Will》, 3 《Intuition》 and 3 《Omniscience》 for 3 《Shifting Ceratops》, 3 《Veil of Summer》, 2 《Carpet of Flowers》 and 2 《Boseiju, Who Shelters All》. This blanked their high number of 《Pyroblast》 effects, as well as counters in general, very well and gave me great confidence in the list.
Unfortunately, the Wrenn hype increased (with good reason) around that time, resulting in RUG Delver taking UR Delver's spot as the top Delver deck away. Therefore, to my sorrow, EurekaTell became almost unplayable. 《Tarmogoyf》, which sometimes even grew to 5/6, was a perfect inadvertent answer to 《Shifting Ceratops》. 《Wrenn and Six》 increased the number of 《Wasteland》s in the format dramatically, so Boseiju became more of a liability. Even decks like Miracles and Grixis Control, for which Boseiju used to be very difficult to handle, evolved into 4C Miracles and 4C Control with 《Wrenn and Six》, mana-fixed by 《Arcum's Astrolabe》.
Thankfully, despite rendering Boseiju obsolete, 《Wrenn and Six》 is overall rather unimpactful against 《Show and Tell》 strategies. Your RUG Delver opponent can rarely afford to tap out for it early on, even just to bluff 《Spell Pierce》. The card advantage aspect is mostly irrelevant, unless it includes a 《Fiery Islet》 / 《Lonely Sandbar》. 《Wrenn and Six》 only turns into a real problem if the game goes long enough to Ultimate, where they can often Retrace infinite hard-cast 《Force of Will》s, especially if a second 《Wrenn and Six》 is involved.
Return to Sneak & Show
I returned to Sneak & Show and started testing various configurations to find the right one for the new metagame. The classic main deck that I had been playing since late 2017 still felt as powerful and consistent as ever, but I was set on finding out if I could make a variation of the 《Simian Spirit Guide》 / 《Daze》 tech work without going all-in on it. Since GP Atlanta was less than a month away, further heavy metagame shifts were not to be expected, so I was already looking to find the right GP list for me. That meant a robust high-consistency main deck, with sideboard slots still open and up for change.
Cantrips and ManaBase
The full 12-cantrip suite seemed like a good decision in order to maximize consistency. Although people have had success with 12 cantrips and basic 《Mountain》 and despite a Wrenn-induced uptick in 《Wasteland》s, I have found 12 cantrips to warrant a 《Mountain》-less manabase to run the smoothest. With this configuration, you cast multiple cantrips more often in the same turn and very rarely want to draw or see basic 《Mountain》 in your hand. Even if your 《Volcanic Island》 gets 《Wasteland》ed after resolving 《Sneak Attack》, the high number of cantrips means you can often find another red source very easily, especially if you also play 《Simian Spirit Guide》(s).
Another observation for 12-cantrips builds I have made through years of testing is that you can cut the 4th 《Emrakul, the Aeons Torn》 and still find your combo quickly and consistently enough, while also decreasing the chance of a clunky draw with multiple unneeded creatures. This opens up space for valuable flex-slots.
Disrupt and Flex Slots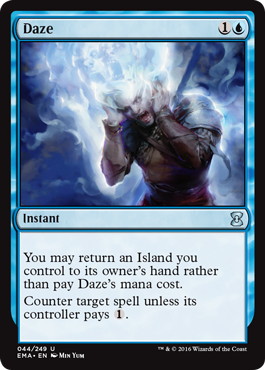 I decided to test 4 《Daze》 instead of the former 4 《Spell Pierce》 or 2 《Spell Pierce》 / 2 《Flusterstorm》, to combat RUG Delver. 《Daze》 is especially effective in a cantrip-heavy build, where you often want to tap out for multiple cantrips during the early turns, instead of leaving up mana for reactive 《Spell Pierce》s. Furthermore, 《Elvish Reclaimer》 became a format staple in Depths and Maverick style decks, which meant a turn 1 《Karakas》 tutor. 《Daze》 is a very clean answer for that, at least on the play.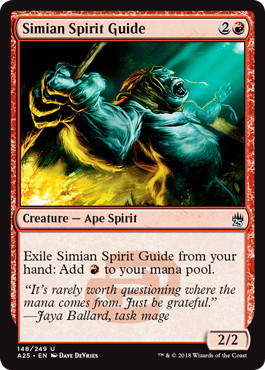 2 《Simian Spirit Guide》 rounded out the flex-slots, helping to power out early combos, even if you have to set yourself back a turn with reactive 《Daze》s.
I started off 25-5 with this list. 1 《Simian Spirit Guide》 eventually got cut for a single 《Omniscience》. I had been down on 《Omniscience》 for some time, boarding it out in most matchups. Still, it is a very useful effect to have access to, even just as a 1-of, since it can give you an out to normally unwinnable scenarios. 12 cantrips and sometimes even 《Griselbrand》 draw activations can help you find 1-ofs more easily.
Winning streak ended at 18-0. 😔🙃

— Jonathan Anghelescu (@JPAnghelescu) September 1, 2019
The updated list started off with an 18-0 run, which ended in round 4 of the September 1st Legacy Challenge. In hindsight, it might have been the shrewdest decision to drop from every league where I was 4-0, not play the list in any Challenges and not tweet about it, to maximize the 4 《Daze》 tech's effectiveness for the GP. Alas, I got too excited and carried away by winning that many matches in a row. Nevertheless, I thought I might be able to use the fact that 《Daze》 was now a known quantity to my advantage. Opponents would be more careful to play around it, if they could afford to. While a RUG Delver player might have tapped out on turn 2 for a 《Tarmogoyf》 before, feeling rather safe behind their own 《Daze》 and 《Force of Will》, they might now wait a turn to not run into my own 《Daze》s. Perhaps I could still profit from some of 《Daze》's upsides, have my opponents expect me to run them in my list, but actually cut them? On the other hand, would 《Daze》 actually become worse if people expect it? How consistently can they afford to play around it and delay their early-game plans?
I wasn't sure how to answer these questions, but I did eventually return to a 《Spell Pierce》 list without 《Simian Spirit Guide》s and with 2 《Omniscience》 a little over a week before the GP.
New Enemy
A worrying trend started by Max Gilmore's "NBC" (no bad cards) RUG Delver build was the sideboard inclusion of 《Karakas》 (sometimes alongside 《Crop Rotation》). This was not only sweet tech against Marit Lage, but also gave them another angle of attack against Sneak & Show. Before, a resolved 《Show and Tell》 + Emrakul was usually enough to beat them (save alpha strike scenarios), now they had an uncounterable answer for your creatures. An early 《Griselbrand》 would still often be good enough to find 《Sneak Attack》 to win through 《Karakas》, but your game-plan against RUG Delver would more often than not include waiting to develop your mana to play around soft-counters 《Spell Pierce》 and 《Daze》.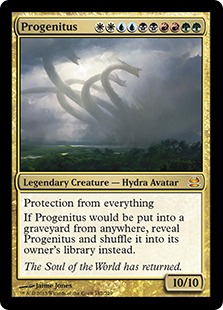 《Omniscience》 used to be an easy board-out against any Delver strategy, now I started leaving them in the main deck to have another out for 《Karakas》. 《Cindervines》 or 《Pyroblast》 + 《Karakas》 could still beat 《Omniscience》 + Emrakul, so I tested 《Progenitus》 instead of 《Omniscience》 for a while. 《Progenitus》 performed well overall, but seemed much worse than 《Omniscience》 in the mirror and against combo decks overall. The interaction with 《Sneak Attack》, which 《Omniscience》 lacks, is a bit of a trap, since dealing a one-shot 10 damage to your opponent will rarely be enough. Even against RUG Delver it would sometimes not be good enough and get raced by 《Delver of Secrets》.
I decided to accept that I would sometimes lose to the 1-of 《Karakas》 from RUG Delver, adjusted my boarding plans accordingly, finished testing with an encouraging 5-0 that wouldn't get posted until Sunday of the GP, and confidently registered the following list (with 《Snow-Covered Island》s instead of regular 《Island》s; online it doesn't make a difference for me).
Final Decklist
The main deck is very straight forward, only -1 《Emrakul, the Aeons Torn》, -1 《Mountain》, +1 《Preordain》 +1 fetch land away from my oldest stock Sneak & Show main deck. Let me explain the sideboard choices a little more thoroughly.
Sideboard Card Choices
I played 2 《Echoing Truth》 for some time, when 《Dark Depths》 was everywhere. 《Abrade》 returned mostly to have a cleaner, permanent answer for KarnForge's artifacts, as well as early 《Elvish Reclaimer》s.
《Pyroclasm》's impact is probably at an all-time low. It used to come in against Grixis and UR Delver as a perfect answer to 《Young Pyromancer》 to buy you more time, now 《Tarmogoyf》 and 《Dreadhorde Arcanist》 render it useless, although you still often wish you had one to get rid of double 《Delver of Secrets》. Although I don't board it in against RUG Delver, I still prefer to have 《Pyroclasm》 available, especially in a GP-sized metagame. Alternatives such as 《Engineered Explosives》 require more mana investment and often don't sweep up all the hate-bears from Death and Taxes or Maverick.
A nod to RUG Delver's dominance. I don't think I would have included Grid in the 《Daze》 build where your main deck is already well-equipped to combat RUG. It's a cheap must-counter against them and has some utility against blue midrange and control decks, although they have more 《Disenchant》 effects to remove it.
Artisan is a useful additional enabler, dodging counters like 《Spell Pierce》 and 《Flusterstorm》. I mostly like her in the mirror, against control decks where I want additional threat density or as another answer alongside 《Omniscience》 for 《Containment Priest》. If they leave in their 《Swords to Plowshares》, I will gladly take that. Even more effective if you play 《Progenitus》 over 《Omniscience》.
This is a rather random slot for additional permission, mostly defensively, against other combo decks. Also rounding out the counter-suite against most fair blue decks.
Additional threats against grindy control / midrange decks, as well as, in Jace's case, an alternative win condition against 《Ensnaring Bridge》. I love Jace in the mirror and even against decks like ANT and BR Reanimator, where the games can go very long post-board. Karn's biggest upside is dodging both 《Pyroblast》 and 《Hydroblast》, although his use is narrower than Jace's and therefore Karn doesn't get boarded in as much (to be fair, Jace could even be a main deck card).
In some test lists I even went up to 4 graveyard-hate pieces, due to the difficulty of the Reanimator and Dredge matchups. 《Grafdigger's Cage》 has been replaced due to 《Shenanigans》 being such a clean, easily searchable with 《Entomb》, answer to it. 1 《Surgical Extraction》 also complements the sideboard plan in the mirror quite smoothly.
GP Atlanta and Legacy Challenge Report
GP Atlanta
As mentioned in the introduction, I went 4-3 drop (2-3 after byes).
I got wrecked at GP Atlanta. 😭 At least I can play Sunday MTGO events in the best time zone tomorrow.

2 Byes
RUG Delver LL
ANT WW
BR Reanimator LL
KarnForge WLW
TES LWL

Good luck to all my friends still battling!

— Jonathan Anghelescu (@JPAnghelescu) September 21, 2019
Most losses were rather unfortunate, as they usually feel.
Against RUG Delver I resolved a turn 3 《Show and Tell》 into 《Griselbrand》 with 《Force of Will》 and 《Spell Pierce》 backup. I had to use a second 《Force of Will》 as a pitch for my opponent's 《Spell Pierce》 and kept 《Spell Pierce》 in hand to counter a potential 《Force of Will》 of their own. They didn't have another counter and 《Griselbrand》 entered the battlefield at a healthy 18 life against my opponent's board of 《Tarmogoyf》, 《Wrenn and Six》 and 《Hexdrinker》.
Unfortunately, on their turn my opponent cast two 《Lightning Bolt》s targeting 《Griselbrand》. In response to the second one I had to activate 《Griselbrand》 and only found mana sources and creatures. Finding no way to combo off again or counter their 《Lightning Bolt》 meant I had to activate 《Griselbrand》 again, falling to 4 life, and had to find a 《Force of Will》, of which I only had two remaining in the deck. I didn't find it, 《Spell Pierce》d their 《Lightning Bolt》 in hopes they might not pay, they paid, and I died to 《Tarmogoyf》 + 《Hexdrinker》 attacks after 《Wrenn and Six》 pinged 《Griselbrand》 to death.
Game 2 was less eventful; we both mulliganed and I died to double 《Force of Will》 backed up by a 《Delver of Secrets》 + 《Tarmogoyf》 clock.
My BR Reanimator opponent reanimated a 《Griselbrand》 on turn 1 in both games, protected by discard in game 1 and a 《Chancellor of the Annex》 trigger in game 2, respectively. They even forgot their Chancellor trigger, but my 《Brainstorm》 didn't find a 《Force of Will》 or 《Surgical Extraction》. I played two 《Snow-Covered Island》s and cast two cantrips in the whole match.
The loss against TES in round 7, which eliminated me from day 2 contention, was a back-and-forth affair that culminated in game 3 where my opponent somewhat whiffed on an 《Ad Nauseam》, but could cast 《Dark Ritual》 and multiple discard spells to rip my hand apart and combo off two turns later.
Legacy Challenge
Top 8 of the Legacy Challenge with my GP 75. Just couldn't cantrip into an enabler in games 2 and 3 against RUG in the Quarterfinals.

4c Loam WLW
ANT WLW
Elves WW
Sneak & Show LWW
Jund WW
Merfolk WW
RUG Delver LWL

RUG Delver WLL pic.twitter.com/24BbyhlhQD

— Jonathan Anghelescu (@JPAnghelescu) September 22, 2019
I ran back my GP 75 in the Legacy Challenge on Sunday and went 6-0 before losing in a close three games to RUG Delver in round 7 and the Quarterfinals. Still, it was a small consolation for the GP failure and gave me some confidence.
Conclusion
Going forward, I will start experimenting with various configurations again to prepare for another upcoming Legacy Grand Prix in Bologna. Hopefully, this collection of testing thoughts has been interesting to read. Please enjoy the following bonus content – a sideboard guide for my GP list! Until next time!
Bonus Content: Sideboard Guide
RUG Delver

Against RUG Delver (On the Play)

Against RUG Delver (On the Draw)
GB Depths

Against GB Depths (On the Play)

Against GB Depths (On the Draw)
UW Stoneblade

Against UW Stoneblade
4C Snow Control

Against 4C Snow Control (On the Play)

Against 4C Snow Control (On the Draw)
Sneak & Show

Against Sneak & Show
UW(r) Control / Miracles

Against UW(r) Control / Miracles
ANT

Against ANT
TES

Against TES
BR Reanimator

Against BR Reanimator
Moon Prison

Against Moon Prison
KarnForge

Against KarnForge
Bomberman

Against Bomberman (On the Play)

Against Bomberman (On the Draw)
Death and Taxes

Against Death and Taxes (On the Play)

Against Death and Taxes (On the Draw)
Maverick

Against Maverick
4C Loam

Against 4C Loam
Jonathan Anghelescu (Twitter)