Introduction
Hi again everyone!
I really wanted to be here again and be able to share with you all my knowledge, which I hope will help you to see some things easier.
Today, I come to bring you one of the most feared decks in the Modern outlook, yes, I am talking about Tron! Once setting up all Tron pieces it feels like a king and you can handle your colorless throne with casting spells of cost six / seven on turn three. You just need to gather three lands and it may sound unfair, but it is a complete reality.
I want to show you a bit the evolution of this deck over time, with which I have had the triple chance of almost being able to opt for top 8 in three Grand Prix, losing on all three occasions that long-awaited last round to glory! Of course, always against the winner of the event afterwards (it seems less painful this way).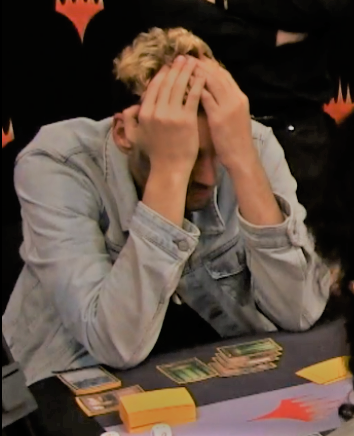 Once Upon a Time in Tron's Reign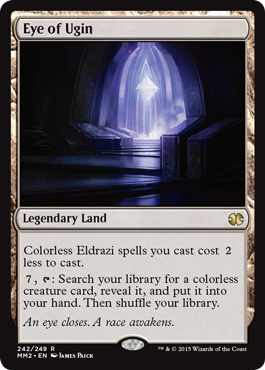 For me it is undoubtedly the golden moment in the strategy, with the 《Eye of Ugin》 still among our ranks and abusing it to sentence infinite games. A shame not to have such a card today, but the ban turned it into a simple distant memory.
Also highlight the red color that allowed us to more comfortably combat threats in the form of creatures carrying 《Pyroclasm》 playset in the main deck and 《Combust》 in the sideboard (the latter to stop the famous and ancient strategy of 《Splinter Twin》).
Evolving to Single Color Version Over Time…
As we can see here, red was ceased and Tron began to focus only on green, in order to further enhance stability when developing our game, to the point of becoming the most viable option today.
In this metagame, 《Death's Shadow》 began to stand out in the format in a very aggressive way and UG Infect reigned mercilessly with 《Gitaxian Probe》, therefore the inclusion of 《Fog》 and 《Spellskite》 in our cards.
A Few Months Later…
Although this was not a 100% real metagame list because it was a Team Unified Modern tournament and I couldn't share any cards with my teammates, it hardly moved away from the usual 75 that were played at that time. Decks like Dredge or the famous 《Krark-Clan Ironworks》 strategy and the arrival of UR Phoenix to the format forced you to fill your deck with many answers for graveyard, such as the three 《Relic of Progenitus》 in the main deck and the three 《Surgical Extraction》 in the board.
It is time to gradually focus on the present and the full power of the deck today.
London Mulligan
Tron is one of the most benefited decks with the new mulligan rule. Furthermore, it is the number one deck for me without a doubt.
Now I am going to show you what would be a clear example of this benefit that I am telling you.
In principle a very clear keep seven, right? We have Tron on turn three with 《Karn Liberated》! Easy. But what if we would mulligan into four cards? What would happen? Well, we would still have our 《Karn Liberated》 on turn three!
Moreover, if we would mulligan into three cards, we would continue to have all Tron pieces on turn three. In this case we don't have any threat but drawing one of them isn't that hard and having Tron on turn three with mulligan to three is just insane. This strategy benefits too much from having the option to draw seven cards in each of our future mulligans.
Current Decklist
Well, it's time to get in today!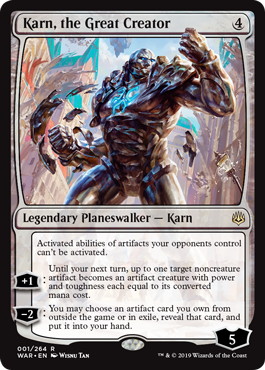 This is the list that I choose today since it includes 《Karn, the Great Creator》 among its ranks and this allows us to win games in different ways: look for a 《Mycosynth Lattice》 and leave our rivals without options to win at the moment that they touch the battlefield. It looks like a more than valid choice, but this is not all.
We have the option to cast a 《Trinisphere》 vs UR Storm if we make Tron on turn three accompanied by this new king of the crown. In addition, we will always have the option of searching for 《Liquimetal Coating》 vs any first strategy to invalidate a land in his next turn making target in his upkeep.
>If four Karns was already amazing, why not play eight?
Once Upon a Time in Tron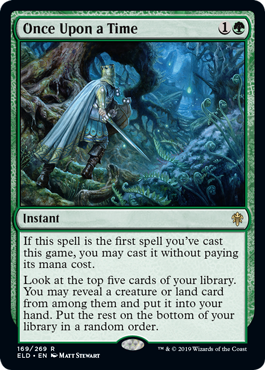 However, this is not all on this list, no, no. We are clearly going to highlight the inclusion of 《Once Upon a Time》!
To date I declare myself an absolute fan of this card, yes, it is more, I am going to show you now a clear example of what benefits us to include it in our strategy.
With these seven cards, we have a good chance of having Tron on turn three easily. We play 《Once Upon a Time》 as the first spell for free and we try to take one of the other two Tron pieces we need and then we use 《Chromatic Star》 to play 《Sylvan Scrying》 on the second turn and look for the third piece.
I suppose you are wondering "but what if I do not see a land that I need in those five cards?" Well, in that case we are removing five cards from the top and we would have the draw of the turn plus the draw of 《Chromatic Star》 to find it. It means that we have a chance to find a land from extra seven cards with 《Once Upon a Time》! And if we are on the draw, the number rises to eight!
More than once we will play this spell without its mana cost but it is still fine card even if we have to pay the normal cost. Since apart from land it also allows us to obtain a creature instantly, among 《Wurmcoil Engine》, 《Thragtusk》, 《Walking Ballista》 or even 《Ulamog, the Ceaseless Hunger》, depending on the approach or the game we are playing.
To be honest, my conclusion is that this card is completely mandatory in our main deck.
And finally, the time to show you how to face different confrontations with these same 75 cards has come.
Sideboard Guide
Azorious Control

vs. Azorious Control
Burn

vs. Burn
Jund

vs. Jund
Tron

vs. Tron
Eldrazi Tron

vs. Eldrazi Tron
Titan Shift

vs. Titan Shift
Grixis Shadow

vs. Grixis Shadow
Amulet Titan

vs. Amulet Titan
Dredge

vs. Dredge
Humans

vs. Humans
Four-Color Whirza

vs. Four-Color Whirza
Valuing Our Cards Power in a Ranking (Not only by table presence, also by circumstances and stability)
Conclusion
Well and so far, today's article! I really hope this has been very helpful and you to play this strategy much easier with reading it (even if it does not have too much difficulty).
Thanking Hareruya again for giving me the opportunity to explain my knowledge here and I look forward to seeing each other again very soon.
As always, if you have any questions, I will be happy to answer you on social networks.
And they lived happily ever after.