Introduction
Hello everyone! Naisirc is here again.
Today, I bring you an article about this new format called Pioneer, which I see as a little Modern and I love it. I will try to show you the today's metagame and possible changes in the not too distant future. We will also highlight one of the cards that has recently left the game tables (since as you know we will have the updated Banned and Restricted List for our format every Monday). It is time to get comfortable. Let's get started!
Was 《Veil of Summer》's Departure Really Necessary?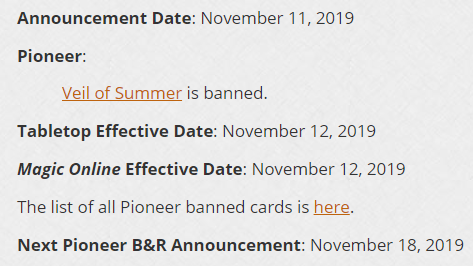 Many of you will be wondering if the banning of a card that only inhabited the sideboards was worthy of abandoning the game and the reality is that YES.
But… Why?
Only for 1 mana we had access to a card that came to have the power of almost a 《Cryptic Command》 when we got to disable a counterspell from our opponent and at the same time it allows us to draw a card. Also adding that it is rarely an unusable card, since you always have the option to cycle it when our opponent plays a black or blue spell. To the point of making the decks with access to green color very stable post sideboard. In general, a headache quite important for any deck with black or blue in its DNA.
For me it has been a great success on the part of the company towards our format to keep it out of play, since even in other formats it causes you more than a fright, which helps me to give my approval.
Now I want to show you how the metagame was shifted after the last ban, highlighting, in my way of seeing and understanding Pioneer, the five tier 1 decks more fit right now.
The Bans in the Future
Before giving way to the last point with the possible changes in the following months I want to emphasize that this week we had NO changes in the last Banned and Restricted Announcement.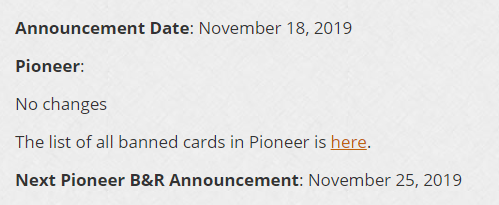 Being a format as I said before with a recent life time, it is normal that cards that show their great potential throughout the days end up leaving our game, but it is always appreciated to have some peace of mind between weekly announcements and everything can generally be maintained in the same way to achieve a greater real metagame reading.
Possible cards to ban in the distant future (or not so distant):
All of them are cards with more than remarkable potential (some are played more than others), which means that some may eventually abandon us earlier than others. Overall, I think that I am not very wrong that they are all in a certain danger without a doubt.
Conclusion
Well, if you got here, just thank you and say that I am very grateful to continue having the opportunity to share my knowledge and opinions with all of you. And thank you for making this possible as always to Hareruya.
I write this article with great pleasure and with the same pleasure I will answer all your questions or applications on social networks.
See you soon!