Introduction to the New Standard
Hello new Standard!
Before Oko's banning, I personally disliked the state of Standard. 《Oko, Thief of Crowns》 is so oppressive that it leaves little to no room for deck innovation, as you are going to just lose to Oko. Sure, there's a variety of decks non-Oko deck that are playable, but I personally don't think any are better than just playing a basic Oko deck as both finalist revert back to original Simic list. I think Wizards of the Coast (WotC) made a very good decision in banning Oko and allow players to be creative and explore the format once more.
My Favorite Deck
I've always been a fan of aggressive decks, and had much success with 《Venerated Loxodon》. So Lee Shi Tian's Mono-White deck for Twitch Rivals immediately caught my attention.
I like the idea and core of the deck, play as much 1 drops and maximize our chance at turn 3 《Venerated Loxodon》 with 5 creatures.
At the start, I build the deck to grind daily quest as I've just switch to MTG Arena from MTG Online in November, but the deck just kept winning! Here's the decklist:
About The Deck
The deck is very straight forward, play a bunch of undercosted white creatures, pump your team and attack! While Mono-White aggro usually suffer in formats where there are a lot of ground blockers, but this iteration of Mono-White aggro has a lot of flying creatures. The flying creatures gives the deck a lot of reach so we can often attack for the win with flying creatures through Cat / Oven combo or various green decks.
The deck is surprisingly resilient and able to fight attrition battles with its token maker and 《Castle Ardenvale》.
On the play, the deck can feel unbeatable if you curve into turn 3 《Venerated Loxodon》 or 《Heraldic Banner》. The deck can produce turn 4 kills occasionally, and it's quite common to win on turn 5 with a decent hand. The hand below are common scenario against decks without sweepers: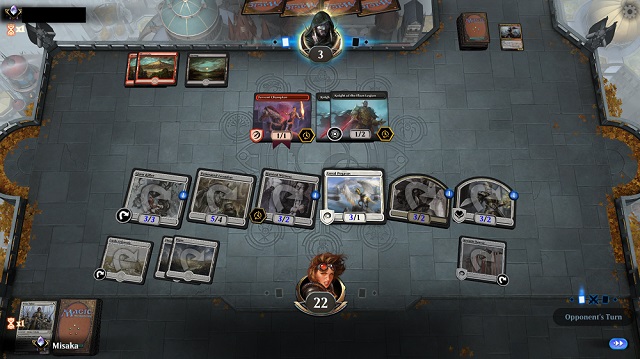 Tips & Tricks Playing The Deck
Moving Forward
《Venerable Knight》 hasn't impressed me in most of the games. Trying to attack with 《Savannah Lions》 in this format doesn't feel great as there is too many ground blockers. I may try to swap them out for 《Healer's Hawk》, as the deck seems to win whenever I'm able to put multiple fliers on board.
While I had a lot of fun playing the deck and climbing the ranks on MTG Arena, the deck may not be top tier as it struggles a little against the best deck in the format. However, the deck is a great choice if you are looking to climb the ranks on MTG Arena as your games are fast and simple. The deck should also be great you have a very good understanding of your local metagame for events such as FNM and WPNQ *hint lots of 《Doom Foretold》, Mono-Red or Knights*. Or just give yourself a reason to play this deck if you just love casting turn 3 《Venerated Loxodon》 as much as I do!
Joe Soh (Twitter)