Introduction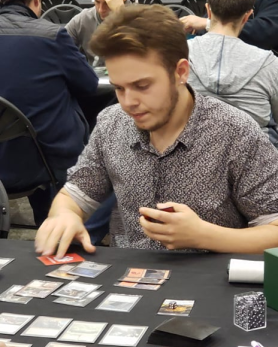 Sam Rolph here bringing you a guide on what I believe is one of the best decks in Pioneer. For those unfamiliar with me, I'm a Grand Prix and Magic Online grinder who plays for Hareruya Hopes. I'm a Limited specialist who has been hard at work mastering Pioneer. I won a Pioneer PTQ on Magic Online with GW Knights, and I've been keeping up with the constantly changing Pioneer meta.
Mono Green Ramp Decklist and Basics
The list I'm using is based off of well-known Magic Online grinder _Batutinha_'s list. The list hasn't changed much because I still think it's the best build.

This Mono Green Ramp deck looks unusual to most ramp decks throughout Magic's history. Ramp strategies generally don't want to play early creatures to strand early game spot removal in their opponent's hand in game one. The best ramp spells in this format are 3-drops. This incentivizes us to ramp on turn 1 so we can cast our 3-drops on turn 2. This is why we play eight 1-drops to accelerate us. However, we're willing to risk it in this deck because the best ramp spells in Pioneer are all 3-drops, and we lack options for 2-drop mana acceleration.

I view this deck as a combo deck

. We are trying to assemble lands as quickly as possible so we can cast expensive spells well ahead of curve. Most decks cannot interact well with this plan.

Another powerful axis that this ramp deck fights on is the board. 《Cavalier of Thorns》 and 《Ulvenwald Hydra》 are big creatures with reach that also ramp you, progressing your gameplan. They are fantastic blockers against the aggressive decks. They block all the 《Heart of Kiran》, 《Glorybringer》, 《Steel Leaf Champion》, 《Lovestruck Beast》, etc. while not dying to 《Chandra, Torch of Defiance》. They can also allow you to start pressuring your opponent.
Card Choices
Next, I want to talk about some card choices in this deck.
Sideboard
This card is for when you need to interact when your opponent's game plan is too fast. This card is mainly for Mono Red and for mana elf decks. This card obviously doesn't play to this decks game plan. However, sometimes you need to just slow the opponent down instead of developing your board.
This card is for matchups that are trying to go wide on the board. It is great against Sultai Dredge since it exiles permanents. It's also good against any Food strategy. You can also sideboard it in against midrange. 《Perilous Vault》 discourages midrange decks from committing to the board. They have to play just enough to get you to activated 《Perilous Vault》 without committing too much. This buys you time to cast your powerful late game spells.
This card is mainly for control strategies. It's also good against decks that are trying to trade one-for-one with you and not attacking you with creatures. Casting 《Tireless Tracker》 on turn 2 on the play against Azorius can put you so far ahead that it's hard to lose the game. Be mindful about attacking into 《Azorius Charm》 or 《Blessed Alliance》 though!
This card is good vs Azorius Control as it interacts with their hand. It's also a great blocker against Mono Red decks. It's hard for the aggressive red decks to cleanly remove this card. Bigger red decks have 《Chandra, Torch of Defiance》 and 《Glorybringer》 that can cleanly remove it, though. I do not like this card against the aggressive black decks since they have access to more spot removal, and it's also very poor against 《Rankle, Master of Pranks》.
This card is a concession to the 《Lotus Field》 deck. This is the one deck that can go over the top of your endgame. If the 《Lotus Field》 deck loses popularity, you can consider cutting it from the sideboard. You are practically forfeiting the 《Lotus Field》 matchup if you don't have 《Damping Sphere》 in your sideboard, though. Also, be aware of how this card interacts with 《Castle Garenbrig》 and 《Shrine of the Forsaken Gods》.
Sideboarding Guide
Finally, here are sideboard plans for the major matchups.
Azorius Control

Against Azorius Control (On the Play)
Note On the Draw: This only changes if your opponent shows you 《Spell Queller》 you want access to the 《Arboreal Grazer》s so you can cast your 3 drops under the Queller. I also do this vs 《Monastery Mentor》 to be a little bit faster. I bring in 2 extra Grazers and cut the last Ugin and a 《Radiant Fountain》.

Against Mono Red / Boros Burn
This is one of your worst match ups as they can kill under your threats and mostly ignore the powerful cards that you're casting. You need to hope that you can trade enough cards with them and that they draw a few too many lands and you hit enough 《Radiant Fountain》s to stabilize. You cut the elves because they're bad vs 《Searing Blood》 and also 《Goblin Chainwhirler》 and then you just lower the curve because they're trying to go under you. Same for play and draw!
Gruul Rabbles

Against Gruul Rabbles (On the Play)

Against Gruul Rabbles (On the Draw)
Mono Black Aggro

Against Mono Black Aggro
If you don't see 《Fatal Push》 in game 2 I'd bring elves back in on the play for game 3 but not on the draw cutting down on 《World Breaker》. I don't like bringing cards in that deviate from your main plan as 《Thoughtseize》 can be incredibly punishing if you do this.
Mono Green Ramp Mirror

Against Mono Green Ramp Mirror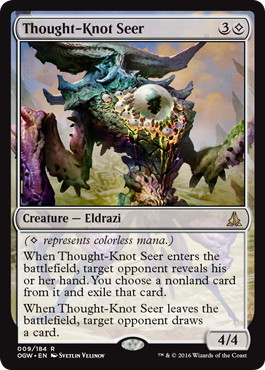 The mirror is very play draw dependant. I like having access to 《Thought-Knot Seer》 to try and take apart their hand and break up the curve however this matchup is very hard to gain an edge because of how punishing being on the draw can be!
Conclusion
To sum up, I think Mono Green is one of the premier decks in the format right now however with Pioneer speeding up and getting more aggressive it might not be the best positioned. Thank you for reading and if you'd like to see more of my content you can find me on Twitter and Twitch.
Thank you for reading!