Another Humongous Shift to the Modern Metagame
Monday of January 13th Modern got a significant banlist announcement. 《Oko, Thief of Crowns》; 《Mox Opal》; and 《Mycosynth Lattice》 all got banned. It's yet another humongous shift to the Modern metagame. Halfway through past year the format got overhauled with the 《Faithless Looting》 ban; not to say anything about how much the landscape has changed with War of the Spark, Modern Horizons and Throne of Eldraine.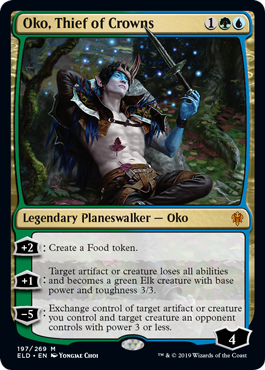 Everyone's favorite bare-chested planeswalker gets banned in older and older formats as time goes. Per data from Magic Online Modern leagues and preliminaries, Oko was played in a whopping 40% of well-performing Modern decks. For a planeswalker that is, after all, a "fair" card – although that is maybe not the most fitting word – it's an absurd metagame share. I don't think this ban surprises anyone, as Oko was a card with clearly mismanaged numbers printed on it, allowing single-handedly for Urza decks to go fair while still supporting artifact synergies. I'm happy with that ban as Oko was just a mistake to print.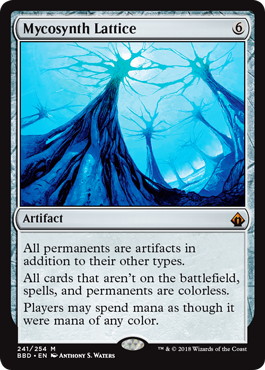 《Mycosynth Lattice》 allowed for 《Karn, the Great Creator》 to work as a one-card combo, although one requiring your planeswalker to be safe from being attacked and costing a hefty 10 mana in total. While I always found Karn's incidental maindeck hating on artifact strategies not very fun, I never thought of this card as an overly powerful one in matchups where no artifacts are involved and where it can get attacked in combat, Wizards seemingly disagreed. With Lattice banned I don't expect Karn to really appear anymore in fringe ramp strategies. Tron strategies will heavily reconsider Karn's inclusion. It's very possible that it's still correct for Eldrazi Tron decks to play Great Creators with a full wish-board, given the deck's shallow card pool.
I have to say this one surprised me a little bit. I always thought of Karn as being a little overrated, with the opportunity cost of giving up your sideboard being a really big one. Again, Eldrazi Tron was an exception, since that deck doesn't have a sideboard anyways. It's possible that Wizard's internal data pointed at Eldrazi Tron being a little bit stronger than they would have liked; at the same time, banning 《Mox Opal》 weakens 《Karn, the Great Creator》 too, as it's passive ability will naturally come into play less often.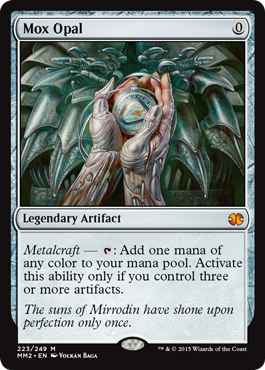 After nine years of Modern existing and endless clamoring for its removal, 《Mox Opal》 finally got banned in Modern. Rest in peace, sweet prince, I will not forget you. The general reception seems to be that 《Mox Opal》 had it coming for a long time. It has obviously enabled tons of decks to be stronger than one might maybe like throughout the years, although on the other hand Modern has seen artifact aggro decks in Affinity and 《Hardened Scales》; combo in 《Krark-Clan Ironworks》; lockout strategies in Lantern and Whir Prison; and recently even midrange and control decks with 《Urza, Lord High Artificer》. I am not unbiased, as I just loved many of those decks. Of course, an argument can be made that it's a symptom of a problem; that any deck that can support 《Mox Opal》 can become competitive.
Coming fresh from 2019, we have gotten a lot of cards that make life harder for more all-in, less flexible 《Mox Opal》 strategies. During KCI's reign, it was just 《Stony Silence》; since then, 《Karn, the Great Creator》, 《Collector Ouphe》, 《Force of Vigor》 all got introduced into the format, making 《Darksteel Citadel》 enough of a liability to be basically unplayable. At the same time, 《Urza, Lord High Artificer》 and 《Arcum's Astrolabe》 pushed in different directions. End all be all, Wizards decided to nuke the midrange Urza decks from the orbit, erasing one of the last big pillars of the format.
Modern's Future and Conclusion
It's possible those bannings are going to make the format a more enjoyable format. One thing bothers me, though – a huge part of Modern's appeal was its relative stability as a non-rotating format. With 2019 cards, introduction of the London Mulligan, and bans of Looting and Opal, the format is barely recognizable to somebody who hasn't kept up with it for the past year. While not necessarily for better or worse, it's hardly the same format anymore. While I always cited Modern as my favorite format, it's hard to feel much nostalgia for the current one, which makes me feel much more lukewarm about it.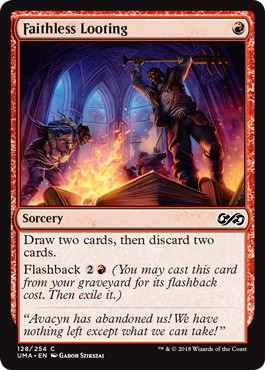 So where do we head next if our goal is to win in Modern? The best cards left in the format is probably 《Once Upon a Time》. Infect, Devoted Druid, and 《Primeval Titan》 strategies are established strategies that use the cantrip effectively. Theros Beyond Death is about to get released in just a few days, and it brings new tools for 《Primeval Titan》 decks, as well as 《Heliod, Sun-Crowned》. Heliod and 《Spike Feeder》 allow you to gain infinite life and can be both found with a single 《Collected Company》, so this could spawn some new decks. Tron lands still tap for seven mana like they used to do, and 《Cryptic Command》 control will linger on the sidelines of the format, with half the players claiming it's the best thing to be doing, while others dismiss it as unplayable.
With Pioneer Players Tour and Worlds Championship coming up for me, I won't be personally devoting much time to Modern in near future, letting the playerbase figure out the basics of the whole new Modern while I watch how it develops from the sidelines.
Take care and until next time,