Introduction to Mono Black Dinosaur Aggro
Hello everyone,
After weeks of anticipation, we finally had the first Players Tours in Brussels and Nagoya. I was really looking forward to playing the event and hoping for an invitation for the Players Tour Finals, which I got…!
I had an unimpressive draft record (3-3) and it was really on the back of my Pioneer deck that I accomplished the invite with an 8-2 result.
Let's get started with the decklist I played: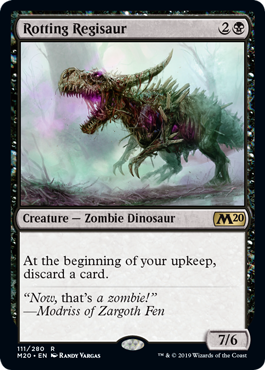 I worked hard with my friend Humberto Patarca on the deck and we were really happy to where we got. The first thing you should notice about our list is the four copies of 《Rotting Regisaur》 and the absence of 《Spawn of Mayhem》 and 《Rankle, Master of Pranks》. The Dinosaur is always a 3-drop (whereas Spectacle to cast Spawn on turn 3 is not always easy) and it's also the creature that hits hardest of the three.
Mono Black is a very aggressive deck in Pioneer, with a low mana curve and efficient discard and removal. The deck mulligans well and having a good start is key to win games. Cards like Spawn and Rankle are very powerful and good topdecks, but they are far from ideal for your initial hand. The deck uses its mana very efficiently, you don't really need 4-drops to spend your mana on, you have 《Mutavault》s, 《Castle Locthwain》s, 《Knight of the Ebon Legion》 activations and creatures coming back from the graveyard.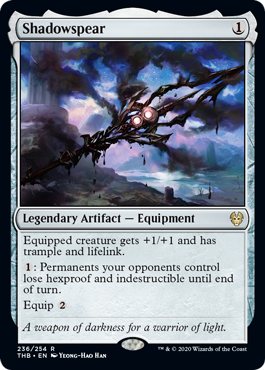 Our last minute addition to the deck was 《Shadowspear》. We talked about the card for hours, but we didn't want people to see it, so we stayed away from Magic Online (MTGO) the last 36 hours before deck submission. We wanted to believe the card would be good with Regisaur, but we didn't want to risk playing too many only to find out at the PT it wasn't good enough. We settled on one copy and I loved having access to it.
The Matches
Dimir Inverter
Mono Black Aggro is very good against Dimir Inverter with its very fast clock and discard. Regisaur makes the match even better. It doesn't only kill them on a couple hits, it also dodges 《Cry of the Carnarium》 and 《Languish》.
5-Color Niv to Light and Azorius Control
5-Color Niv to Light and Azorius Control are matches where Rankle is better than Regisaur. These matches are still close though and both these decks did poorly at the Players Tours. I wouldn't expect them to be an important part of the metagame in the next few weeks.
Mono Red with 《Goblin Chainwhirler》 used to be one of the worst matches for Mono Black Aggro, but casting a 7/6 on turn 3 to their board of 1/2s and 《Shock》s in hand won't make them very happy. The match is still not easy, but at least now there is plenty of hope in the pairing.
Izzet Ensoul and Spirits
Being on the play or draw against Izzet Ensoul and Spirits normally decides who wins the race. I also believe they are not as consistent with their draws as Mono Black, so I would still place us as favorites in the match. Because of 《Nebelgast Herald》, Spirits is the only match where we want to cut all of our Regisaurs during sideboard.
Lotus Breach Combo and Ramp
The different versions of Lotus Breach Combo and slow Ramp decks are also good matches for the deck.
Unexpected Enemy
An archetype I wasn't expecting at the PT and I believe it's a really bad match for the deck, is the Delirium decks with 《Satyr Wayfinder》 and 《Uro, Titan of Nature's Wrath》, Simic and Sultai. I was the last player to beat Joel Larsson before he went undefeated to claim the trophy at Brussels, but I got extremely good hands and had extremely close games 1 and 3 on the play to beat him. I don't think this archetype has a good enough plan against Dimir Inverter and hopefully that deck can keep them in check.
An Interesting Play…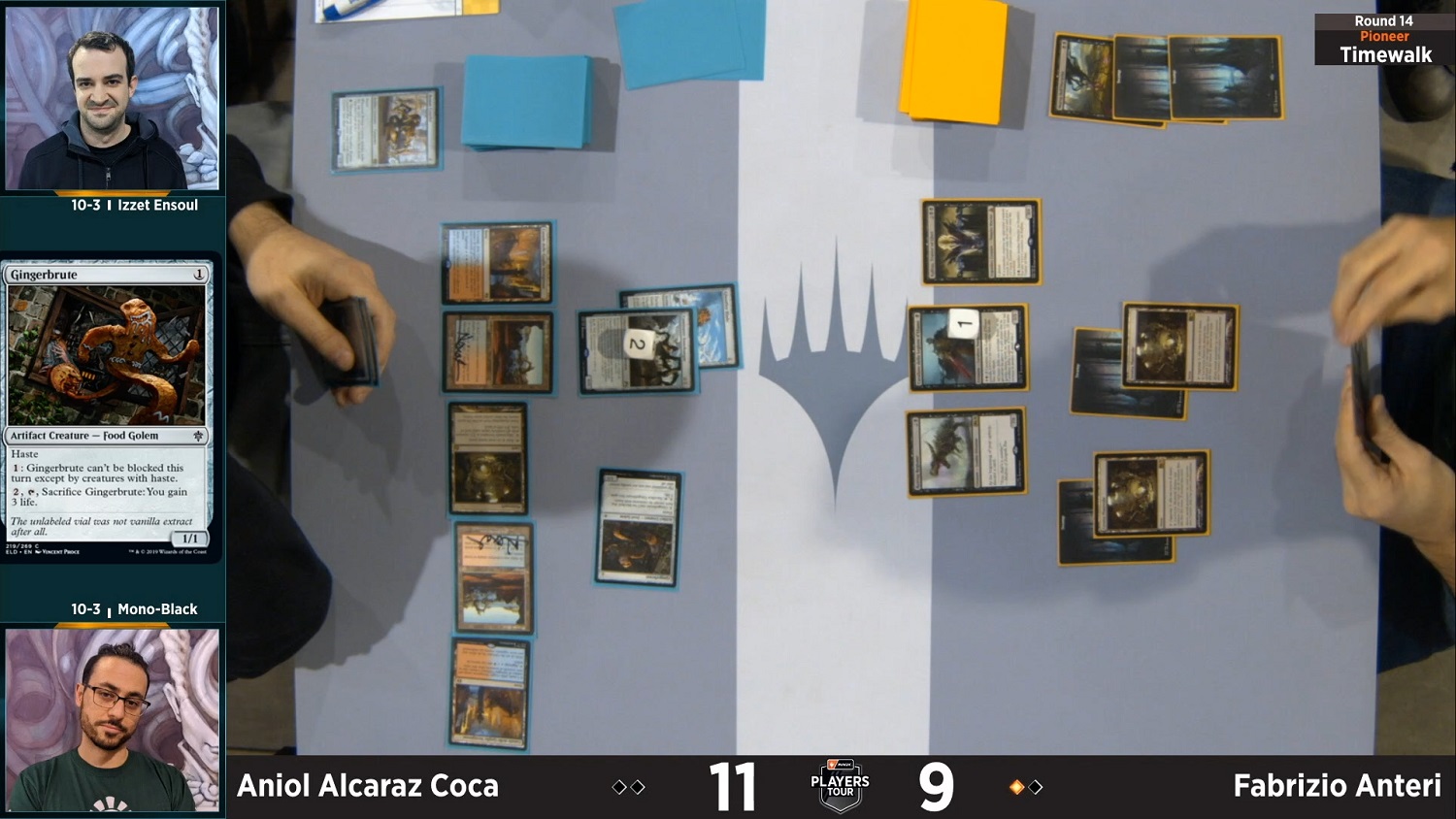 I am one game up against Izzet Ensoul in round 14, both with a record of 10-3. Winner gets an invite to the Players Tour Finals and is one win away from top8, loser has to win the round after for the invite and is very likely out of contention for top8.
It's turn 5, I haven't play land yet and my hand is 《Castle Locthwain》 and 《Murderous Rider》 and he has two cards in hand. I am very nervous, I am so close and I want to finish the job. I know I win if I cast 《Swift End》 and he doesn't have 《Shrapnel Blast》 and if he does, I am still in a good position because he has to kill 《Kalitas, Traitor of Ghet》 and lose his 《Ghostfire Blade》 to deny me of any Zombie Tokens.
I used the 《Swift End》 before combat, he responded with the 《Shrapnel Blast》 and lived for the turn. He drew another 《Hangarback Walker》 and two more creatures after that. Enough blockers to hold the ground and kill me with Thopters in few turns. I lost Game 3 and my chance for top8.
What was the play I should have gone for that turn?
In my rush to finish the game, I didn't notice that I had lethal with 《Mutavault》 if he blocks Kalitas (7 from 《Rotting Regisaur》, 2 from 《Mutavault》 and 2 from 《Knight of the Ebon Legion》. Leaving 3 mana open to pump or 《Swift End》 if needed), so he is forced to chump block the Regisaur to live and/or use 《Shrapnel Blast》 before damage. Whatever scenario I was left with if I attacked before casting any spells would have been much better than the one I put myself into. A lesson I will not soon forget.
Sideboard Guide
Dimir Inverter

Against Dimir Inverter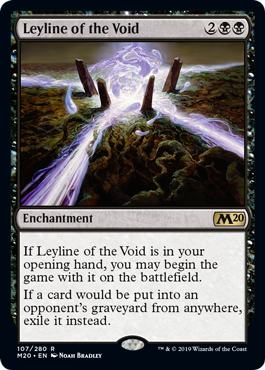 I haven't play enough this match, so I am not 100% sure about this but I don't think the 《Leyline of the Void》s are necessary. You have plenty of discard to keep them off the combo, so you want to keep the pressure on to end the game.
A common play pattern for them is to cast 《Thassa's Oracle》 on turn 2 to block your 2/1s and get it back into their deck with 《Inverter of Truth》 if you use 《Fatal Push》, so I prefer 《Legion's End》 here to exile the Oracle and maybe get extra copies from their hand. They also have sometimes 《Pack Rat》 or 《Jace, Vryn's Prodigy》.
Mono Black Aggro

Against Mono Black Aggro (On the Draw)

Against Mono Black Aggro (On the Play)
On the Play, you can board out 1 《Gutterbones》 instead of the 《Dread Wanderer》 if you know for certain they don't have 《Legion's End》.
Izzet Ensoul

Against Izzet Ensoul (On the Play)

Against Izzet Ensoul (On the Draw)
Lotus Breach Combo

Against Lotus Breach Combo
Green Ramp

Against Green Ramp
Swedish Sultai (Delirium)

Against Swedish Sultai
This match is tricky because there are so many different approaches to take. Leylines? Discard? Removal? My guess for now is to maximize on Discard and reduce on Removal. Leylines seem too important not to bring 4, but maybe you are supposed to keep extra removal for their creatures and hope they never get 《Uro, Titan of Nature's Wrath》 going.
Moving Forward
I still like very much the maindeck and I would play the same 60 next weekend. About the sideboard I get the impression 《Self-Inflicted Wound》 are not as necessary anymore and a mix with 《Noxious Grasp》 could be correct. 《Liliana, the Last Hope》 is still hard to evaluate and I really wanted to have space for one 《Aethersphere Harvester》, maybe she should be the cut for it.
This deck is very consistent, powerful and it has plenty of good matches in the metagame. Now that we have proper control and combo decks around, the format is not about midrange creatures anymore, which are really the only problematic archetypes for Mono Black. I would expect this deck to stick around for months to come, evolving accordingly with the different changes the metagame goes through.
Thanks for reading!
Fabrizio (Twitter)