Introduction: Turbo Oracle
Hi! It's Joseba García (Elfkid) again! Today I'm going to talk about one of the newest decks in Modern: Turbo Oracle!
If you play in Magic Online you might already played against a variant of this deck, now I'm here to explain you how it works!
How the Deck Works
With Theros Beyond Death a lot of combo decks changed their win conditions in form of 《Laboratory Maniac》 to 《Thassa's Oracle》, since it is cheaper and can win a game even if your opponent kills it in response of the Enter The Battlefield ability!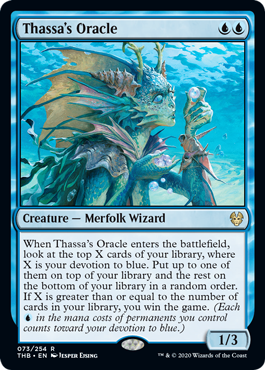 So basically the idea is to piece together one of the different combos we have in our deck:
As you can see the deck counts with different combos, but we need to have a good shell to fit those cards, now I'm going to show you different decklists and card choices.
Maindeck Choices
Cantrips
If you're familiar with Modern you already know both but in case you're not, 《Arcum's Astrolabe》 is the new cantrip of the Snow decks, draws a card and fixes the colors and 《Serum Visions》 is probably the most common cantrip of the format since we don't have access to better cards.
Combo Pieces
Since there are a lot of combo pieces and enables here I'm going to try to explain them separately.
Win Conditions
These are the key cards of the deck, the idea and the deck was built around playing 《Jace, Wielder of Mysteries》 or 《Thassa's Oracle》 and win on the spot, of course we are going to need help from other cards to do it!
Protection
Nothing to explain about 《Pact of Negation》, a free counterspell that allows us to go for the win protected without any extra mana, it can also act as a counterspell on the first turns with the help of 《Angel's Grace》. 《Angel's Grace》 and 《Phyrexian Unlife》 are pieces of the combo and also act as protection spells since they give us a lot of time to find the last missing pieces.
Combo Enablers
These two are one of the most important cards of the deck, both help us to make our deck small (《Inverter of Truth》) or to make it disappear (《Spoils of the Vault》) and then we can end the game with 《Thassa's Oracle》 or 《Jace, Wielder of Mysteries》! Also remember that you can win attacking with 《Inverter of Truth》, this matters more post board when they sided out all their remove spells.
Value / Tutors
《Wishclaw Talisman》 helps us to find the last remaining piece the turn we want to go off, be careful using it before that turn since it gives your opponent the chance to have any card!
And my favorite card, 《Shelldock Isle》, this card is absolutely insane in this deck. I can't really count how many times I won on my upkeep with zero cards in my library activating 《Shelldock Isle》 to put a 《Jace, Wielder of Mysteries》 or a 《Thassa's Oracle》. It's also pretty good if you can hide a 《Pact of Negation》 or something else that can help while you're comboing.
You might realized that I'm in love with 《Thassa's Oracle》 so I searched for a Legacy list, and I was expecting cards like 《Doomsday》 to combo with and then I found this list:
It's super interesting and I think it might be a good deck in the future, don't sleep on it!! Cards like 《Paradigm Shift》 and 《Thought Lash》 help you to win on the spot with 《Thassa's Oracle》 or 《Laboratory Maniac》, if you already tried it let me know here in the comments or on my Twitter!
Conclusion
I hope you all enjoyed this article and you give the deck an opportunity, I think it's pretty good and if the format is favorable it can be easily a tier 1.
If you any questions just ask here in the comments or on my Twitter: @elfkidmtgo .
See you around!