Introduction
Hi everyone! I'm Joseba García (Elfkid) and I'm back with a new Modern article.
This time I'm going to talk about Hollow One decks (Modern). If you follow me on Twitter you already know I have been working on it and I posted some spicy lists, but, are they really good? Let's find out.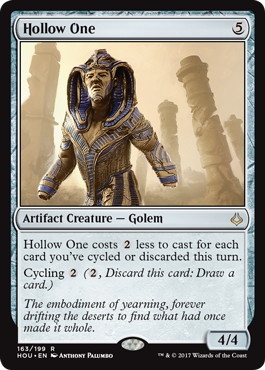 What's Hollow One?
Most of you know what Hollow One deck is, but just in case I'm going to explain a little bit how the deck used to be and what changed:
BR Hollow One was a deck based on the card 《Hollow One》 and other cards that get advantage of discarding cards, like 《Tasigur, the Golden Fang》 or 《Gurmag Angler》 to name a few.
The Original Decklist
Here is the list Ken Yukuhiro played in that Modern era:
But in August 26, 2019 they decided to ban 《Faithless Looting》 so the deck disappeared…
Until now! In Theros Beyond Death Wizards of the Coast printed 《Ox of Agonas》.
《Ox of Agonas》 is one of the most important cards in this renovated archetype. It's also worth to mention the other card that made this deck viable: 《Seasoned Pyromancer》 from Modern Horizons.
Core of the Deck
Now I'm going to explain you the most important cards that you should be playing in your Hollow One deck and after this I will show you different versions of the deck.
Discard Enablers
Besides helping us casting a 《Hollow One》 (or more!) for free in turn one or two, these are the cards that help us to put 《Flamewake Phoenix》 or 《Ox of Agonas》 in to the graveyard while we're getting advantage. It's true that 《Burning Inquiry》 and 《Goblin Lore》's abilities are a little bit random but when your deck is built to get advantage from them then they are not that random!
Value Creatures
With these creatures we are going to get advantage of the other cards I named before. 《Flameblade Adept》 is a good aggro card that pushes planeswalkers or helps us to take down our opponent's life total while we develop our gameplan. 《Street Wraith》 helps us to cast 《Hollow One》 and also acts as another card in our graveyard for 《Ox of Agonas》 and 《Flamewake Phoenix》 comes back with 《Hollow One》 and 《Ox of Agonas》 help!
Big Creatures
These are the finishers of the deck. 《Hollow One》 can enter the battlefield as fast as turn one, sometimes alone, sometimes with more copies of him. While 《Ox of Agonas》 is a more mid-late game oriented card. We can play it as soon as turn three and get three fresh cards and return some 《Flamewake Phoenix》 from our graveyard and it also helps us to cast the 《Hollow One》s we draw with it!
Remove Spells
I don't think I need to explain too much about this card, early removal, and it help us to deal the last three damage to our opponent!
---
Now let's take a look of the new versions of Hollow One:
Sideboard Guide
Since the BR Version is the one I like the most and it's in my opinion the best version of all three so I'm going to write a sideboard guide for it. If you need help with the other versions feel free to ask me in the comments or Twitter and I will be happy to answer you!
Conclusion
Hope you enjoyed this article as much as I did writing it, deck is super funny to play and it can do incredible things as turn one double 《Hollow One》 etc…
If you have any questions write them in the comment section below or ask me directly on Twitter: @Elfkidmtgo.
See you around and be safe!