New Possibilities from the New Set
Reviewing the Existing Armies
1 Converted Mana Cost
First of all, I'd like to mention all possible 1 drops are average to say the best, but that's a necessary evil. Since our main color is white, I'll not mention 1 drops on the other colors.
At the moment, I think it's the best 1 drop for Human Tribal. The card itself is pretty mediocre, but its ability has some synergies and gives you little something after the sweeper.
Utility guys. Lower land count tips the scales in favor of 《Law-Rune Enforcer》, while midrange decks would probably want 《Giant Killer》.
Pumpable 《Savannah Lions》, the ability is not worth looking for a way to use it. Of all candidates I like this one the least, it's not Alpha/Beta/Unlimited format, extra 1 power is not enough.
Just like the Witness, nothing exceptional, but at least it can replace itself. Keep in mind, both of them provide non-Human tokens.
2 Converted Mana Cost
Not much of a fighter, it can shine against some kinds of flash or control decks. Its ability affects activated abilities as well, Cat/Oven on your turn only, please.
Just a haste guy, the ability will trigger from time to time, then again, sometimes it's gonna be a land. Don't expect much from it, we're no Mono-Red.
A true team player, it can be a beast with enough support but is pretty weak on its own. And you REALLY want to play it only on turn 2.
Decent stats plus evasion, but it also has 2 secret bonuses: it's Legendary, so it gets protected by 《General's Enforcer》 and it shuts down 《Nissa, Who Shakes the World》 with its 1st ability.
I have mixed feelings of this card in Standard, it can pull you out of some topdeck skirmish, but initially, both modes are unimpressive.
3 Converted Mana Cost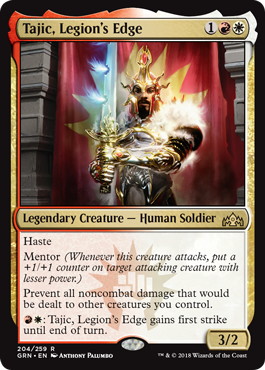 Tajic is not just a haste Mentor, he saves the rest of the team from 《Deafening Clarion》 and could interfere with 《Mayhem Devil》 or Mono-Red players' plans.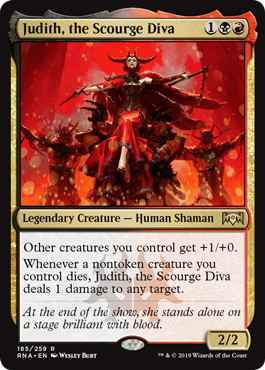 It should be pretty good if you can pay the (B)(R) cost, buff+removal+sweeper punishment. It's Legendary, but it's more of an upside.
With Rakdos Sacrifice on the rise, it's not the card's time yet, but with a certain format shift, it can become a playable option.
Decklist with Ikoria: Lair of Behemoths
Let's jump to possible shells.
First Stop: White Weenie Humans
The good old White Weenie is the first thing that comes to mind, but I don't think it gets better with Ikoria. A couple of first drops, followed by 《General Kudro of Drannith》 + 《Venerated Loxodon》, is still insane, but too many cards are missing 《Benalish Marshal》. 4 sets of Soldier Tokens and the Loxodons doesn't get the buff and your curve is ruined with the Temples. I'd be happy to be proven wrong, but Weenie is not the best shell for the Humans deck. Let's proceed.
Next Stop: True-Name Humans
The deck's more of midrange type, and 《Mortify》 looks good in the current format. It is hard to theorize how good Not-so-True-Name-Nemesis will fit the meta, the card might have a future, but time will tell. One more Human to possibly shine in this build is 《Plaguecrafter》, if I had to play the deck I'd likely have some in the sideboard. 《Castle Locthwain》 is a risky option, but 《Sorin, Vengeful Bloodlord》's lifegain may justify playing it.
Final Stop: Legendary Humans
Since we're gonna assume the aggro role, adjusting mana base to 3 colors goes relatively easy thanks to Shocklands. I'm not a fan of Ikoria Shardlands (《Savai Triome》 in this color), but let's give them a try.
This list will be my starting point in testing Humans, unlike the previous 2 it has some sweet synergies:
The thing I don't like is the low quality of the 1 drops, 《Venerable Knight》 may take the place of 《Haazda Marshal》. If not the Tribal theme it could even be 《Healer's Hawk》, but we have some restrictions here.
I am kinda unsure about 《Aurelia, Exemplar of Justice》, but I've played it some time during Guilds of Ravnica Standard and she finishes games pretty quickly. If she fails the test drive, Sorin will take her place. 《Haktos the Unscarred》 is also on the list. He's aggressive, Legendary and has evasion, but flipping a coin after the match start was never my thing.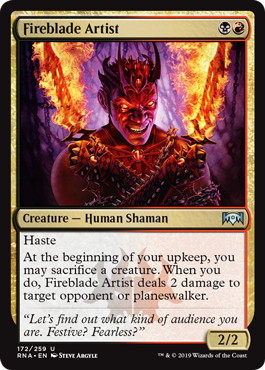 Speaking of options, I would definitely play 《Fireblade Artist》 over 《Robber of the Rich》 if it doesn't require (B)(R), there are only 8 sources that allow you to play 1 drop followed by the Artist, not sure is worth biting the bullet, even though it's a haste Human that can utilize the tokens and make a fine pair with Judith.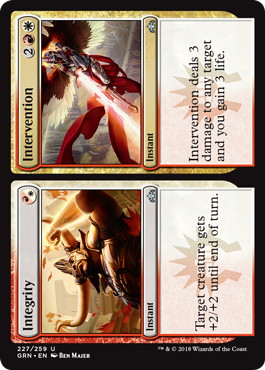 《Integrity/Intervention》 is one more card to have a closer look at, the first part is great utilizing the mana leftovers and pushing through the blockers, while overpriced 《Lightning Helix》 makes it usable in the midgame and further.
Conclusion
That's all for today, I'm eager to see Ikoria's release and try the decks out.
Thanks for reading and best of luck!
See you online,
Dmitriy Butakov (Twitter)