(Editor's Note: this article was written before Ikora: Lair of Behemoths was released.)
Introduction
Hello guys! Today, I am going to talk about my actual favorite format: Modern.
Modern is in a great position right now. Many decks are playable, nothing is too broken and games are super interactive. The main reason for this, is the presence of 《Force of Negation》.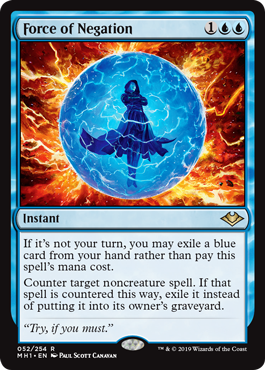 Countering the right card is very strong against most of the combo decks in Modern. 《Force of Negation》 just do the "preventing" job that 《Force of Will》 is doing in Legacy (Many Legacy decks play 4 《Force of Will》 and 2 《Force of Negation》 now).
The State of Modern
Fair Decks
Aggro:
Mono-Red Prowess
Humans
Burn
Midrange:
Bant Snowblade
Jund
Eldrazi Tron
Red Green Moon
Niv to Light
Jund / Grixis / Mardu Shadow
Control:
There is no real control deck right now

since to beat combo you need pressure + interaction and control decks tend to lack the pressure. Midrange decks are the control decks of the format right now.
Unfair Decks
Combo Decks:
Tron
Uroza
Breach Artifact
Dredge
Amulet Titan
Infect
Titan Shift
Bogles
Neobrand
GW Heliod Combo
Ad Nauseum
Gift Storm
My Choice: Bant Snowblade
I started with a decklist that Petr Sochurek shared few days ago.
I was playing with the deck while discussing with Petr and I arrived to this conclusions about the list:
There is another version of Bant with 《Uro, Titan of Nature's Wrath》, 《Snapcaster Mage》, 《Teferi, Time Raveler》 and 《Teferi, Hero of Dominaria》.
But I really prefer a more aggressive version. Also, this bigger version of Bant is not winning the Bant mirror.
Here is the decklist I am playing now.
Card Choices: Maindeck
Creatures
Mana Dorks
With the high number of 3 mana cards in our deck, it's pretty good to have one of this accelerations on turn 1. 6 seems the right number. Also even in late game, you will be able to equip one of them and use it as a finisher.
Turn 2 Bodies
The deck exists because of 《Stoneforge Mystic》. The card was banned during many years in Modern, mainly because it was dominating Standard too much. Having a turn 2 quality threat as Stoneforge is great, especially with 《Force of Negation》 to protect her.
《Ice-Fang Coatl》 has multiple qualities. First, it replace himself with its enter the battlefield ability. Then it can trade with many strong creatures like 《Tarmogoyf》 or 《Death's Shadow》. Besides that, it's a blue card and it helps you to respect the minimum number for 《Force of Negation》.
3 Mana GREAT Creatures