State of the Ikoria Standard
Hello! Standard metagame almost reached the full circle. Soon after Ikoria: Lair of Behemoths released we started with Gyruda + 《Spark Double》 combo, that was 'unbeatable' for one day. People quickly realized that deck can't beat a single copy of 《Grafdigger's Cage》, or a fast and consistent aggro, and they adapted. Next 'the best deck' for a week or so was Rakdos Lurrus. As aggro dominated the format, we had the next Companion that raised. Keruga, and the Jeskai Fires. Pre-Ikoria 《Fires of Invention》 deck was well known for great aggro match ups, so it was the best possible time to pick up 《Deafening Clarion》 again. This in fact slowed the metagame and allowed even bigger midrange decks try their chances. Now we have 'the Yorion Standard', and the best performing decks are using 80 cards.
To beat Jeskai or Bant Yorions we have two options. Go under them, as Mono Red Obosh did during the MagicFest Online Season 2 Finals, or go even bigger, and build a better late game strategy. As I like long and grindy games, there was only one option for me. I picked up a well known Temur Elementals idea, and build it with one specific goal in mind. Beat the Yorion mirrors.
Temur Yorion Elementals
Decklist and Basics
This is my final build:
With this version, counting Mythic ranked games, MFO Finals qualifiers, and MFO Finals main event, I'm 13-4 against Jeskai Lukka Yorion, and 10-3 versus Bant. Obviously it's not a great sample size, but it's enough to feel the power of this deck. Temur version is capable of doing insane things, and winning games you might want to concede three times in the process. Here's one of the games from the MagicFest Online Finals, just to show you what's the ceiling of this version: https://youtu.be/zN4X0TO8oKY. Let me know, how many times you felt it was impossible to come back 😀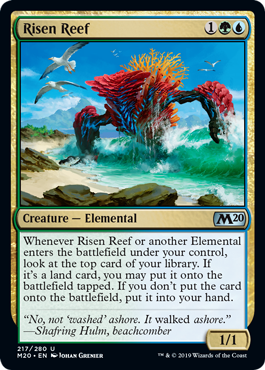 On the other hand, it's not always sunshine and rainbows. Deck is a high variance machine, as we play 80 cards, and we really need them to come in the correct order (ramp first, payoffs later). 《Risen Reef》 is our MVP if we get a land from the top, and is a worse version of 《Cloudkin Seer》 if we don't. 《Genesis Ultimatum》 can win the game of its own, or hit five lands. I don't recommend this version to people who like to tilt. Before you start, you have to know it's not an easy deck. You'll face a whole lot of triggers, that you need to stack in the correct order, while choosing the right targets. Definitely not easy without practice, so be patient.
How the Deck Works?
It looks simple. We want to ramp as fast as possible, and cast 《Agent of Treachery》 or 《Genesis Ultimatum》. Unlike other ramps in the format, we use the powerful Elemental synergy in the process. 《Risen Reef》 is the core of our deck. Ramp and card advantage source in one card. 《Omnath, Locus of the Roil》 also provides incredible card advantage later in the game, while also being a removal, and finisher. 《Scampering Scorcher》 is weak itself, but makes every other card in the deck better. With just one Reef on the battlefield, it draws three cards, and ramps us. Being able to block 《Flourishing Fox》 three times, or kill a planeswalker out of nowhere is always nice.
Remember that cards from 《Genesis Ultimatum》 see each other. If we have 6 lands in play (let's say we have Druid), and hit two lands, Reef, Omnath, and Scorcher, we:
Get two Elemental tokens.
Put two +1/+1 counters on our Elementals.
Draw two cards out of Omnath.
Look at/draw five cards total with Reef, and for each land we see we can draw another card, and put another counter.
Hit something for at least 6 damage (maybe more, if we had something else in play).
Give haste to everything, so we can attack with the whole army.
And we didn't even find Agent. It might sound overwhelming at first, but trust me, it gets easier and easier while you practice. And when you learn the deck, you won't regret!
Sideboard and Match up Guide
Today I have a full sideboard guide for the most popular match ups in the metagame, as well as some notes how to approach each of them. Here's the link to the guide, if you want to print it, or just keep for your own use: click here to see more readable version.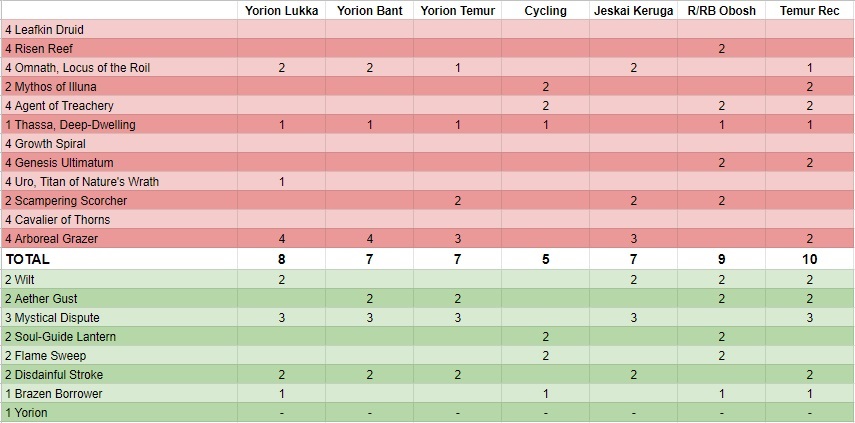 Conclusion
If you have any questions, as always, find me on Twitter, and ask below the post with this article. I'll be more than happy to answer!
Have a great day!