Introduction to the Pauper World
Hey everyone!
Today's topic is Pauper Format. First of all, 2 things are important to know about it.
#1: Pauper is a very complex format
Players come to Pauper and say "This format is for those who can't afford themselves playing a real game of Magic: The Gathering", they even don't show the format some respect, don't offer friendship. I think, I kind of understand this, it's strange to play a collectible card game with a restriction to exploit the full collecting potential. It makes you think your resources become more limited, but that's merely another perspective. Pauper is a very complex format and I'd dare say it's close to Legacy in the matters of decision making and sometimes even outstands it.
#2: Games are very long and grindy
Pauper matches are very long and grindy, there is no bargaining here. The decks that provide a quick game are just not powerful enough. I've quit Pauper for some time several months ago because Boros Monarch was a tier0 deck and the best way to win a mirror was to time your opponent out. No kidding. It was virtually impossible to kill each other, and more and more players have started optimizing their plays to make clicking, stacking, yielding, etc. as low as possible, while still having to think through the game. It wasn't a control mirror that favors a better plan, it was more like an Action-per-minute competition. It wasn't cheating or exploiting, there simply was no other way, I don't remember a single case of dropping to a red timer in any other format, but in Pauper it was a common thing.
That's not the kind of Magic I wanted to play at that time, so I've decided to take a pause. Now the meta had shifted in favor of the Blue decks and I enjoy the format again, but matches can still be pretty long and no F6 is ever allowed.
Most of the decks can be separated into 3 large groups, let's have a look at the most popular decks. We'll start simple.
Aggro Decks
Monogreen Aggro by skrulis
There was a time a few years ago I had tremendous results with Stompy, but today I won't recommend you playing it since it's 100% vulnerable to 《Stonehorn Dignitary》 and 《Prismatic Strands》 soft locks.
Burn by ElYallo
Plain and simple, but effective nonetheless, Burn thrives on the slow decks, its game plan is alike to Dredge – you win the first game thanks to opponent's keep of a bad hand (and there is a lot of bad hands against Burn), then you manage to win one of the following somehow. I don't see it well-positioned in the current metagame for there are a few problems.
《Thermo-Alchemist》 can be a real deal in a few matches, but most of the decks have some cheap (1-2CMC) removal and will be happy to get rid of it without taking any damage and sometimes 1 mana ahead. 《Ghitu Lavarunner》 suffers the same, but it's way more likely to do some damage.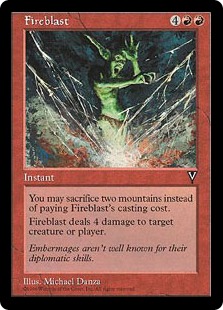 Not enough Bolts. All you want is to deal 3 damage for 1 mana, but there are just too few spells that do it, you have to fill the remaining slots with 《Curse of the Pierced Heart》, 《Needle Drop》, and 《Thermo-Alchemist》. I saw people playing 3 《Fireblast》s and can hardly understand it, 《Fireblast》 is why this deck exists. 《Shard Volley》 does exactly what we need, but that would be too much land sacrifice. 《Flame Rift》 is an option I like, 4 damage for 2 mana is good and you're unlikely to be raced, but then again it's good only because everything else is worse.
As for the matchups, I'd say only Elves are heavily favored, and they are not popular.
Concluding this I'd say don't play Burn yourself, I know it's represented wide in the tournaments, but that's not where quantity means quality, after a single league of Boros mirrors you'll be aching to play ANYTHING that takes less than an hour for a match. Be sure to know how to play against it, keep in mind its sideboard options. There is a fun thing about playing against Burn – it has a strict "prestige" of the spells, i.e. your opponent 《Chain Lightning》s you on turn 1, that means there is no 《Lava Spike》 or 《Rift Bolt》 in their hand, excluding cards like this can give a piece of relatively exact information on their hand.
Affinity by MLupa
In building an Affinity deck, 2 common problems have to be solved: cheap artifact count and mana stabilization, without them you won't move an inch. Some builds use 《Terrarion》, 《Navigator's Compass》, and 《Chromatic Sphere》, but it pains me to even imagine topdecking a Compass. I like this build for its balanced distribution of enablers and fixing with the metagame calls like 《Dispel》.
There are 2 main paths to victory:
Quickly deploying 2 creatures in any combination of 《Myr Enforcer》/《Carapace Forger》/《Gearseeker Serpent》. Have 2 of them start attacking and that'd be likely a game over, there is a nightmare removal spell against Affinity-《Snuff Out》, but only one deck plays it, as for everything else – your creatures are either out of the removal range (《Lightning Bolt》, 《Echoing Decay》, 《Agony Warp》) or at least some condition is required (《Skred》, 《Galvanic Blast》).
《Atog》+《Fling》/《Temur Battle Rage》. 《Atog》 is local 《Death's Shadow》. Just like 《Death's Shadow》 becomes a beast while you're just doing the basic stuff-playing lands and discard, 《Atog》 can push through blockers consuming 《Chromatic Star》s and the fixing artifacts you no longer need, and it's very risky for the opponent to let it connect even if you don't have a showdown spell. Not counting Boros, there is very little tendency for blocking in the format, the only creature that is actually meant for that is 《Augur of Bolas》.
With the sideboard providing a good variety of cheap answers, I think Affinity is the only deck worth consideration if you want to play Aggro.
Control Decks
The second group is the control decks. With Boros as the king of the hill, control strategy experienced some hard times, there was just too much advantage to counter everything. The print of 《Mystic Sanctuary》, however, has given the archetype the second wind and midrange decks learned their 《Tragic Lesson》.
Monoblue Faeries by Mezzel
Monoblue Faeries gives you far more consistent red-zone action, but;
a) The more creatures you play – the less useful 《Mystic Sanctuary》 becomes, and that's probably the best card in your deck.
b) If you're going to just slam your faeries down, that will let your opponent resolve his threats and it's easy enough to outclass a bunch of 1/1.
c) Green isn't good in Pauper, but all Green decks play 《Scattershot Archer》, if opponent plays it on turn 1, you're good as dead.
I think Monoblue Faeries is by far the hardest and least forgiving deck to play, it requires a razor-sharp skill and knowledge of opposing deck, but if you're able to effectively use every mana and evaluate the risks (there are 2 kinds of that: to counter a spell or save the counter, and to leave mana open or tap out), you should be able to sustain enough offense while keeping the opponent's threats at bay.
Skred Faeries by BlinkmothNexus
Red splash adds a solution to Blue's 2 biggest problems:
I'd say Red gives you a wider mistake window and actually makes you able to regain advantage once you're on the back foot. This build is more control and there are only 12 creatures, but they are all awesome (I'm not a fan of non-Delver 1 drops) and 《Ninja of the Deep Hours》 recharges the others.
Now UR 《Skred》 Faeries is the most played deck on Magic Online and will be a good choice for any level of competition tournament.
Dimir Control
I've recently top4d the Pauper Challenge with it, so I'll present my list. The deck is all about countermagic and cheap premium spells: 1 mana 3/2 Flying, 1 mana 5/5, free removal. The removal configuration is a personal thing. I don't like 《Agony Warp》, it's your only way to deal with a 《Guardian of the Guildpact》, but the deck using it is already a bad matchup, so maybe you shouldn't care.
I was skeptical about 《Suffocating Fumes》 at first, but the card was fine in a variety of situations and can always be cycled away. 《Snuff Out》 is awesome on its own, but 《Thorn of the Black Rose》 makes it a killer – to become a monarch and make sure your crown remains in the same turn is a big step towards victory. I'm not sure about sideboard 《Stormbound Geist》, it's definitely good against UB, but I've never faced a situation I'd like to bring it in myself. 《Nihil Spellbomb》 vs 《Relic of Progenitus》 is another question, I understand just tapping the Relic will be enough most of the times, but I still don't like its friendly fire if you have to use it.
And the general advice for all control decks – DO NOT underestimate 《Brainstorm》, it's almost as good as in Legacy, no fetches here, but Scry and land search are more than enough to shuffle the cards you don't want to see away.
Midrange Decks
Midrange. Just as in any other format, midrange decks exploit powerful mid-game threats, multi-use of some cards, and fast mana acceleration. Let's go from least to the most popular lists:
Conclusion
Concluding this we can see the usual pattern of tier 1 decks in Pauper: Tron beats Boros, Boros beats Control, Control beats Tron, and others are trying to fit the vicious circle.
I hope you enjoyed the read and have found it useful.
See you online,
Dmitriy Butakov (Twitter)