Introduction
Hello! Do you enjoy playing Temur Reclamation, Bant Midrange, or Rakdos Sacrifice? No? So you are looking for something fresh and new? Great! I have something for you!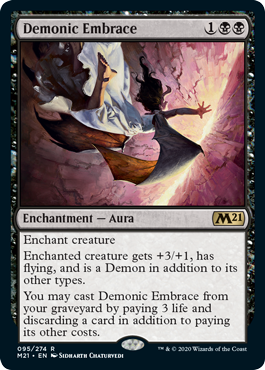 With addition of M21, we got some new, spicy options. One of them is Mono Black Aggro. As you can see on one of my previous tweets, I managed to 7-0 the Standard Metagame Challenge. It was the only deck that gave me the "Trophy", so I tried it again with small adjustments and made 7-0 again. While writing this article I'm 14-0 after beating every tier 1 deck at least once in the process. Remember, 《Demonic Embrace》 is the black 《Embercleave》!
Decklist
This is my updated list:
Let's start with how this deck works, as it's not that obvious. There are two main plans that work best for us.
The first one is really simple, Cast 《Rotting Regisaur》 → Enchant it with 《Demonic Embrace》 → Win. If that doesn't work, and we have to play the real game of magic, usually we want to focus on deploying cheap creatures on the curve and killing important stuff with removal. That's why Mono Black got such a power spike after M21.
We got extremely efficient removal spells, that we can swap between games to always have a way to kill whatever we want post board.
It's important to mulligan correctly. Never keep expensive hands without early plays. Mulligans don't hurt us that much thanks to how powerful is 《Rotting Regisaur》 (if we don't have cards in hand, we don't have to discard them. PROFIT!), keeping slow hands does!
Card Choice
Now, when we know that Mono Black Aggro is a half_Splinter_Twin_half_Delver.dec we might talk a little about the most important card choices, and how to adapt the list if meta changes.
Sideboard Guide
Now, when we know why Mono Black is good, and how to build it, let's talk about match ups and sideboard plans!
Conclusion
As always, if you have any questions about the deck, feel free to ask me on Twitter! I'm always happy to help! Hope you enjoyed this guide and will enjoy this deck! Have fun, and thanks for reading!
Until next time,