Introduction
Hello friends,
Today I am going to talk about a single magic card, as in my opinion it is unique and very hard to use correctly. Finally, the time has come, an entire article about the card 《Mishra's Bauble》!
First, let's have a look at what the actual card does: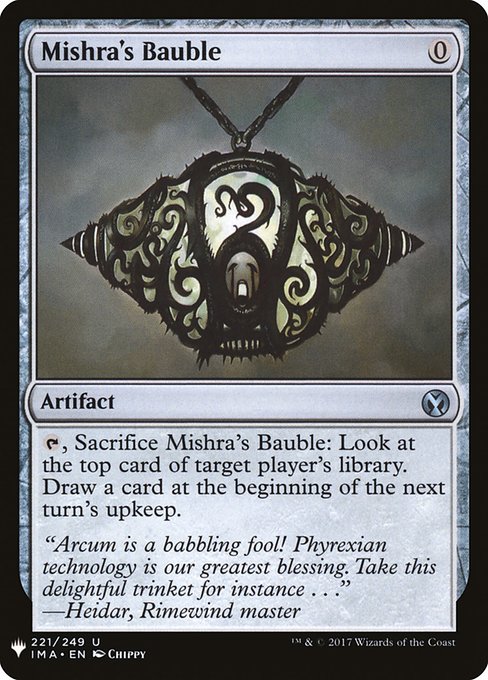 Pretty simple, right? You get to look at the top of a player's library and at the next possible beginning of upkeep you get to draw a card. Thanks for reading, that was the whole article.
Wait, not so fast! Yes, obviously everyone can read the card, but there are quite a few questions to solve and sadly none of them is as easy to answer as one might imagine.
The questions are as follows:
These questions are so hard to answer because they strongly depend on your own deck-list, opponents' deck-list, if known, knowledge of the format and your starting hand. As, in my opinion, there are even more questions to answer and they all depend on the actual deck one is piloting, I will try to talk more about 《Mishra's Bauble》 and its use while looking at specific deck-lists and starting hands. The assumption is always, unless stated differently, that we are on the play, we are keeping our starting hand and the opponent's deck-list is unknown.
Deeper Understanding Through Examples
Wrap Up
At this point I have written quite a bit about 《Mishra's Bauble》, so let us summarize it a bit:
《Bauble》 is an artifact!
No need to immediately jam it into play.
It grows creatures, either by being played (prowess), sticking in play (Construct) or going to the graveyard (《Tarmogoyf》)
It can produce mana, either with 《Urza, Lord High Artificer》 or by being a card in the graveyard for Delve.
It can trigger revolt.
Do not hurry sacrificing it, try to maximize your information.
Especially the last point is very important and often decides between a win and a loss. Knowing the format itself also provides some help with when and how to use 《Bauble》.
I hope with this article I was able to help you out a bit with this unique magic card. If you have any questions about 《Mishra's Bauble》 or feel like something is missing and/or wrong, please do not hesitate to reach out to me and just ask.
Until next time,
Immanuel Gerschenson (Twitter)