Introduction: Why Do You Play Bant Over Sultai?
With the next Arena Open coming up at the beginning of August, I have started experimenting with different decks in the Historic format. Lucas Esper Berthoud wrote earlier about the impact of the recent bans on the format, and after that a new batch of cards has been added to it from the Jumpstart set.
Two cards have immediately become major players in the format: 《Muxus, Goblin Grandee》 and 《Explore》.
Having access to both 《Explore》 and 《Growth Spiral》 means that ramp-style decks can play a turn 2 accelerant with tremendous consistency. The first place I looked to was Temur Reclamation, but I felt that the deck wasn't quite good enough. The main plan of 《Wilderness Reclamation》 and 《Expansion/Explosion》 is definitely still powerful, but the Historic version of the deck was a bit too reliant on it. The Standard builds can easily win with 《Shark Typhoon》 and 《Uro, Titan of Nature's Wrath》 without ever assembling the main combo, but those plans felt significantly weaker in the faster, more powerful Historic format.
Another problem was that the interactive spells seemed to be much narrower in Historic. The three pillars of the format are, in my experience, Goblins, Golos and Kethis and it's quite hard to find interactive spells that are good against all three of those decks. With Temur Reclamation, I couldn't find a way to build the deck so that it wouldn't have a bunch of cards that were either too situational or too clunky. I absolutely crushed the Goblin players that I encountered with it, though.
Next I moved on to another 《Explore》 & 《Growth Spiral》 deck: Bant Golos. After getting beaten by it too many times, I was rather impressed by its resiliency. And if you can't beat them, join them! Bant Golos was much more consistent in ramping to a 《Field of the Dead》 and a bunch of Zombie tokens than the Reclamation deck was at finding both of its combo pieces on time. It also helps that 《Golos, Tireless Pilgrim》 itself dodges many of the most popular interactive spells like 《Aether Gust》, 《Mystical Dispute》 and 《Negate》.
The deck was fantastic for the most part, but at some point I started wondering what the White cards were there for. 《Shatter the Sky》 is obviously good against Goblins and other aggro decks, but other than that there weren't really any White cards that I really wanted to play. I suspect that they were in the stock lists for mostly historical reasons (pun not intended).
Thus, I ended up switching the White cards for some Black ones instead. The majority of the deck is still Blue and Green, so it's not like switching the splash color is a massive innovation, but I do believe that the Black cards offer some useful advantages over the White ones.
The only White card I really wanted to play was 《Shatter the Sky》, and Black offers you 《Languish》 as a replacement. In the current format, 《Languish》 kills pretty much everything you need it to. There are some outliers that it doesn't kill, with the most important one being 《Golos, Tireless Pilgrim》 itself. But that interaction is usually an upside and not a downside, as you can sweep your opponent's creatures while your own 《Golos, Tireless Pilgrim》 survives.
Not giving your opponent an extra card is also a nice benefit. Against Mono Red Aggro, for example, 《Languish》 is miles better. Instead of letting them draw an extra card, it shrinks 《Anax, Hardened in the Forge》 and thus reduces the amount of tokens they get.
In addition, Black offers you access to some 3 mana board wipes as well, like 《Cry of the Carnarium》 and 《Golden Demise》. If you want to add more sweepers to your Bant deck, you have to resort to 5 mana versions like 《Time Wipe》. And when the Goblin deck is capable of playing a turn 3 《Muxus, Goblin Grandee》 and ending the game on the spot, being able to sweep their board a turn or two earlier is often the difference between winning and losing.
I'm currently also playing a couple copies of 《Unmoored Ego》 in my sideboard, although I'm not yet sure if they are worth it. They do help a bit against Kethis combo, which is probably your toughest matchup. They can also cripple some versions of Temur Reclamation if they don't play enough alternative win conditions that can race or punch through a horde of Zombies. But 《Unmoored Ego》 is by its very nature both card and tempo disadvantage, so I warn you against boarding them in too liberally. I would not, for example, board them in against the mirror match.
Another subtle but important advantage is that the Black build offers a smoother mana base. You get access to an on-color triple land, 《Zagoth Triome》, unlike the Bant version. I also want to have access to a 《Bojuka Bog》, but playing a completely off-color land for that effect felt a bit awkward when playing Bant. However, it fits perfectly into the Black version, and gives you tutorable disruption against 《Kethis, the Hidden Hand》 decks and opposing 《Uro, Titan of Nature's Wrath》s.
Decklist
In the main deck, the ramp suite is pretty much locked in. I haven't felt a need to change it at all during the whole time I've been playing the deck. The interaction suite and the top end have some room for customization though, and it depends a lot on the metagame:
This is my current setup. If aggro becomes more popular, you might want a 4th 《Languish》 in the mix, and if it's less popular you could play another top end card instead of the cheaper interaction spells. In my experience, 《Aether Gust》 has been the best option for the cheap interaction slot. It's a bit weak in the mirror matches, but it's usually not completely dead, and you need to have enough interaction to stop Goblins from running you over. It feels particularly good to 《Aether Gust》 a 《Muxus, Goblin Grandee》 when they have sacrificed some goblins to 《Skirk Prospector》 to cast it.
I do feel like the 2 《Ugin, the Spirit Dragon》s are more or less a must-have at the moment, as it is by far the best top end against aggro decks while being decent against everything else. A third one wouldn't be out of the question. The 《Ulamog, the Ceaseless Hunger》s I'm much less sure about, as 《Craterhoof Behemoth》 is a strong contender for that slot. You definitely want some kind of way to break the mirror matches, but which one you want depends on the metagame.
Advantages of 《Craterhoof Behemoth》:
Tends to be slightly better in the mirror match
Significantly better against Kethis Combo, as it gives you a faster clock
Advantages of 《Ulamog, the Ceaseless Hunger》:
A lot better against Reclamation decks, as it dodges 《Aether Gust》 and doesn't get blown out by a 《Magmaquake》
Gives you a powerful effect even if it's dealt with
Can bring you back to a game in which you have fallen behind and are struggling to establish a board presence
Both are slow, clunky and mostly irrelevant against Goblins. If you live long enough to cast them, you're probably winning anyway, so your choice doesn't really matter much in that particular matchup.
During the past week, many opponents seem to have copied Crokeyz's Reclamation Field hybrid deck, so right now I value the Spaghetti Monster a bit higher than the Hoof. That said, I like to have the Hoofs in my sideboard so I can customize my top end based on what my opponent is playing.
Sideboard Guide
Kethis Combo

Againt Kethis Combo (On the Play)

Againt Kethis Combo (On the Draw)
In this matchup I prefer to lower the curve a bit, reducing the top end to just 《Craterhoof Behemoth》s, as they give you the best chance of racing their combo.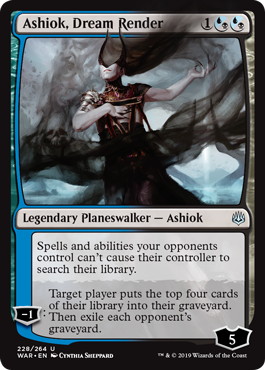 《Uro, Titan of Nature's Wrath》 is mostly irrelevant as a threat and slow as a ramp spell, so I don't like it all that much, but on the draw it's still better than 《Migration Path》 because they tend to have 《Ashiok, Dream Render》s in their sideboard. On the play, being able to go turn 2 accelerant into a turn 3 《Migration Path》 is a high enough upside that I do want to have them, and you can always cycle it away later if they have the 《Ashiok》, so the downside is fairly small.
I used to bring in 1-2 additional 《Aether Gust》s, as it is cheap interaction against 《Kethis, the Hidden Hand》 itself, but otherwise it's quite narrow. The cost of leaving up mana with this deck is often high, as you don't have much other instant speed action to spend your mana on if they don't present a target for the 《Gust》. It is also not too hard for them to just combo through the 《Aether Gust》. 《Mystical Dispute》 has more targets and is much more mana efficient, so I like that one a lot more.
Primary targets to name with 《Unmoored Ego》 should be 《Kethis》 and 《Mox Amber》, not their win conditions.
Goblins and Mono Red Aggro

Againt Goblins and Mono Red Aggro
If you want to make the Goblin matchup better, you can add another 《Golden Demise》 or 《Cry of the Carnarium》 to your sideboard. Sweepers are fantastic against them, even though the double Black casting cost can be a bit rough. For a 30 land deck, Golos has surprisingly bad mana.
Boarding in 《Tale's End》 isn't completely unreasonable as their deck is very much built around 《Muxus, Goblin Grandee》 and they also have 《Krenko, Mob Boss》, but again, the cost of leaving up mana is very high with this deck and you are under significant pressure so you can't afford to miss a beat.
Same goes for Mono Red Aggro – even though they have a decent amount of targets in 《Anax, Hardened in the Forge》, 《Torbran, Thane of Red Fell》 and 《Embercleave》, I still think 《Tale's End》 is too situational.
Conclusion
Historic seems like a fun format, and I've encountered an unusually wide variety of different decks on the Ladder. Pro players haven't yet ruined the format by tuning a best deck that no one can beat.
《Field of the Dead》 seems like a pretty good thing to be doing in it though, so I recommend giving the deck a go!
-Matti (Twitter)