Introduction
Hello everyone,
A few weeks ago, I competed in the Players Tour Finals. I played RB Sacrifice and finished at 27th place at the end. The meta is filled with Reclamation variants which did not feel ideal for me personally. I was hoping to dodge the Reclamation decks but I ended up facing 10 of them. My record was 5-5 against Reclamation deck and 3-0-1 against non-Reclamation decks, which is in line with my expectations.
However, this is not the deck I want to discuss today. If you visited my stream, you will know the deck I spent most time with is Mardu Winota instead of RB Sacrifice. Unfortunately I did not have the guts to play it while Michael Jacob, the sole player playing Winota in the tournament made top 8.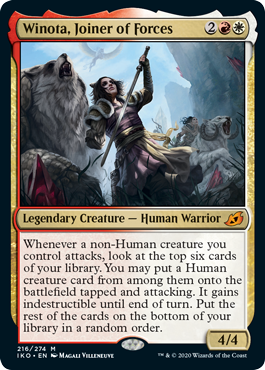 Decklist
The core of my build is very similar to his top 8 list and I will just use his list in this article. After all, he is the one who made top 8 with the deck.
The challenge of building a Winota deck is always about playing games without 《Winota, Joiner of Forces》. 《Winota》 is such a powerful card that it is capable of finishing the game right after it hits play. However, the deck building restriction is huge: you want to have enough Humans to hit from 《Winota》's triggers whilst having enough non-Human creatures to start the game with.
Mardu Winota does not have lots of card selection. All we did is build the deck with redundancy and here I will break down the card categories:
The Enablers
We would like to have at least one and ideally two of these in our opening hand. All of them generate extra bodies to get more 《Winota》 triggers.
The main difference from most lists is the inclusion of 《Woe Strider》. 《Woe Strider》 has the ability to dodge 《Aether Gust》, works as a resource in the late game if your opponent cast mass removal on you, and the scrying ability is actually extremely relevant when all you need is to hit the 4th land drop for 《Winota》.
The Payoff
We are looking to get one or two payoff cards in our opening hand. Sometimes we could keep a hand without payoff if we have good mana and enablers that set up a good position for us topdecking a payoff.
《Winota》 is just broken if we can get three or four triggers by turn 4. It could often generate 10-12 mana worth of cards and lead us into an unlosable position even if we do not literally win the game on the spot.
The main difference from other Winota build is the cutting of 《Embercleave》 for a full set of 《Venerated Loxodon》 instead. The logic here is aiming to play a consistent game plan to create a mismatch of resources from our opponent. The enabler could either proceed into a normal aggressive game plan or the 《Winota》 plan. This is where 《Venerated Loxodon》 shines. Sometimes you can nut out double 2 cost token generators and put 12 power on the board by turn 3 which leaves the opponent no room to play around any follow up. Normally a second payoff will be enough to close the game.
《Judith, the Scourge Diva》 is a card that both works as a hit from 《Winota》 and in line with our secondary game plan. The pump effect is great with so many tokens and the damage trigger often relevant when facing opponent mass removal.
The Mana
The mana base is fine as we do not have a very intense mana requirement. Most of our spells had generic mana in their casting cost and we seldom cast multiple spells in the same turn, so the color problem is not huge.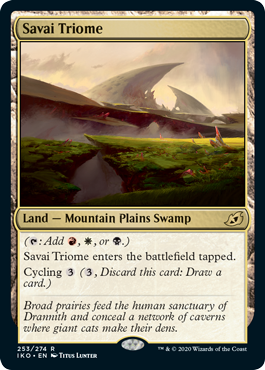 However, the main problem is mana screw and flood. The deck does not have much to do with extra lands except the sole copy of 《Castle Embereth》. At one point I want to play more temples over 《Savai Triome》 as I think I can keep 2-landers with any temple. I did not have enough time to test that.
The deck does not have much card advantage besides 《Winota》. Lots of the time we set up a board state where we threaten 《Winota》 and opponents have to hold up mana which allow us to create tempo advantage. So if you have any problem on mana, there are not many ways for you to get back into the games. It is the reason the impact of mana screw and flood is way more significant in decks like this. This is also the main reason I gave up on the deck at the last moment as I could not find a reasonable way to solve the problem.
The Sideboard
While I do not have a detailed sideboard plan for the deck, I think keeping the noncreature spell count low in the deck is very important. MJ's sideboard has only five cheap spell based removals where I doubt that he will board in more than three removal spells in any matchup. An aggressive deck like this wants to have a very proactive plan and try not to have too many dead cards in hand.
The general rules of sideboarding with this deck is replacing Human for Human, non-Human for non-Human and ideally matching slots on its curve. You want to keep the Human and non-Human ratio similar to what you have in the main deck.
Conclusion
So this is my understanding of the deck. I am sad I did not play the deck seeing how well it performed. While this deck may not be the best deck in the format, it is a pretty fun deck to play if you dislike playing mirror matches and I hope you will enjoy playing it.
Thanks for reading!
Lee Shi Tian (Twitter)