Introduction
Hi guys, today we're back and talking about Pioneer 😄. I'm going to talk about the new format post bans and the deck I recommend playing now in the beginning when people are trying new things, Mono Black Aggro.
Me and my friend Thiago Saporito have been playing this deck since the beginning of Pioneer and he is a machine with it having an incredible record with the deck in the biggest Pioneer tournaments that have happened so far. It's also a pretty fun deck to play and it attacks from a lot of angles which is always my favorite type of aggro decks the ones where sweepers don't break you.
Structure of the Deck
This deck follows the same principles as 《Death's Shadow》 or Humans in Modern as the general idea is to disrupt your opponent long enough to get them dead. You mix the power of disruption and aggressive creatures to try to kill your opponent before they todpeck out of it.
Of course the format is different but playing 《Thoughtseize》, versatile removal (《Murderous Rider》/《Fatal Push》) and an aggressive curve is always a decent plan and you're never going to be a huge underdog against anything even if they're trying to beat you.
One of the strongest advantages of this deck also is that your card advantage comes incidentally as you get to have 12 creatures who come back from the grave (《Bloodsoaked Champion》, 《Dread Wanderer》, 《Scrapheap Scrounger》) making spot removal that doesn't exile pretty weak against you. You also get to play 8 value lands in 《Mutavault》 and 《Castle Locthwain》 for almost no cost since you're playing a mono colored mana base.
《Knight of the Ebon Legion》 is a really good aggressive creature that you're happy to play. I like adding more cards to your removal suite and you get some pretty good options (《Cast Down》, 《Heartless Act》, 《Doom Blade》). I prefer 《Heartless Act》 for now as I think it hits almost all the creatures that are seeing play but if the meta changes other options could be better. And finally you round out your deck with some heavy-hitting flyers in 《Rankle, Master of Pranks》 and 《Spawn of Mayhem》:
《Spawn of Mayhem》 is just a real powerhouse hitter as it takes 5 points a turn from your opponent's life total if it goes unanswered. This is also a deck with a lot of ways to cast it on turn 3 where it really shines as you have a lot of early creatures and removal to get them through.
《Rankle, Master of Pranks》 is also really amazing in this deck. First, it's a solid flying haste creature in black, a color which doesn't have access to this effect giving you a lot of reach after a sweeper or just messing up combat math but it also has a lot of synergy with the deck as you can sacrifice or discard some of your recursive creatures to break the symmetry. Sometimes you also use the draw effect or lose life when it's beneficial to you making it even more versatile solidifying his 4-of spot in the deck.
The maindeck is now closed and now moving on to the sideboard, with these type of aggro decks you want to have specific bullets for specific matchups and also the double ups on the specific disruption you need for what you're playing against in this case more discard spells and removal.
Decklist
Here's the finished decklist.
Sideboard Guide
For the sideboard you really have to see how the meta shapes up to tune it better but I will try to make a small guide for the known decks that may still be around.
Bant Spirits
This is an interesting matchup as you have the removal for the key threats but they can actually block making it a really tempo based matchup with a lot of decisions on both sides.

Againt Bant Spirits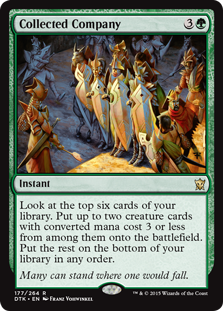 《Collected Company》 is their best card so you want to keep in 《Thoughtseize》 to get it or to be able to formulate a plan for your turns.
《Rankle, Master of Pranks》 is just never getting through realistically and is not even a good blocker, 《Aethersphere Harvester》 on the other hand actually is annoying for their 《Shacklegeist》 and attacks into a lot more boards, plus you can get him through 《Spell Queller》 on the play.
You want all you removal and interaction so even if 《Legion's End》 is a sorcery that doesn't hit everything and 《Noxious Grasp》 has limited targets you still want them as they will kill whatever key spirit is messing up your attacks or killing you in the race.
Green Devotion
This deck lost 《Walking Ballista》 both for the maindeck and as a 《Karn, the Great Creator》 target. The most targeted deck since the beginning of Pioneer Mono Green Devotion will still comeback as mana dorks, 《Nykthos, Shrine to Nyx》 and big strong threats will still always be decent.

Againt Green Devotion(Non – Planeswalker Version)

Againt Green Devotion (Planeswalker Version)
In this matchup you just want to disrupt them as they're a pieces deck (Mana and Big threats) by attacking their mana if you can or just ignoring the accelerators and kill the planeswalkers or big creatures that come after. That's why discard is such a fundamental part of your strategy against them so you can choose which battle to fight, since your pressure is also significant if you stop one of these angles for a bit they just die.
Mono Red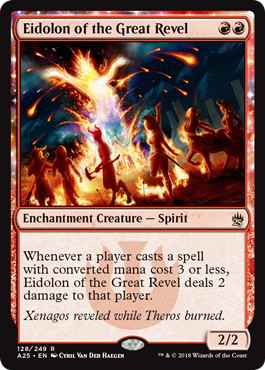 This matchup is pretty cool because the beatdown switches almost from turn to turn and you have to understand when to attack or when to try to block and also which threats to manage immediately and the ones you have to keep getting hit by. Usually 《Eidolon of the Great Revel》 cannot be allowed to be in play but sometimes you're the one protecting their 《Eidolon》. The sideboarding is fairly easy though.

Againt Mono Red
《Thoughtseize》 is sometimes good but there also a lot of situations where it's pretty bad and of course an awfull topdeck. The life gain threats are self explanatory and 《Legion's End》 has a lot of targets plus the possibility of the dream scenario. 《Rankle, Master of Pranks》 is not awfull but you definitely don't want a ton of 4 drops in this matchup and you're bringing in 《Kalitas, Traitor of Ghet》. Don't be afraid to play 《Murderous Rider》 as a 2-3 Lifelink it's the right play more times than it seems.
Mirror

Againt Mirror
The cards we bring are all pretty good and can catch you up or put you more ahead if you need them. 《Thoughtseize》 is a liability and 《Fatal Push》 only reliably kills creatures that come back making it pretty weak. As for most aggro mirrors there isn't a lot of playability but sometimes tempo positive plays are really good like playing 《Aethersphere Harvester》 into their 2 or 3 open mana instead of 《Spawn of Mayhem》 can be the difference between winning or losing.
Conclusion
These are now exciting times for Pioneer. A lot of old favorite strategies can be good again or some completely new decks can come out of a pretty much open format. Some of the decks I'm really excited to try are 《Rally the Ancestors》, Bant Company , 《Aetherworks Marvel》 Energy, Big Red, Mono Blue Devotion, Izzet Phoenix….
But I'm also sure that someone will come up with a deck I never thought of that's really good and will see tons of play. I really feel that finally Pioneer is the format it was supposed to be and I'm really looking forward to see it unfold.
Once again I'm really honored to be able to write for Hareruya and I hope you liked reading this article. I really enjoy playing Mono Black Aggro in this format and if you like aggro decks with some disruption this is the deck for you. Thank you for reading.