Introduction
Hello everyone!
I'm glad to be back with another standard article for you after a few months of this format being dominated by Blue Green decks. Fortunately for us, Wizards decided that it was time for some change and banned a big number of cards that were oppressing the format, even if most of them were going to rotate very soon.
Even with the next set arriving in a few weeks, there are still a lot of tournaments to play to keep us tuned to the fast evolution of the format. After a quick dominance right after the bans, we saw the Temur adventure decks leave the position of the boogeyman of the format to a renewed version of Sultai Ramp.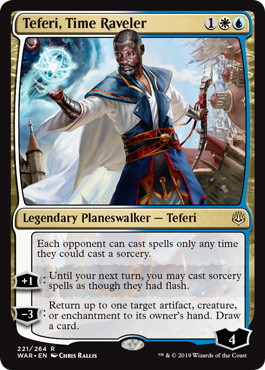 But today I'm going to be presenting to you another deck that I have been playing a lot the past few weeks, Temur Flash. This deck is not new, but for a long time it had to deal with its worst nightmare: 《Teferi, Time Raveler》. Combined with 《Mystical Dispute》, it was really hard to beat it as it alone invalidated everything the deck was trying to do. Now with it gone, it's time for the flash creatures to shine again.
Decklist
Here is my current decklist:
I think the deck is very well positioned right now, and the only match up I'm not comfortable with is Mono-Black Aggro, but the deck is not much played right now.
Card Choices
Let's go over some of the card choices.
Sideboard Guide
Here is my sideboard guide for the most common match ups in standard right now:
Sultai Ramp

Againt Sultai Ramp
Temur Adventures

Againt Temur Adventures
Mono-Red Aggro

Againt Mono-Red Aggro
Mardu Winota

Againt Mardu Winota
Temur Flash Mirror

Againt Temur Flash Mirror
Mono-Green Aggro

Againt Mono-Green Aggro
Mono-Black Aggro

Againt Mono-Black Aggro
Conclusion & Bonus Deck
That's it for today friends, I hope you would enjoy playing this deck and my sideboard plans! I'll be back soon with more content for you when Zendikar arrives.
---
This weekend I got a message from Javier Dominguez who sent me this very good black red sacrifice deck that I used in the SCG qualifier to a 6-2 finish. The deck was surprisingly good and fun to play. He even posted his sideboard plans on Twitter, so you should definitely try it!