Introduction
Double Masters is unlike any other set. With twice the amount of rares in the set, twice the amount of rares in every pack, and twice as many foils in every pack. the set is unlike any other. Another twist in this draft format is there are twice as many first picks at the beginning of every pack.
I'm currently at 44 draft trophies in 137 drafts winning at 70%. I'll share some of my insights on the draft format.
Insights
The Limited format is so deep and complex I don't think I'll be able to write about everything in this set. I will elaborate on my approach to this draft format. With double the rares and double the first picks this Limited format ends up being very powerful. A lot of the uncommons would be considered rares in other draft formats.
The high power level of the set makes me try to avoid aggro decks unless I open a really good aggressive rare. There are 8 wraths in the format so it contributes to how difficult it is for aggressive decks to close games out.
Artifacts are at the center of this Limited format. A lot of the powerful synergies revolve around artifacts. Even decks that don't care about artifacts will include a few artifacts in them. So cards that destroy artifacts are at a premium. I will always main deck some way to interact with artifacts with few exceptions.
My Favorite Archetype
The archetype I've had the most success with has been Mardu Artifacts. It usually uses an engine of 《Chromatic Star》 and 《Ichor Wellspring》 along with 《Pyrite Spellbomb》 and/or 《Expedition Map》 to have a lean mana base and churn through your deck.
You use Black and Red removal combined with 《Orcish Vandal》 to control the board and cards like 《Magnifying Glass》 to get ahead on cards. You eventually close out the game with a finisher like 《Twisted Abomination》. The majority of the cards in the deck are commons so it's a strategy that is available fairly often.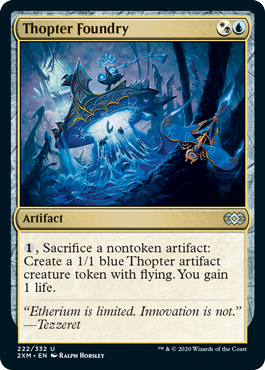 Sometimes you can substitute for one of the colors in order to play 《Thopter Foundry》 or a powerful rare. 《Chromatic Star》 fixing your mana also lets you splash easily as well. Here are some example artifact control decks I've gone 3-0 with: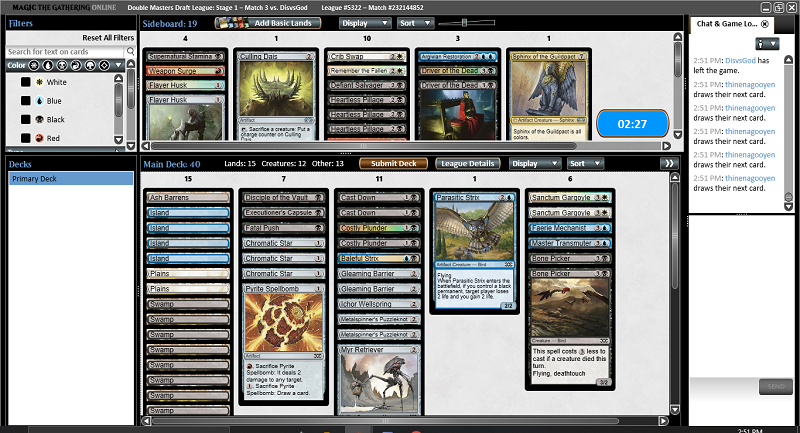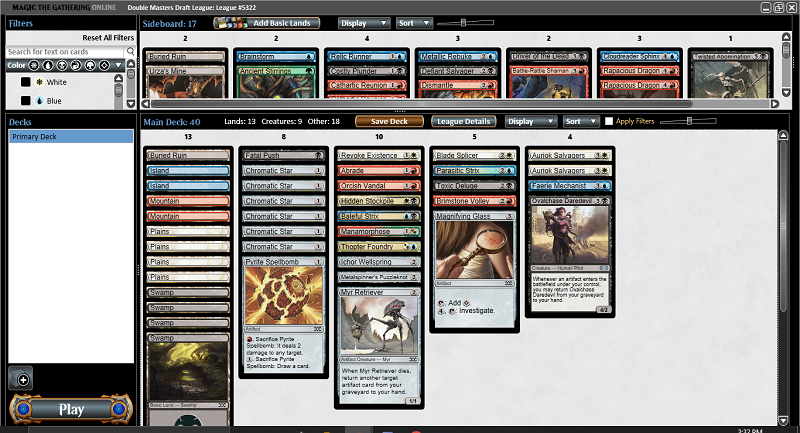 Conclusion
There are so many different archetypes in Double Masters. There is something for everyone. I hope you got some information from this article. Best of luck with your next draft.
Thien Nguyen (Twitter)