Introduction
The Zendikar Rising full set has now been previewed and my first impression is that this looks like a huge decline in power level compared to what we've seen the last couple years. While some of the cards look good enough to see a little play in Modern, a lot of it looks outclassed by cards from the last year and a half that have also completely overtaken Modern.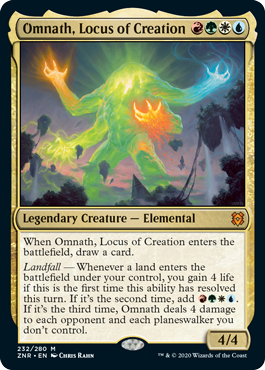 With that being said, the card I'm most excited to start playing with in Modern is 《Omnath, Locus of Creation》. I believe 《Omnath, Locus of Creation》 has the power it needs to compete in Modern right now, and I'm excited to see its impact on the format in the next few months.
To start I'm going to go over some of the other cards in Zendikar Rising that I think will make a showing in Modern. I don't really expect any of these to become major roleplayers, but just find their homes and improve some archetypes.
Cards That Could Have an Impact on Modern
My Thoughts on Modern
Right now I'm not playing as much Magic as I would like to be. For the most part I'm just paying attention to Modern and Legacy to see how the formats are continuing to develop.
I really just wish 《Uro, Titan of Nature's Wrath》 would get banned in Modern at this point, while I see some archetypes like Prowess or Big Mana strategies finding success, those decks just seem like they are taking turns being the opposite of whatever the 《Uro, Titan of Nature's Wrath》 Midrange decks are trying to tune themselves to beat from week to week.
I find 《Uro, Titan of Nature's Wrath》 to just simply be too good in every matchup, and in combination with 《Force of Negation》, these decks cover a lot of what felt like used to be their weaknesses.
Around the time I hit Gold in the Pro Player Club back in 2018, my answer to "Why do you like Modern so much?" was usually something like, "I like finding whatever broken strategy is being least prepared for at the moment."
Whether that meant graveyard strategies, 《Mox Opal》 strategies, spell based combo like Ad Nauseam or Storm, or creature combo like Infect or 《Devoted Druid》, I tried to keep myself prepared to pick up any archetype I thought could be correct for the weekend, and usually avoided midrange or control strategies.
This is because I really dislike the idea of showing up to a tournament with a deck like Jund that's historically felt like it had close matchups across the board.
My favorite part about Magic comes in deck selection and deck tuning, while there are a few standout decks like Amulet Bloom that I really got attached to and would play every tournament with, for the most part I used to really try to get some games in with every deck I think could be the sleeper choice for a weekend.
Right now I think that's not the best thing you could be doing in Modern because the midrange and control strategies have just been given too many tools in the past couple years.
I feel the needle has shifted from midrange strategies feeling close to 50-50 in every matchup to them feeling like they are 55-45 or better in almost every matchup. I think the main 3 culprits that are causing this are 《Force of Negation》, 《Mystic Sanctuary》, and 《Uro, Titan of Nature's Wrath》.
Of them I would really like to see 《Mystic Sanctuary》 and 《Uro, Titan of Nature's Wrath》 banned in the near future. Not only do I find these cards both lead to unfun and repetitive gameplay in game, but they also are just homogenizing Modern midrange and control strategies into what feels like one big archetype.
Now instead of playing against Jund, Azorius Control, and some Temur midrange brew, I'm playing against Sultai Uro, Bant Uro, and Temur Uro. 《Force of Negation》 I think isn't as much of a problem if the decks that are playing with it don't have cards like 《Uro, Titan of Nature's Wrath》 or 《Mystic Sanctuary》 to play to.
《Force of Negation》 is admittedly a nice card to punish decks like 《Neoform》 or Dredge that are using the London Mulligan as effective card selection for their combo at the start of the game. I just dislike that in the mid game I feel like my blue opponents are effectively assembling their own combo of "tap out to Escape 《Uro, Titan of Nature's Wrath》 but have 《Force of Negation》 to cover me for the turn I put my shields down".
A lot of playing combo in Modern used to feel like you were finding the right moment to find your combo turn, you would find ways to pressure your opponent into spending their mana with things like attacking with 《Scrap Trawler》 or casting Ad Nauseam without 《Angel's Grace》/《Phyrexian Unlife》. Now instead it feels like the control player is the one dictating the pace of the game, and the combo player is left with much less agency.
《Uro, Titan of Nature's Wrath》 being a 6/6 is threatening enough to end the game quickly, it helps stabilize against aggressive strategies, and if the game goes long the blue deck doesn't have to worry about getting flooded with their higher land count, because 《Mystic Sanctuary》 and 《Field of the Dead》 have them covered.
As I said earlier, I'm not really a fan of banning cards, but right now I feel like 《Uro, Titan of Nature's Wrath》 and 《Mystic Sanctuary》 have become bigger offenders of the format than previous bans. Banning them doesn't feel that much harder to justify than 《Dig Through Time》, 《Treasure Cruise》, or 《Deathrite Shaman》 because all of them are just absurd with fetchlands, and Modern is effectively the lowest power level fetchland format.
Conclusion
I really hope something changes the format soon, it obviously doesn't help that tabletop Magic doesn't exist right now, but Magic just really feels like a different game when the premier midrange/control strategy in almost every format is built around 《Uro, Titan of Nature's Wrath》.
I know this article ended up more of a rant than usual, but I appreciate those of you that read it. As always, thank you, and feel free to contact me on twitter @jacobnagro.