Introduction
Hello guys, Marcio here back with another Limited article. In the midst of all the talk concerning the health of the constructed formats, I've found myself enjoying Limited more than ever, and sometimes even get called out by my teammates that I should be testing standard instead 😆
Zendikar Rising brought an excellent and fun Limited format. Party mechanic has cards that are potentiated by it but are not bad individually. The new modal double-faced spell/land cards have brought a possibility of reducing the variance from the flood (something very common in Limited), so don't be surprised if you end up with a deck of 12 lands and 6 or 7 of these cards. Landfall's return also helps you take better advantage of land-drops, and to complete, we have Kicker back, another way to have decent spells in the early game and, at the same time, a good way to use excess mana in the late.
Characteristics of Each Color
Every mechanic is present in all colors, but each color has a highlight mechanic and a most representative creature type.
White has good Party cards followed by Landfall and the main creature types are Warriors and Clerics, and you'll also find a Wizard (《Farsight Adept》) on the white cards but no Rogues.
Blue has excellent cards with Kicker, its types are Wizards and Rogues, you'll even find a Cleric (《Cleric of Chill Depths》), but never a Warrior.
In Black you have good options with Party followed by Kicker, The main types are Clerics and Rogues, black cards have a Warrior (《Highborn Vampire》) but not Wizards.
Red has honorable mentions in all mechanics, its main types are Warrior and Wizards, there are also red Rogues but there are no Clerics.
Green has as main mechanics Landfall and Kicker and is the only color you will have creatures of all types for your Party. A valid observation is that most creatures with Landfall have no type to contribute to your Party, so be careful when combining these mechanics.
The colors I have had the most success in this early season are blue, followed by black and green.
Modal Dual Face cards are very good. Cards like 《Pyroclastic Hellion》 and 《Kazandu Stomper》 are good at being able to catch them back in the late game generating real card advantage.
Top Commons
Let's dive into each color highlighting the top 5 commons on each of them:
2 Color Format
This is a 2 color combination format only in my opinion, and I recommend that you do not try to splash. Mana fixing is almost nonexistent outside of green, and relying on 《Stonework Packbeast》 to splash is a very dangerous choice.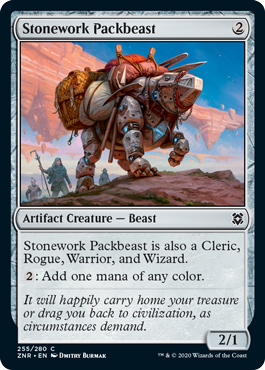 I've seen some players talk about using Double Faced cards to splash other Double Faced cards, going 3 or 4 colors (Hello 《Omnath, Locus of Creation》, of course I'm not talking about you), but in my experience, you end up overwhelmed by the more focused 2 color decks. This set rewards you for being attentive to which of the archetypes is open during the draft, and going for it as early as possible.
That said, one of the reasons this format is so good in my opinion is that all 10 color combinations are playable and can produce a competitive deck if you know how to put it together. I've had the most success with UG Kicker, BR aggro and WR equipment, but you can try any of the other 7 combinations too: UR Wizards, UW Party, UB Rogues (or mill), WB Clerics, WG and RG Landfall, and BG counters.
Conclusion
That's it for today, I hope you are having as much fun on this format as I am and I'll be back soon with more Limited or Standard content!
Marcio Carvalho(Twitter)