What is Kaladesh Remastered?
Kaladesh Remastered is another MTG Arena set featuring reprint cards from mostly Kaladesh and Aether Revolt.
The key difference from drafting normal Kaladash drafts is the influx of mana fixing that exists in Kaladesh Remastered. Although none of it is first-pick material it does allow you to first pick off-color bombs and hope or expect to fix your mana later.
What Keywords Exist?
Kaladesh Remastered brings back all the mechanics from Kaladesh block. For those who are new to this format, this involves Vehicles, Energy, Revolt and Fabricate.
In addition to these keywords, there is a huge artifact matters theme as we are in the world of artifacts, Kaladesh.
Should I Splash?
I will be going over the 10 2-color combinations available in Magic. However I would like to put emphasis on how Kaladesh Remastered is actually a Bomb-impactful format. What I mean by this is the best possible cards (Usually mythic or rare) are a lot better than your average card and it's important to keep this in mind.
I won't go over every bomb but this is a format where I would rarely pass a off color card that only requires one source to be splashed. If the card requires two sources of that color, I would still highly consider it depending on how capable of my deck is of splashing and how late in the pick we are at.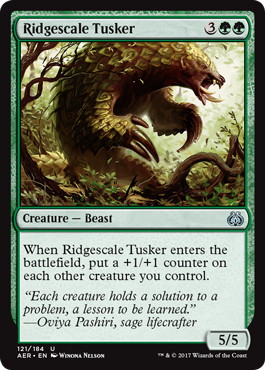 This might sound crazy but in this format if I am in a color combination that has or wants to have access to mana fixers such as 《Prophetic Prism》 or 《Renegade Map》, I would go as far as splashing a bomb such as the best uncommon in this set, 《Ridgescale Tusker》. The amount of times bombs win your game vs how often they are stuck in your hand is just too good to pass up.
What Are the Possible Archetypes in Kaladesh Remastered?
All 10 2-color combinations have a possible deck or archetype to be drafted. Although I don't value all of them highly, I will briefly go over all the possible decks then give an overall rating on the deck which should help you with what to start off with especially if this is your first time drafting Kaladesh.
R/W
Theme
Vehicles and Crewing Matters.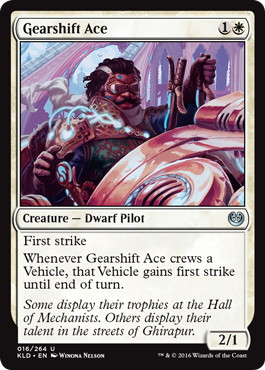 Tempo
Aggressive, quite resilient due to Vehicles.
How to draft it
I like to go into this deck when I begin my draft with artifacts and Vehicles as they are generally strong, then I see a key uncommon R/W creature that really incentivises R/W Vehicles.
Key Cards
《Renegade Wheelsmith》, 《Veteran Motorist》, Vehicles in general.
Can this deck Splash?
No, since this deck wants to be aggressive and does not play any slow mana fixing cards I would stay away from splashing in this deck.
Jason's Rating
8/10. This deck is very powerful and although you need some key uncommons, when this deck works it's one of the few decks that can beat bombs easily in this format.
U/R
Theme
Artifacts Matters and Improvise.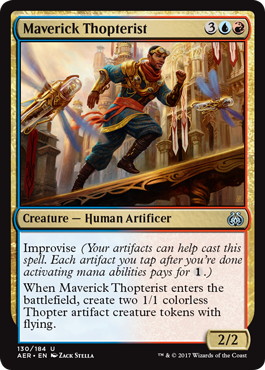 Tempo
Slow to impact the board, but plays many artifacts early game.
How to draft it
This deck is a lot of cheap artifacts and ways to take advantage of this. Improvise if your most common way to utilize these artifacts, playing cards at a cheaper rate.
Key Cards
Can this deck Splash?
Yes! This deck is very good at splashing as 《Renegade Map》 and 《Prophetic Prism》 are both important cards in this set. I would splash double source bombs in this deck.
Jason's Rating
5/10. This deck is incredibly fun and a lot is going on, but ultimately it's not powerful enough unless you get everything going your way. This deck is one of my favorite decks to draft in the format but my win rate would say otherwise.
R/G
Theme
Energy Matters.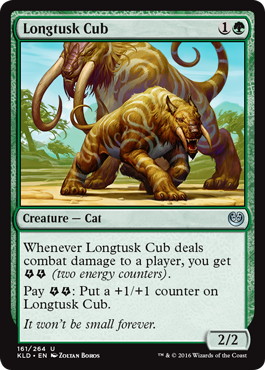 Tempo
Aggressive but all about the curve.
How to draft it
This deck is all about curve. If you play your creatures out of order the value of this deck goes down a lot therefore I would prioritise having a healthy amount of two and three drops over anything else. Every card in this deck usually refers to Energy in one way or another.
Having strong energy sinks such as 《Longtusk Cub》 goes a long way as it's more likely you have too many energy creators than cards that can really give you value with the energy.
Key Cards
Can this deck Splash?
No, although you are green which is a great color for splashing you cannot afford to play your cards out of curve. However if you have 《Attune with Aether》 you can splash some one source cards such as 《Unlicensed Disintegration》 and run only one swamp.
Jason's Rating
8/10. This deck is strong but a bit overdrafted. Since you are drafting with other players, I would only draft this deck if I feel there aren't many people drafting green energy style decks which seem to be one of the most common decks due to how basic it feels compared to the rest of Kaladesh.
R/B
Theme
Artifact Aggro.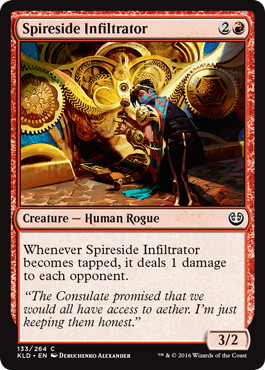 Tempo
Very Aggressive.
How to draft it
This is the most aggressive deck in the format. Although similar to R/W Vehicles, you are not as dependent on Vehicles and you are happy with any cheap creatures or artifacts in general. This deck can actually have a lot of reach due to 《Night Market Lookout》 and 《Spireside Infiltrator》.
Key Cards
Can this deck Splash?
No.
Jason's Rating
5/10. This deck is powerful when it works but also quite easily the deck that can go wrong. When you are not putting your opponent on the backfoot this deck ends up with a bunch of bad creatures and uncrewed Vehicles.
U/W
Theme
U/W Fliers.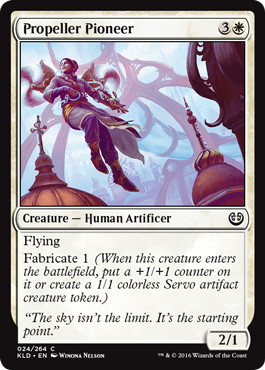 Tempo
Evasive Flier Aggro.
How to draft it
This is not a deck I would try to draft or force, since a lot of the fliers especially 《Cloudblazer》 likes to get picked up in other decks in addition to there not being much incentive to force fliers, it makes this deck more a supplementary strategy. Note you can also draft this deck as Fabricate heavy and use 《Inspired Charge》 as your finisher.
Key Cards
Can this deck Splash?
Sometimes. The upside to being able to splash is you have a lot of card draw and taking cards from other colors can hugely benefit your strategy but you don't have the best cards to help fix the mana.
Jason's Rating
4/10. If you want to draft U/W fliers, play a core set draft.
U/G
Theme
Energy Matters.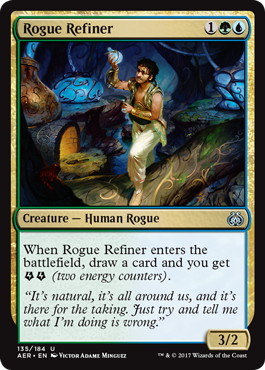 Tempo
Slow, ramp and splashing cards.
How to draft it
Prioritise anything that you can sink your energy into as well as maintaining a healthy amount of mana fixing throughout the draft. You draft this deck knowing you will splash at least one other color as being able to soak up other people's bombs that they can't play is a huge incentive to play this deck.
Key Cards
Can this deck Splash?
Yes. This is the best deck to splash anything you draft especially rares and energy pay-offs
Jason's Rating
6/10. Favorite deck to draft in Arena when starting out as I end up with 10 rares and this really helps my wild card game.
U/B
Theme
Artifact Matters Control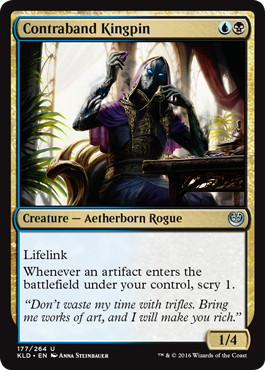 Tempo
Control deck, quite slow.
How to draft it
This is a control deck at heart with an artifact matters subtheme. You want to draft card draw and removal and control the board. It is important to think of a way to win the game as you are drafting this deck, the most common way I've found is a 《Tezzeret's Touch》 backed up by a counterspell or an off-color bomb.
Key Cards
Can this deck Splash?
Yes, this deck is great at splashing as long as you pick up a few 《Renegade Map》s or 《Prophetic Prism》 along the way. Since you are a control deck with lots of card draw you will usually end up seeing your bombs every game.
Jason's Rating
5/10. I would rate this deck higher but this is the deck that is most punishing if you don't have a good mix of everything, you are dependant on removal, card draw, fixing and artifacts and both drafting or drawing the cards out of sequence or ratio results in quite a bad deck.
G/W
Theme
Revolt or Fabricate. G/W "Good stuff"
Tempo
Midrange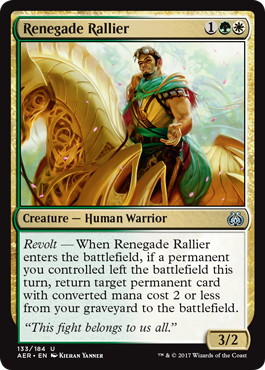 How to draft it
This deck is just random good stuff, there are three directions you can go with G/W. Fabricate + 《Inspired Charge》 which can randomly win games but overall super easy to stop. Revolt matters but the problem is the pay-offs aren't strong enough. Or G/W Splash bombs which unfortunately are very dependent on actually having some nice bombs. Note splashing Fliers from the U/W side of things is super good in this deck due to board stalls.
Key Cards
Can this deck Splash?
Yes, you are playing green and often your board is filled with random creatures prolonging the game long enough for you to play off-color cards.
Jason's Rating
3/10 unless you have bombs. Otherwise 3+0.2*x+y/10 where x is the amount of rares in your deck and y is how bad of a day your opponents are having.
G/B
Theme
Counters and Energy Matters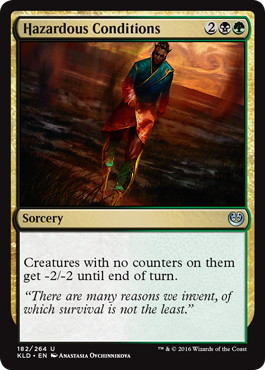 Tempo
Midrange, Synergistic
How to draft it
I would avoid drafting this deck without at least Winding Constrictor, it is by far the biggest payoff in G/B and this deck really relies on having payoffs. G/B feels inferior to G/R or other green decks unless you have a large amount of pay-offs for having counters. Your good cards are already super contested such as 《Ridgescale Tusker》 but if you end up with the world then this deck is unbeatable.
Key Cards
Can this deck Splash?
A little, you have access to green which means you have 《Attune with Aether》.
Jason's Rating
3/10. Too much needs to go right for this to be good.
W/B
Theme
Tokens/Fabricate/Revolt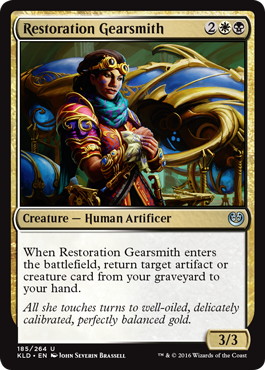 Tempo
Midrange, Synergistic
How to draft it
You can draft this deck either aggressively with Fabricate creatures then you finish them off with an 《Inspired Charge》 or draft it super controlling using creatures to maintain board presence and slowly gain advantage every turn with a 《Hidden Stockpile》.
Key Cards
Can this deck Splash?
Yes, deck benefits heavily from 《Renegade Map》 due to activating revolt and since games can go quite long with board stalls you have plenty of time to draw your splash.
Jason's Rating
6/10. I would try to go into this deck only if I get a 《Hidden Stockpile》 in my draft.
---
Jason Chung (Twitter)