Introduction
Hey guys, Bernardo Santos here and today I'll talk about my recent MOCS tournament.
The result wasn't what I wanted but I always enjoy these tournaments and the formats were really cool and refreshing from mostly only playing standard for the year. This was my third time qualifying for this tournament and if you like older formats you should definitely try to play this new showcase format: It's the best Magic Online has to offer and you can play whichever format you like the most to try to qualify.
For this year the formats of the finals were Vintage Cube Draft and Modern and I prepared a lot for both. Even if it didn't work out I still want to share my process with you and what I figured out.
Vintage Cube
I've played a lot of Cube in the past on Magic Online but it was always for fun. Playing Cube for higher stakes made me try to get better at it and understand it more. This Cube has a lot of variance as power cards like 《Ancestral Recall》, 《Black Lotus》 and 《Sol Ring》 are incredibly broken and will give you huge advantages if you open them. But you can still win without power you just need to know what archetypes exist and what are the specific cards for them that will make your deck that much better. Below you'll find my personal ranking of the best 5 Cube archetypes in order.
Modern
For Modern, I decided to play Heliod Company as I think it's the best deck in the format and even though it didn't go my way I would definitely play it again. Here's the list I played at the MOCS.
Deck List: Heliod Company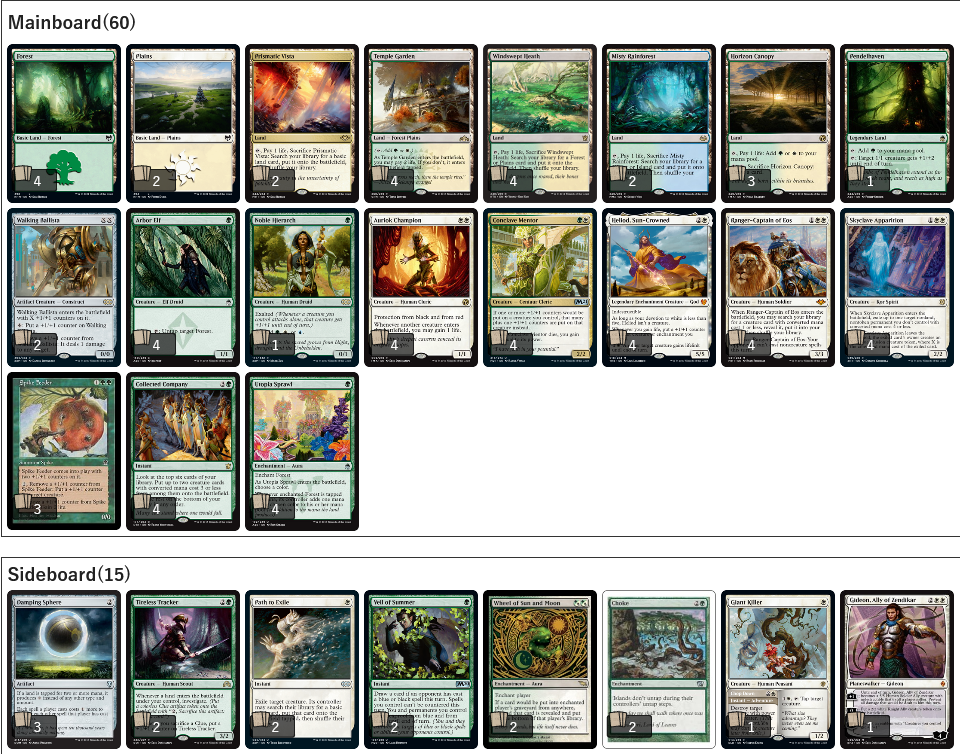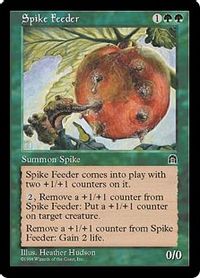 I think this deck is really well positioned and just generally strong. I actually think it will be a good modern deck for a very long time. I only played 3 《Spike Feeder》 due to magic online reasons where you can't really gain infinite life but in real life I would play the full 4 and cut a 《Conclave Mentor》 for it. Some lists play 《Archangel of Thune》 and it's a fine card with a lot of synergy in this deck and another way to infinitely combo with 《Spike Feeder》 but I felt it was a little win more and not exactly what I wanted for the deck but it's an ok choice.
The strength of this deck is that it has a lot of infinite combos in a creature deck shell which makes it actually good against decks like 《Death's Shadow》 or Jund. It's also very good against aggro decks as you do play 4 maindeck 《Auriok Champion》, 《Spike Feeder》, and you can infinite combo for life off of just one 《Collected Company》.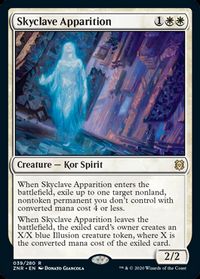 You also just get to play maindeck 《Skyclave Apparition》 which are very good in format and just a great card overall: they allow you to not worry about annoying little artifacts or enchantments that would stop you or threaten you almost for free. You have a lot of good match-ups in the top decks and only 2 that I think are unfavorable in Uw control and Tron. You're favorite against Ur Blitz, Burn, Jund Shadow, Amulet Titan Dredge and close against Jund and Eldrazi Tron.
Sideboard Choices
I'll explain my sideboard choices
I think he's a fine choice as a threat against both Uw and attrition matchups like Jund or Shadow.
I wanted a card that could really get Uw sometimes and choke is really powerful making them sometimes just straight up lose to it.
Mostly for the Tron matchup, you definitely need them but they also have some utility against Storm and Amulet.
Another value threat against control but I think one of them can be replaced for a third 《Veil of Summer》.
A removal for big creatures which can be fetched by 《Ranger-Captain of Eos》 I think it's worth the inclusion but nothing special.
You want some form of cheap removal for the mirror or even against Blitz to kill that pesky 3-3 flyer.
I think 3 can definitely be the right number as it just doubles against 《Thoughtseize》/Removal decks and U control one of the most broken sideboard cards in Modern.
I was actually more afraid of the mill than graveyard strategies and while this is worse than 《Rest in Peace》 against those I think the versatility is worth it.
Sideboard Guide
Here's the part everyone likes: Sideboard Guide.
Azorius Control

vs. Azorius Control
Blitz

vs. Blitz
Burn

vs. Burn
Jund Shadow

vs. Jund Shadow
Tron

vs. Tron
Amulet Titan

vs. Amulet Titan
Dredge

vs. Dredge
Conclusion
Even though my result wasn't particularly good, I had a lot of fun playing these formats again and I hope some of the information I learned can help you whatever the reason you're playing.
Thanks for the support and until next time!
Bernardo Santos (Twitter)