Introduction
Hola!
Strixhaven: School of Mages is finally here and I'd like to talk about my initial thoughts on its cards a few days before its release. It is always tricky to evaluate cards before having the chance to play with them, but at the same, it is also very exciting.
Overall View
It seems to me that the power level of Strixhaven is relatively low compared to some of the sets currently in Standard. Don't get me wrong, I think it is a good thing to say since we clearly don't want another Throne of Eldraine.
However, because of that, it is also tricky to see which cards are better for constructed, since I see no hyper-powered cards like 《Oko, Thief of Crowns》 or 《Omnath, Locus of Creation》.
I also think that means the impact of the set will likely be Limited as I don't exactly see 《Embercleave》 decks suddenly disappearing from Standard, but that doesn't mean I don't expect a new archetype or two to show up and put a good fight.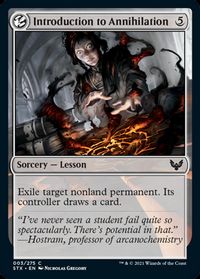 I don't think Lessons will be very good for constructed. Sideboards are already tight in most decks, and the whole mechanic seems like it will take a lot of work for just an acceptable effect. It does look very sweet for Limited, though.
Special mention to the Mystical Archive cards, a special set of reprinted cards that will show up on the Strixhaven packs. The legality of these cards will remain the same they would have without this reprint except one exception: Historic.
I fully expect these cards to drastically change the format to the point that it might even feel like a whole new format.
Cards like 《Brainstorm》 and 《Faithless Looting》 are simply that good.
Card by Card
As for the normal set, let's have a look at those cards I think are more promising!
---
I'm very excited to play with the new Strixhaven cards!
Thanks for reading!
Javier Dominguez (Twitter / Twitch)