Hello, everyone!
In Magic Online's most recent week of Super Qualifier events, I managed to pilot my favorite deck, Sneak & Show, to an undefeated 11-0 record in the Legacy Super Qualifier on Thursday, April 8th. I hope you will find the following tournament report informative and enjoyable to read!
Looking For the Right Deck to Play
In the weeks leading up to the Super Qualifier, I had felt rather lost about what to play in Legacy. While the format had been pretty open after 《Oko, Thief of Crowns》 and 《Dreadhorde Arcanist》 had gotten banned, Delver decks had started taking up to 30% of the metagame share in Magic Online events.
Even though the Delver matchup had improved for Sneak & Show, now that they didn't have the main deck option of turning 《Emrakul, the Aeons Torn》 and 《Griselbrand》 into Elks anymore, it still remains one of the most difficult matchups. An aggressive clock, paired with free counter-magic and mana denial is a great recipe to fight a combo deck that aims to resolve 3 mana sorceries and 4 mana enchantments.
I used an old configuration from early 2019, before 《Dreadhorde Arcanist》 and 《Oko, Thief of Crowns》 had been printed, to good success in the first weeks after the bans, winning one Legacy Challenge and finishing in the Top 4 of another.
However, as the popularity of Delver strategies rose, I started feeling generally less confident in Sneak & Show and switched decks several times, to see if another archetype would fare better in a Delver-dominated metagame. I also tried the Temur and Sultai flavors of Delver myself and got some decent tournament results with them.
Other decks I tested during the weeks leading up to the Super Qualifier were Bant Stoneblade, Miracles, and Mono Red Eldrazi. While all powerful in their own right, and even though any deck with 《Uro, Titan of Nature's Wrath》 and 《Swords to Plowshares》 felt pretty well-equipped to fight Delver, I didn't find any of them had a convincingly more positive Delver matchup than Sneak & Show.
Moreover, I felt Sneak & Show had favorable matchups against most of the classic "anti-Delver" strategies, such as Bant Miracles, Hogaak, and Mono Red Stompy. Therefore, after taking Easter weekend off from playing Magic, I decided to return to old faithful.
Due to Delver's continued popularity, I went back to the 《Simian Spirit Guide》 and 《Daze》 main deck that I have written about before.
Decklist: Sneak & Show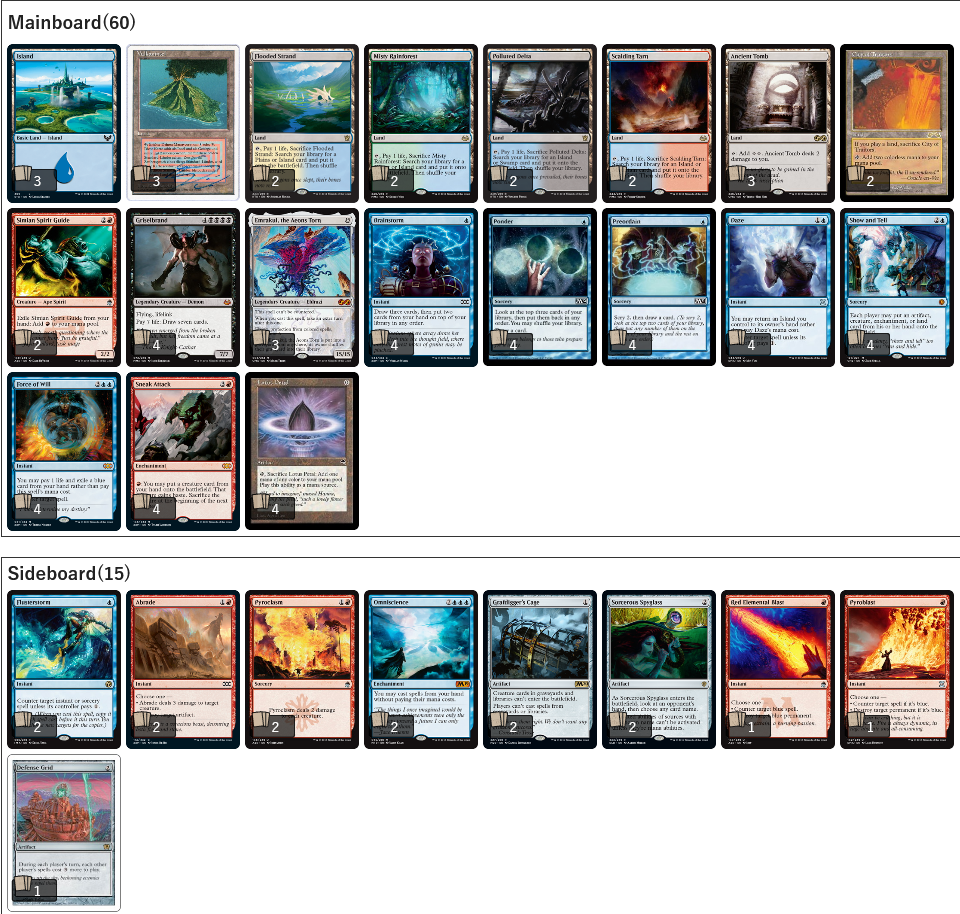 It is the most effective configuration you can have against Delver decks since 《Daze》 is much stronger at helping you resolve an early enabler than 《Spell Pierce》 or 《Flusterstorm》.
The list is also very fast and proactive in general, making it a good choice in any open metagame or big tournament.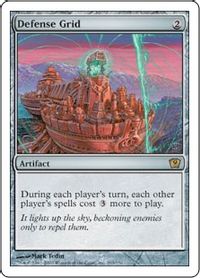 I didn't want to change any main deck slots and constructed a relatively stock sideboard. Since I wanted to stay fast and consistent, and the main deck was already well-prepared against Delver decks, the only card I would board in against them would be 《Defense Grid》, boarding out the 4th 《Sneak Attack》. You rarely get to jam multiple enablers in a row against them due to mana denial, especially not the 4 mana 《Sneak Attack》 (5 mana if you include the activation).
Some notable omissions from this sideboard are 《Blood Moon》 and 《Arcane Artisan》. Their slots get filled by 《Sorcerous Spyglass》 and 《Omniscience》, respectively. While 《Sorcerous Spyglass》 doesn't provide the option of locking your opponent out completely like 《Blood Moon》 does, it does a similar job of shutting off problematic lands like 《Karakas》. Its cheaper mana cost makes it easier to cast on the curve on the turn before you want to combo off, or even on the same turn.
Furthermore, the Karn Forge deck had been hyped up leading up to the tournament. 《Sorcerous Spyglass》 can provide versatile disruption against them, most often naming 《Karn, the Great Creator》, but also being able to cut off their mana production by naming 《Manifold Key》 or 《Voltaic Key》, especially if they could otherwise cast 《Mystic Forge》. Lastly, as always, the "Peek" effect of 《Sorcerous Spyglass》 is also generally helpful in a 《Show and Tell》 deck to see if you can safely cast the symmetrical sorcery.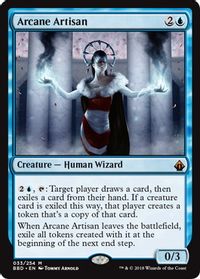 As for 《Arcane Artisan》, I used to like it mostly as an enabler that dodged some of the hate-cards such as 《Containment Priest》, as well as providing a non-symmetrical 《Show and Tell》 effect. The main reason I found 《Arcane Artisan》 less effective lately has been the inclusion of 3-4 copies of 《Skyclave Apparition》 into Death and Taxes decks.
I even saw many opponents, not only Death and Taxes players, but also Miracles and others, leave in their 《Swords to Plowshares》 in anticipation of 《Arcane Artisan》.
It is still a very powerful card in the mirror match, but I didn't expect to face many other 《Show and Tell》 decks in the tournament.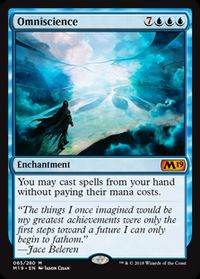 《Omniscience》, while not providing an additional enabler effect, serves a similar purpose to 《Arcane Artisan》, by getting around 《Containment Priest》 and making your 《Show and Tell》 a safer play against Death and Taxes and in the mirror match. Against Simic OmniTell or UR OmniSneak, it can still be trumped by an opposing 《Omniscience》 + 《Cunning Wish》, but, as stated before, I didn't expect 《Show and Tell》 strategies to be popular.
The rest of the sideboard consists of the usual combination of additional counter-magic with 《Flusterstorm》 and 《Red Elemental Blast》 / 《Pyroblast》, and the classic removal-suite of 2 《Abrade》 and 2 《Pyroclasm》. I went with 2 《Grafdigger's Cage》 as my graveyard hate of choice, mostly due to their additional utility against Elves, shutting off both 《Natural Order》 and 《Green Sun's Zenith》.
Considering I already knew the configuration of 《Daze》 and 《Simian Spirit Guide》 well, a 5-0 league run on the day before the Super Qualifier was enough for me to lock in my deck choice. 307 players registered to battle for two invitations to June's Strixhaven Championship.
In the upcoming tournament report, I will describe some of the more interesting rounds in greater detail than others, where my opponents couldn't interact or I cruised to easy victories.
Looking Back on How My Tournament Went
Looking Ahead
Looking back at my run, I definitely had strong draws all day and won some close nailbiter games, especially in the elimination rounds. You have to get lucky to make it this far in such a large tournament. Nevertheless, it was especially uplifting to come out victorious against the Delver menace, even though I faced it slightly less often than was to be expected (18% instead of 30%).
Going forward, I will definitely keep revisiting other archetypes and testing various strategies, but for now, I am very happy with this 75 of Sneak & Show. Also, I am stoked about and very much looking forward to the Strixhaven Championship. While Legacy is my favorite format, I always enjoy exploring other formats and developing my gameplay skills outside of cheating 《Emrakul, the Aeons Torn》 and 《Griselbrand》 into play.
I hope you enjoyed reading this article, until next time!
Jonathan Anghelescu (Twitter)