Introduction
Hello everyone,
A lot has changed since my last article. Lots of tournaments have been played. Unfortunately for yours truly, I didn't meet as much success as I did when the season started.
Going into the last MPL League Weekend, I needed an extraordinary result to not face relegation to Rivals League next season. The fact is, I was not in the best situation to face the hardest competition in the world. Having a new-born daughter and a 3-year old at home while schools are closed doesn't exactly set you up to prepare properly for important tournaments.
When I failed to day 2 at the Kaldheim Championship, my hopes to remain in the league shrunk drastically and I went through a really tough time.
With just a few days to recover and prepare for the first elimination weekend, needless to say, I was both lost and down. On the day before deck submission, after a long streak of losses in Standard, I went out for a run and started thinking of a new deck……
As soon as I got home, I put it together, played all night, and submitted what would be the first draft of a successful deck:
The deck had obvious flaws that I didn't have time to fix, but I wanted to go down on my own terms. I went 2-4 in Standard, but also 2-4 in Historic with Abzan Midrange, which ended up being a terrible choice.
With my fate being sealed, I finally had some time for my people. But I also had some unfinished business.
I knew the deck I had built had very strong potential and it took me a couple more weeks to get to the right version, the one that took me to #1 on the ladder on April 23rd.
Magda Gruul Mythic #1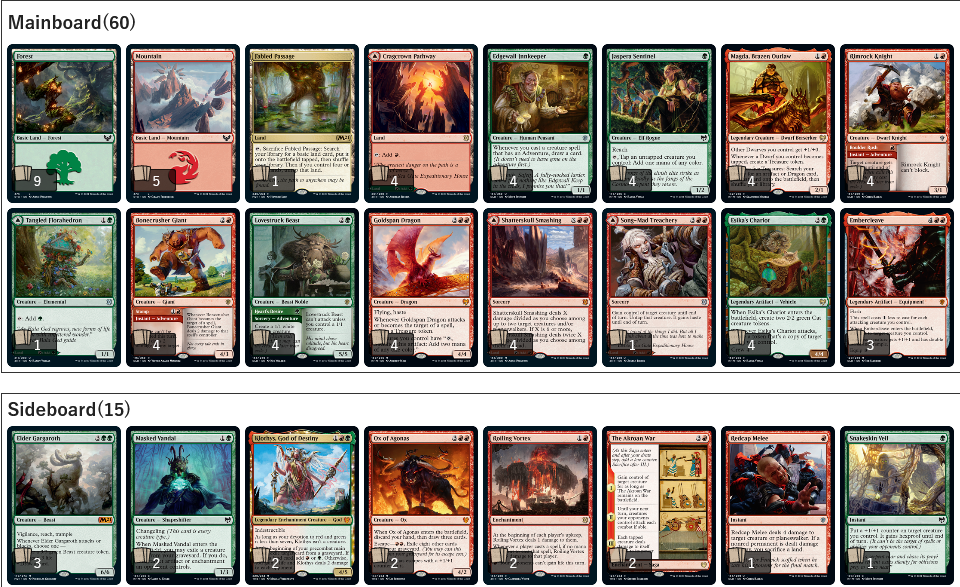 Magda Gruul is a Red Green Adventure deck with a Treasure Subtheme. It uses the same sources of card advantage as a more classic Gruul Adventure deck with 《Lovestruck Beast》, 《Bonecrusher Giant》 and 《Edgewall Innkeeper》 and has access to a potential early game finisher in 《Embercleave》.
The deck is built around 《Magda, Brazen Outlaw》, 《Mother of Dragons》, 《Forger of Embercleaves》, 《Finder of Riches》, 《Grower of Trees》 and 《Ender》 of games.
《Magda, Brazen Outlaw》 has to be dealt with quickly, and so does 《Edgewall Innkeeper》. That gives a lot of targets to 《Bonecrusher Giant》, meaning that one of them is likely to survive when you're playing against Red.
Tricky Things and Combos
Instead of going through the cards of the deck one by one, I'm going to list all of the tricky things and combos you may or may not have caught the first time you saw the deck:
Your nut draw involves these two cards. 《Jaspera Sentinel》 provides mana when you tap another creature, 《Magda, Brazen Outlaw》 creates a Treasure when it gets tapped. On turn 2, you have access to 3 mana and a Treasure for the following turn.
Later in the game, even if you have nothing to do, you can tap 《Magda, Brazen Outlaw》 with 《Jaspera Sentinel》 just to create a Treasure. Be careful if you're playing on MTG Arena as if you don't have anything to play from your hand or anything to activate, you won't get priority, so you have to set stops or play in full control not to skip that interaction.
《Rimrock Knight》 looks like an overall weak card but it's the glue that keeps this deck together. It's an aggressive creature that you can have in play on turn two, and that can attack for four right away with 《Magda, Brazen Outlaw》. Being a Dwarf, it will grant you a Treasure token when it attacks.
It makes 《Edgewall Innkeeper》 much better than in other Gruul Adventure decks since you have a total of 12 adventure Creatures.
《Rimrock Knight》 comes in super handy when it comes to overpowering an opposing 《Elder Gargaroth》, pumping a 《Goldspan Dragon》 or adding four damage to a creature equipped with 《Embercleave》.
While it's tempting to board them out against aggressive decks (since it doesn't block), it's almost always wrong to do so as it has way too much use in the deck.
Another way to tap 《Magda, Brazen Outlaw》 without risking having her die in combat is to tap it to crew the 《Esika's Chariot》. The other good thing about the 《Esika's Chariot》 is that you can tap 《Rimrock Knight》 as well to make extra Treasures.
Remember that 《Masked Vandal》 is also a Dwarf…
When attacking, the Vehicle offers you to copy a token you control. While the easy choice could be a Cat token, you may very well want to copy a Treasure token to get to five and use 《Magda, Brazen Outlaw》's Ability.
《Esika's Chariot》 is a good way to recover from a Wrath effect, especially if you're holding a 《Lovestruck Beast》. Let them wipe the board, play 《Heart's Desire》, 《Lovestruck Beast》, crew, attack, copy the token…
《Magda, Brazen Outlaw》 has the ability to fetch an Artifact or a Dragon in your deck. Most of the time, you will maximize the token creation to find an 《Embercleave》 and attack for Lethal. Some other times, you'll have to find a 《Goldspan Dragon》 or a 《Esika's Chariot》 at the end of your opponent's turn to be able to launch a lethal attack on your next turn.
Keep in mind that you can also look for a 《Masked Vandal》 if you need to (it's a Dragon Dwarf!)
《Goldspan Dragon》 makes relevant Treasure tokens when it attacks, but also when it's being targeted, by your opponent, or you. To get to five Treasures, you might have to target it with 《Rimrock Knight》 or 《Shatterskull Smashing》 (you'll need to spend at least one damage on it for that to work).
On 《The Akroan War》's final chapter, you'll be asked to give the stolen creature back, untapped. It would be a shame if you tapped it and it dealt damage to itself anyway, wouldn't it?
Some Notes About Specific Choices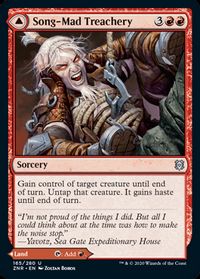 In early testing, I was struggling to figure out the right number of lands. 23 seemed too low, and I didn't want another basic as you don't really want to flood either. For a while, I had an 《The Akroan War》 in the main that I wasn't too happy about, but I wanted a main deck way to deal with 《Elder Gargaroth》.
I looked up the MDFC's to try to find an alternative and realized that 《Song-Mad Treachery》 was exactly what I wanted. It doesn't permanently deal with the beast but opens up for an attack (+6 power) that is usually lethal. The extra land also felt good.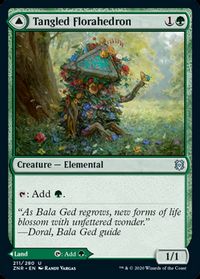 I later added 《Tangled Florahedron》 for the 25th land.
《Tangled Florahedron》 is by far the card I'm the least convinced about. I had been testing 《Fervent Champion》 and replaced them by 《Stonecoil Serpent》. The idea was to have more than eight 1/1's to be able to attack with 《Lovestruck Beast》.
As a one-of, the 《Tangled Florahedron》 felt that it could fill that role, as well as providing an extra land, necessary to support the extra four drops I later added (《Esika's Chariot》).
Sideboard's One-of's
For many, it doesn't make any sense to run one of's in the sideboard. The thing is, your deck relies on synergies, the maindeck cards work well together and the more pieces you're going to take out, the more you're going to dilute your main plan.
With that in mind, you're fine adding a strong and efficient card against 《Torbran, Thane of Red Fell》 or 《Goldspan Dragon》 (《Redcap Melee》), or a trick with a huge blow-out potential (《Snakeskin Veil》), but in the game, you don't want to draw too many. If you draw one, you're happy, if you don't draw them, your deck will just do what it's supposed to do. If you draw only 《Snakeskin Veil》 or 《Redcap Melee》 when you want to draw more creatures, you're going to give your opponent too much time and it will be counterproductive.
Moving Forward
There is no doubt in my mind that this deck will become a real contender in the new metagame even though it doesn't include cards from Strixhaven. It has the potential to replace the Landfall version of Gruul.
Even though I'm happy with the current version, it still has some room for improvement. I started testing with one 《The Great Henge》 instead of either the 《Tangled Florahedron》 or the 4th 《Esika's Chariot》 and I love it.
It has good matchups all over the board but a really bad one in the mix. In Green and Red, there aren't a lot of options to beat Lukka Temur, but there is room to add a third color as a splash in the sideboard: 8 Pathways along with 《Jaspera Sentinel》 and Treasures should be enough to cast whatever we find.
Could 《Containment Priest》 be an option? While vulnerable to 《Bonecrusher Giant》, it does stop 《Koma, Cosmos Serpent》 from sneaking in. It also works against 《Winota, Joiner of Forces》 (which I heard was also a tough matchup). Could 《Giant Killer》 be a better option?
I have been working on this deck on my own for weeks now. I "only" needed to post a Rank #1 picture for people to give it attention. I'm sure that with a worldwide workforce, it will get to another level fairly soon!