Introduction
Hello!
As you might guess, this article is all about the combo between 《Tainted Pact》 and 《Thassa's Oracle》. For those who are not familiar with the combo, here a short and simplified version: You cast 《Tainted Pact》 and exile your Library and then you cast 《Thassa's Oracle》 and win with the enters-the-battlefield-trigger.
So, shall we dive directly into a list? Here is the list I used to 7-2 the $5K Strixhaven Championship Qualifier:
Deck List: Pact-Oracle Combo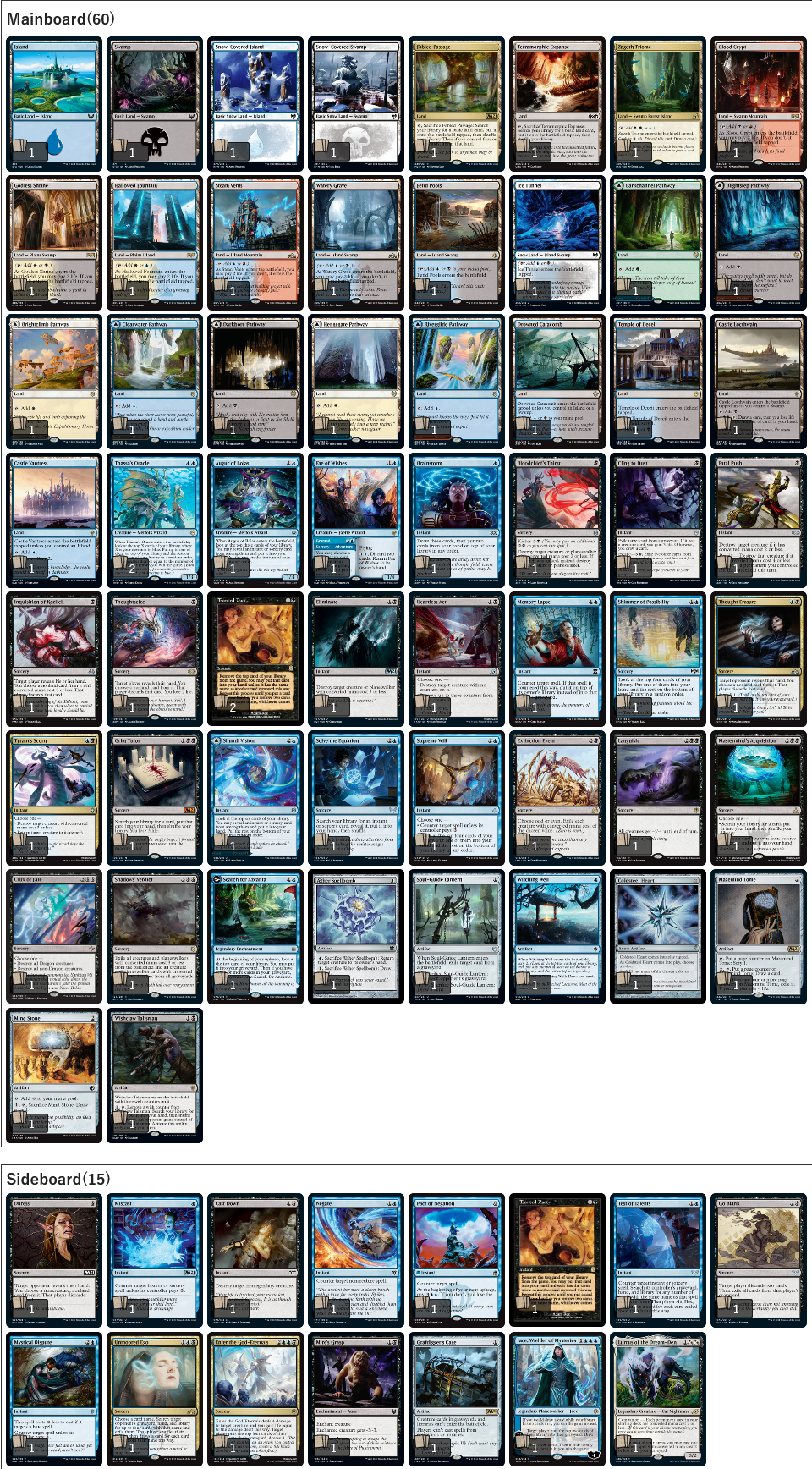 First of all, to enable the combo, you need to fill your deck with only one of the cards, except for 《Thassa's Oracle》 and 《Tainted Pact》. You play 2 of each combo piece because when you are ready to combo, you need both cards in hand, which means that once again your library consists of only one card.
Sideboard Plan
Looks like we have built us a combo deck, now we only need to find out how to use some of these cards, right? I will start with the part that most of you really wanted to read: a sideboard guide!
Not entirely true, sorry! I will only help you out a bit, not provide you with a fully detailed sideboard guide.
Against aggressive decks you only want to survive until you can combo, therefore you want removal to buy yourself some time. For that reason, I usually board out counter spells and 《Thoughtseize》 and fill those slots with even more removal from the sideboard.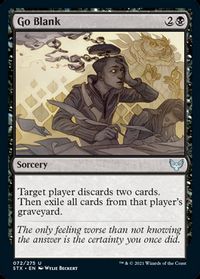 Here a small tip: If your opponent has 《Lurrus of the Dream-Den》 as a companion, you should strongly consider board in 《Go Blank》, as it exiles their graveyard.
Against control decks, you need some sort of protection usually. For this reason and as most control decks do not pressure you at all, I board out almost all removal, keeping only 《Bloodchief's Thirst》. In case you expect your opponent to play a 《Gideon of the Trials》, you should also consider keeping 《Eliminate》.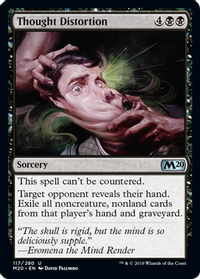 Cards you want to bring in are all the discard and counter spells. Another small hint here: I would strongly suggest somehow make room for a single 《Thought Distortion》 in the sideboard.
Tips and Tricks
Now on to some tips and tricks for this deck and MTG Arena.
Do not fear the rope, while being in the combo. If you activate full control, cast 《Thassa's Oracle》, resolve it, put its trigger on the stack and with its trigger on the stack cast and resolve 《Tainted Pact》, just sit back, and relax. As soon as your rope is gone, Arena will automatically decline for your 《Tainted Pact》, until your library is gone and resolve 《Thassa's Oracle》's ability.
You can win on turn 3 if you manage to have 《Tainted Pact》 and 《Thassa's Oracle》 in your hand. End of your opponent's turn 2 just cast 《Tainted Pact》 and make sure to leave exactly one card in your library, as with your turn 3 you will draw that last card. Here you need to decline cards with 《Tainted Pact》, so make sure to be fast.
If you have 2 《Tainted Pact》 in your hand, but not 《Thassa's Oracle》, cast one 《Tainted Pact》 until you hit your first 《Thassa's Oracle》 and take it into your hand. Now you got both combo pieces and are ready to go.
Playing against discard might be annoying from time to time. 《Wishclaw Talisman》 plays around to discard, as it usually sticks in play, waiting for you to use it. Another card that is helpful, is 《Brainstorm》. It can hide the cards you want on top of your library.
It is usually correct to just scry with 《Mazemind Tome》, especially in your upkeep. Do not wait to draw cards.
《Tainted Pact》 can be used as a tutor, not only as a combo piece.
《Fae of Wishes》 exists and sometimes it is correct to just slam her on turn 2 and to not wait for her Granted side.
《Tyrant's Scorn》 and 《Aether Spellbomb》 can bounce creatures. This might come in handy against Auras. Sometimes it is correct to bounce your own creatures.
Conclusion
That is all for today. I can only hope this deck will not get banned too soon, as I certainly want to have some more fun playing it and hope you will have some fun with it too. Stay safe and healthy, until next time.
Immanuel Gerschenson (Twitter)