(Editor's Note: This article was written before the 《Time Warp》 ban announcement)
Introduction
Hello! How is everyone doing?
This past weekend the Strixhaven Championship was played which, as everyone knows, had Sam Pardee as the winner! Congratulations to him and his entire testing team.
On this occasion I wanted to tell you a bit about my entire experience in this tournament from start to finish.
Preparation
Recently, together with several Argentine players, we launched a new esports team MTGWAI. It is a new project in which I participate that is full of ideas and great players (Team Twitter).

Several Argentine compatriots also qualified for this event, including some MTGWAI colleagues, so instead of joining forces with my usual test partners, Sebastian Pozzo (also a member of MTGWAI) and myself decided to prepare with the players of our team who were qualified for the event.
Although we were a small number to be able to tackle all the tasks that the preparation of an event of these characteristics demands, we had the help and support of the entire team. The 5 MTGWAI players competing in the event were: Sebastian Pozzo, Mauro Sasso, Martin Quiroga, Julian Martinez and myself.
It makes me very happy to have been able to share this experience with them, as they have been my friends for many years now, and they are all great players.
Strixhaven Championship was a dual format event, consisting of a Standard and a Historic portion.
Standard was going to be the same as many months ago, but Historic was in a new moment, as this was going to be the first premier event where Historic Anthology V cards were going to be legal. Also, after the last League Weekend the format had suffered the ban of 《Thassa's Oracle》, making the most powerful deck (Dimir Pact) almost unplayable.
This is why we decided to dedicate more time to Historic, since it was the format that was going to demand more work, but unfortunately Anthology V was available to use on MTGA only 4 days before decklist submission.
Standard
Like all the tournaments in which I had to play in this current Standard, my wish was to be able to make the Rakdos Sacrifice work. This time there was more hope, since with the new Strixhaven cards, the deck had gained more tools. Despite 《Extus, Oriq Overlord》 efforts, the matchup against Sultai (most popular deck) was still very bad, so I decided to abandon that ship.
Instead I trusted in the power of the flying Dragons to fight the Ultimatum players. I chose this deck because in my opinion it has a favorable match against Sultai (deck that we thought was going to be the most played), and because it is also a deck that amuses me and I really enjoy playing. This is the list I ended up registering:
Sideboard Plan
Sultai Ultimatum

Against Sultai Ultimatum
Out
Izzet Dragons

Against Izzet Dragons
Naya Adventures

Against Naya Adventures
Cycling

Against Cycling (On the Play)

Against Cycling (On the Draw)
Dimir Rogues

Against Dimir Rogues
Mono-Red / Gruul

Against Mono-Red / Gruul Adventures
Mono-White

Against Mono-White
The decklist I played was pretty much a stocked version. The only difference with the most common builds of this deck was playing 1 《Negate》 2 《Mystical Dispute》 in the main deck instead of the 3 《Mystical Dispute》s. I liked that change especially since this event was open decklist tournament.
In the sideboard I found out that 1 《Shadowspear》 could do a lot of work against the aggro matchups and especially against Cycling. Don't forget that it's also a way to kill the pesky 《Toski》.
If you are a patient player, and you like to set the pace of the match, I recommend you use this deck as long as the Naya Adventures (worst match up) does not grow in popularity.
Match Result
| Round | Opponent | Result |
| --- | --- | --- |
| Round 4 | Max Mick – Sultai Ultimatum | 2-1 |
| Round 5 | Jeffrey Silver -Sultai Ultimatum | 1-2 |
| Round 6 | JoJo Basilio – Naya Adventures | 2-1 |
| Round 7 | Zack Witten – Gruul Adventures | 2-1 |
| Round 12 | Lukas Dusek – Sultai Ultimatum | 2-0 |
| Round 13 | Francesco Biscardi – Mono-White Aggro | 1-2 |
| Round 14 | Franche Tan – Sultai Ultimatum | 2-1 |
| Round 15 | Andrew Cuneo – Gruul Adventures | 2-1 |
Results by Archetype
| | Total Score |
| --- | --- |
| vs Sultai Ultimatum | 3-1 |
| vs Naya Adventures | 1-0 |
| vs Mono-White | 0-1 |
| vs Gruul Adventures | 2-0 |
I ended up 6-2 in the Standard portion, so I am definitely happy with the deck choice, since I faced half the time the matchup I was expecting.
Historic
From our team, only Sebastian Pozzo and I had played a lot of historic lately, since three weeks ago we had the League Weekend. Fortunately we were both happy with the decks we had chosen for that occasion (he played Izzet Phoenix and I Izzet Velomachus), and since we had little time to practice with the new cards, we decided to only dedicated a small amount of time brewing and then move on to tune the two decks that we knew, if we failed to find something else.
And that was exactly what happened. Nothing we put together managed to have a decent match for the field that we expected. We knew that Phoenix was going to be the most played deck, as it was clearly the most consistent deck. Sebastian Pozzo and Mauro Sasso chose to play that deck, while the rest of us relied on the power of Velomachus.
Velomachus was the deck that I tested the most for the past League Weekend, and I was the only player who used that deck, so I felt quite confident in the choice.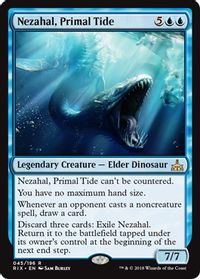 Although the match in game 1 vs Phoenix is quite favorable for the Velomachus combo, after sideboarding it becomes difficult, but luckily thanks to the help of Omar Cabrera (MTGWAI member) we found a great sideboard plan to improve our chances. The idea was to take out the combo part and become a control deck with 《Nezahal, Primal Tide》 as the MVP. I'm happy to have found that technology for League Weekend, as after this Strixhaven Championship it will surely become a more popular plan.
The most difficult decision was to know if we wanted to add to the deck the other part of the combo that had become more used: 《Magma Opus》 + 《Mizzix's Mastery》. Although it is a pack of cards that have a lot of power, we were afraid that there would be a lot of graveyard hate and we opted for the line of being a more solid deck, with counters to protect the combo in game 1 and a more flexible sideboard plan.
I think it was a good call, since I think this version was favorable against the two most popular decks of the event: Izzet Phoenix and Jeskai Turns.
Sideboard Plan
In many games, although it is easy to assemble the combo in the first game, after sideboard when they have so many difficult interactions to answer our plan such as: 《Fry》, 《Dovin's Veto》 and more counters, the idea is to take out a large part of the combo and win with threats that cannot be countered.
Jeskai Control

Against Jeskai Control
Izzet Phoenix

Against Izzet Phoenix
Jund Food

Against Jund Food
Jund Company

Against Jund Company
Gruul Aggro

Against Gruul Aggro
Auras

Against Auras
Selesnya Company

Against Selesnya Company
Jeskai Turns

Against Jeskai Turns (On the Play)

Against Jeskai Turns (On the Draw)
Mono-Black

Against Mono-Black
Match Result
| Round | Opponent | Result |
| --- | --- | --- |
| Round 1 | Eric Pei – Mono-Black Aggro | 1-2 |
| Round 2 | Beatriz Grancha – Gruul Aggro | 2-1 |
| Round 3 | Scott Lipp – Jeskai Turns | 2-0 |
| Round 8 | Nathan Steuer – Izzet Phoenix | 0-2 |
| Round 9 | Scott Miller – Jeskai Turns | 2-1 |
| Round 10 | Riku Kumagai – Izzet Phoenix | 1-2 |
| Round 11 | Jonathan Geist – Izzet Phoenix | 2-0 |
Results by Archetype
| | Total Score |
| --- | --- |
| vs Jeskai Turns | 2-0 |
| vs Gruul Aggro | 1-0 |
| vs Izzet Phoenix | 1-2 |
| vs Mono-Black | 0-1 |
I finished 4-3 in the Historic part which was a bit disappointing. Going 1-2 against Phoenix was not what I was expecting since I was really confident on our plan for that matchup. I lost a very close game 3 against Riku Kumagai in which if I had played a little better I would have won it. I also didn't play my best against Eirc Pei and his Mono Black aggro deck, I had the win game 3 but I realized a turn later, and that mistake cost me the match.
I think the deck choice was good, and I was the one who did not live up to the circumstances.
Conclusion
All things considered, I finished 10-5 in the tournament. It is a very good result, but I'm left with a bittersweet taste because I know that if I hadn't made a few mistakes I could have ended even better, maybe even reaching the top 8.
But hey, you learn from everything and I know that it depends on me to improve so that next time I can have a better tournament. I really enjoyed playing in this event, there were a lot of long and very interesting matches. Magic is amazing and also very difficult, that's what makes the game so good.
In the end, I want to say that I am very happy with how we prepared with the MTGWAI crew and the results we obtained. Mauro Sasso also finished 10-5 which guaranteed that he is qualified for the next Set Championship, and despite the fact that Julian Martinez and Martin Quiroga didn't make it to day 2, I know that this experience will help them improve as players and so on achieve the goal next time.
Thanks for reading, I hope you are doing well in these difficult times, and I'll see you next time =)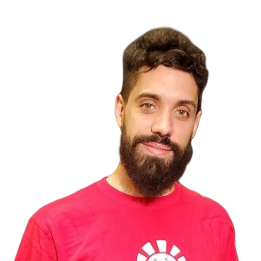 Matias Leveratto アルゼンチン出身のベテランプレイヤー。2012年にプロマジック業界から身を引くが、MTGアリーナを契機に復帰し鮮烈な再デビューを飾る。ミシックチャンピオンシップ予選を立て続けて通過し、世界最高峰で戦うチャンスを得た。見事にこの好機をものにし、ミシックチャンピオンシップ・ラスベガス2019で優勝。シミックネクサスで世界屈指のプレイヤーたちを次々と倒していった。ミシックチャンピオンシップ王者となった今、注目を集める選手の一人である。 Read more articles by Matias Leveratto