Introduction
《Urza's Saga》 is a weird card.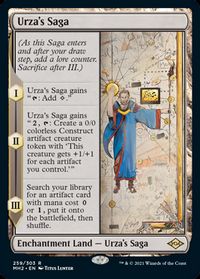 I can only assume it was mostly created as a funny callback to 《Urza's Saga》 – the set, as a play on both Urza's and Saga being card types.
My initial evaluation of the card was influenced by this perception; thinking that the card is interesting, unintuitive, and gimmicky. It definitely IS all of those things, but it only took a few days for Magic Online to realize it's also just a very good card. I'm going to go over some of the nuances of the card in this article.
At its core, 《Urza's Saga》 is a colorless utility land. Unlike most utility lands, 《Urza's Saga》 abilities are far from inefficient. A 3 mana uncounterable decently sized creature can definitely end up being worth a card. Upon playing with the card, I was surprised as to how often it seemed like spending my mana on the 《Urza's Saga》's ability rather than casting spells seemed to be the best available play.
Given my previous experiences with Constructs tokens from 《Urza, Lord High Artificer》, which rarely amassed impressive stats, I was thinking 《Urza's Saga》's tokens will have similar problems. Dead wrong I was. Making two constructs and fetching a card with the third chapter assures three artifacts by themselves. That means it's not uncommon for the constructs to reach seven or eight power if your deck is putting any effort into that. Those constructs are real threats.
The third chapter ability tutors a card into play for no mana. First, let's quickly clear a wording confusion. The ability lets you find an artifact with a mana cost of 0 or 1. Mana cost is not the same as CMC/Mana Value, so you need to fetch artifacts that specifically have the required number in their top right corner.
《Paradise Mantle》 and 《Brainstone》 are okay; 《Arcum's Astrolabe》, 《Esper Sentinel》, 《Lotus Bloom》, 《Darksteel Citadel》, or 《Chalice of the Void》 all aren't, as their costs aren't 0 or 1.
If your deck is built around a specific artifact that 《Urza's Saga》 can fetch, that means you get four extra copies of that card with Suspend 2. If you have no interest in making constructs, you can use it for mana thrice, and tutor a card which your deck is built around straight into play for no mana cost. Let's take a look at some of the most potent builds around that 《Urza's Saga》 can grab:
Being able to have easy, increased access to any of those will serve their namesake decks well. On top of those choices, there's a great selection of cards that could be played for value o as hate cards, including but not limited to:
After sorting everything out, what are we getting is a card advantage, a chance at creating uncounterable threats, a tutor, and potentially an extra mana (had we tutored a one-cost card). The cost is playing a colorless land that will sacrifice itself at a fixed time. In the end, you are paying very little, and getting a lot.
Being an enchantment is supposedly a downside, but weirdly not being an artifact makes 《Urza's Saga》 resistant to many hate cards.
How to Make My Deck Support 《Urza's Saga》 Well?
In order to examine what we'd like to do to build an 《Urza's Saga》 deck properly, let's take a look at a deck I build where it was bad.
Some decks are naturally going to be more interested in the tutoring ability; some focus on producing Constructs. To get the full value, ideally, you'd benefit from both fully, but it's not always doable. You'd like to excel in at least one of the aspects of the card. In the mentioned reanimator deck, constructs I made were often small, and my tutor targets were unexciting – if 《The Underworld Cookbook》 wasn't good in a given situation, and it often wasn't I had nothing to fetch.
《Urza's Saga》 is a strong supplementary plan, so it's good for your deck to be proactive; then, if you get hosed by hate cards, you have this one-card plan in your manabase. 《Persist》/《Archon of Cruelty》 was not powerful enough to threaten my opponent's meaningfully, so they were rarely in that vulnerable state where I could have gotten them.
One other thing I noticed is that 《Urza's Saga》 really wants you to play a low mana curve. Playing cheap artifacts early is basically investing into your future Constructs. 4+ drops should be avoided, as they are hard to cast when your lands sacrifice themselves; if you really want to play expensive cards, make sure to include a 《Springleaf Drum》 to tutor.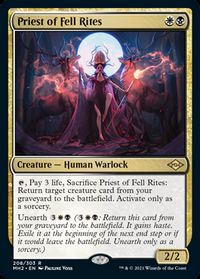 My reanimator deck wanted to get to 5 mana to reanimate 《Priest of Fell Rites》; 《Urza's Saga》 directly conflicted with that plan. With a very low curve, you can use Sagas to bloat your land count a little bit, to help you mitigate mana screw.
So, knowing that, let's take a look at some of the early successful builds of 《Urza's Saga》 decks.
《Urza's Saga》 is very strong and very efficient. Is it too strong and too efficient, to the point of eventually needing to be banned? Possibly, although I haven't formed an opinion on it yet.
As a land, you don't pay mana upfront, so answering the 《Urza's Saga》 with a 《Disenchant》 effect won't let you pull much ahead; even if you'd like to, the window to do so is fairly narrow, as making a Construct will typically virtually set the 《Urza's Saga》 player up a card. Hyper-efficient answers to enchantments and/or artifacts might do the job; 《Wear/Tear》, 《Fracturing Gust》, 《Hurkyl's Recall》, or 《Force of Vigor》 can all at times be an attractive answer. There is one answer that is truly excellent, and that is 《Blood Moon》.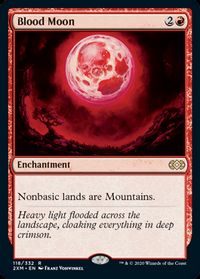 The exact rules interaction happening between 《Blood Moon》 and 《Urza's Saga》 is a bit weird. 《Urza's Saga》 becomes a 《Mountain》, but stays an Enchantment – Saga with no abilities. Per the rules of the game, Sagas get sacrifice after their last ability resolves; a Saga with no abilities will always just get sacrificed immediately.
《Blood Moon》 just killing 《Urza's Saga》 in play and rendering the ones in hand utterly useless makes it a very strong and proper hoser effect. I wouldn't be surprised if we'd see more Ponza, Obosh Prowess, and other maindeck 《Blood Moon》 decks in the coming weeks, as they seem potentially very well positioned.
Regardless, I'm very interested to keep brewing, exploring; and streaming Modern Horizons 2 Modern, it's been tons of fun so far.