Sultai Midrange
I went 20-4 with the deck in the last 3 MO challenges, here's the recent list(at least 1 《Yixlid Jailer》 and 《Mindbreak Trap》 are out of place, feel free to change to your favorite, I'd go with 《Archive Trap》 at the moment):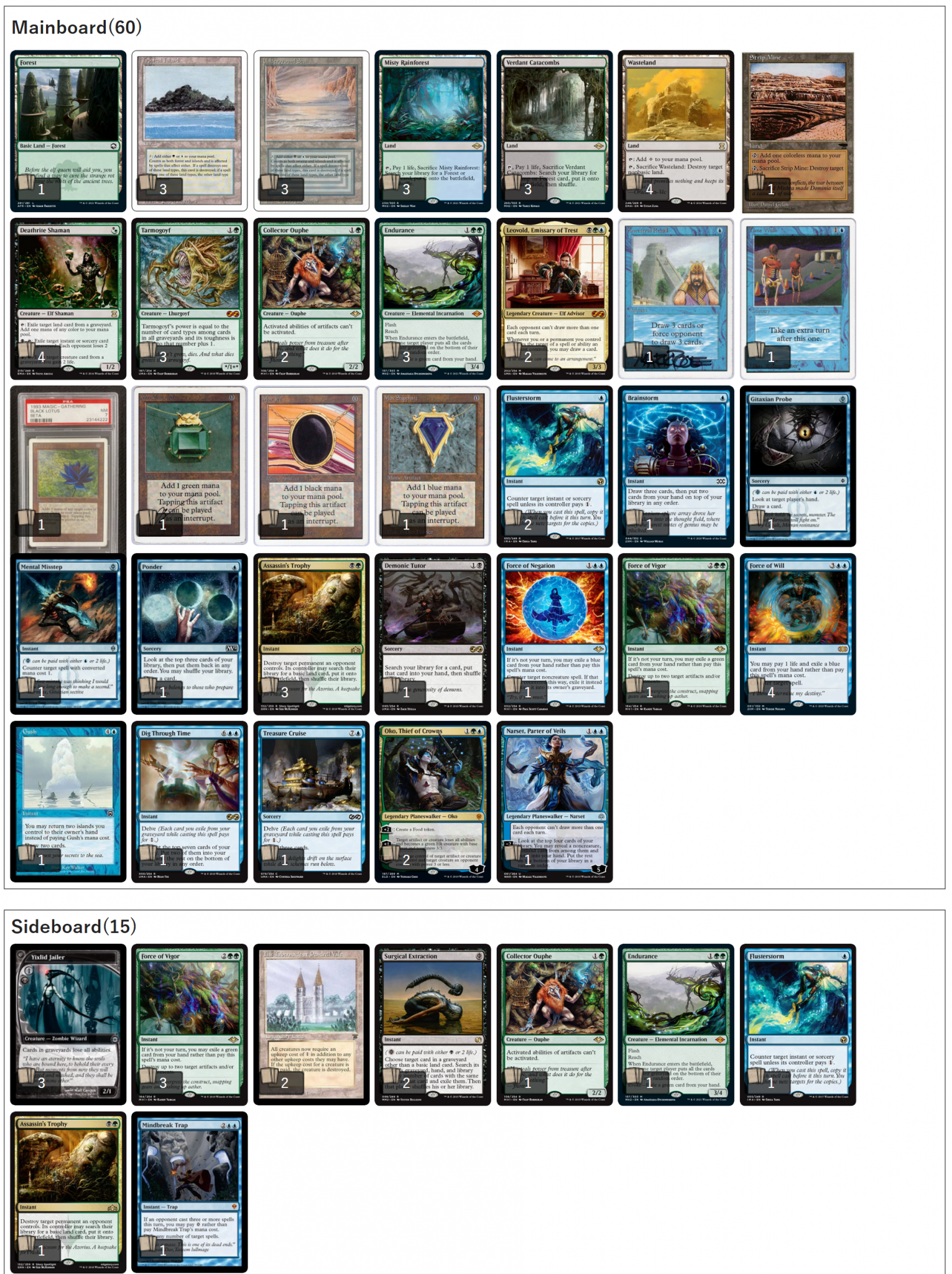 Cards that Represent Vintage
People associate Vintage format with Power 9, but I think other cards define it better, cards that put you on the brink of victory by themselves or provide an immense constant advantage:
This time I won't go through our own build, but the possible opponents and how Sultai is supposed to beat them:
Dredge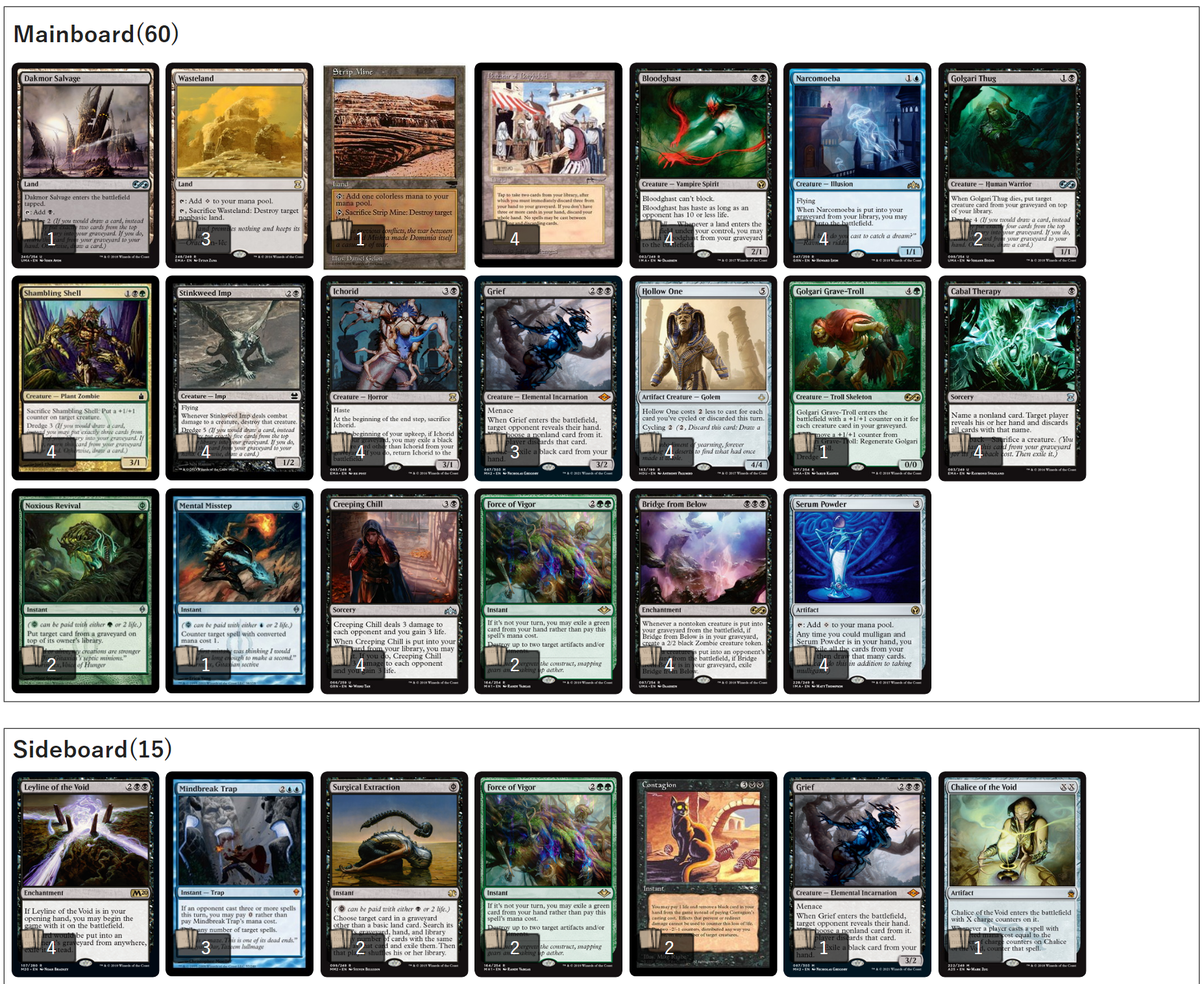 Dredge hardly relies on 《Bazaar of Baghdad》, which makes our game plan relatively easy – destroying the land is priority #1, we can 《Wasteland》 it (Dredge run land destruction as well, so don't play your《Wasteland》 unless you are going to use it immediately, better keep it in hand even if it'd cost a land drop) or 《Assassin's Trophy》 it.
It's possible to reduce its power with 《Leovold, Emissary of Trest》 or 《Narset, Parter of Veils》, but I don't recommend doing this if you have other options, dredging 1 card on their turn and 1 on yours is still a lot.
The second priority is dealing with their graveyard, but, luckily, we're quite stocked for that. 4 《Deathrite Shaman》, 4 《Endurance》, 2 《Surgical Extraction》, and 3 《Yixlid Jailer》 mean you can take a hit with 《Grief》 and still be able to interfere with their plan.
Like any other deck, we are on the back foot vs Dredge game 1, but with some lucky 《Wasteland》 + 《Deathrite Shaman》 you can pull it nonetheless. After sideboarding Sultai is heavily favored.

vs. Dredge
I don't usually do it myself, but I won't judge anyone for adding 1 or 2 《Force of Vigor》 on the draw, an occasional 《Hollow One》 start can hit you hard.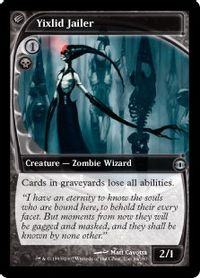 Your best weapon here is 《Yixlid Jailer》 – it shuts down the entire deck except for 《Hollow One》 and can only be removed with 《Contagion》. 《Contagion》 can deal with 2 of them, so consider keeping 1 in hand if you already have 1 on board, but to be honest, if 《Yixlid Jailer》 gets killed on your end of turn, 2 《Bazaar of Baghdad》 activations + draw phase will be more than enough for Dredge to win, so don't play too safe either.
Keep in mind 《Endurance》 doesn't exile the cards, it puts them on the bottom of the library, a working 《Bazaar of Baghdad》 will dig to them in a couple of turns.
Just like 《Wasteland》, 《The Tabernacle at Pendrell Vale》 shouldn't be played unless you need it right now, it can get destroyed or even thwart your own game.
Hollow Vine
Dredge is not the only archetype to abuse 《Bazaar of Baghdad》's power.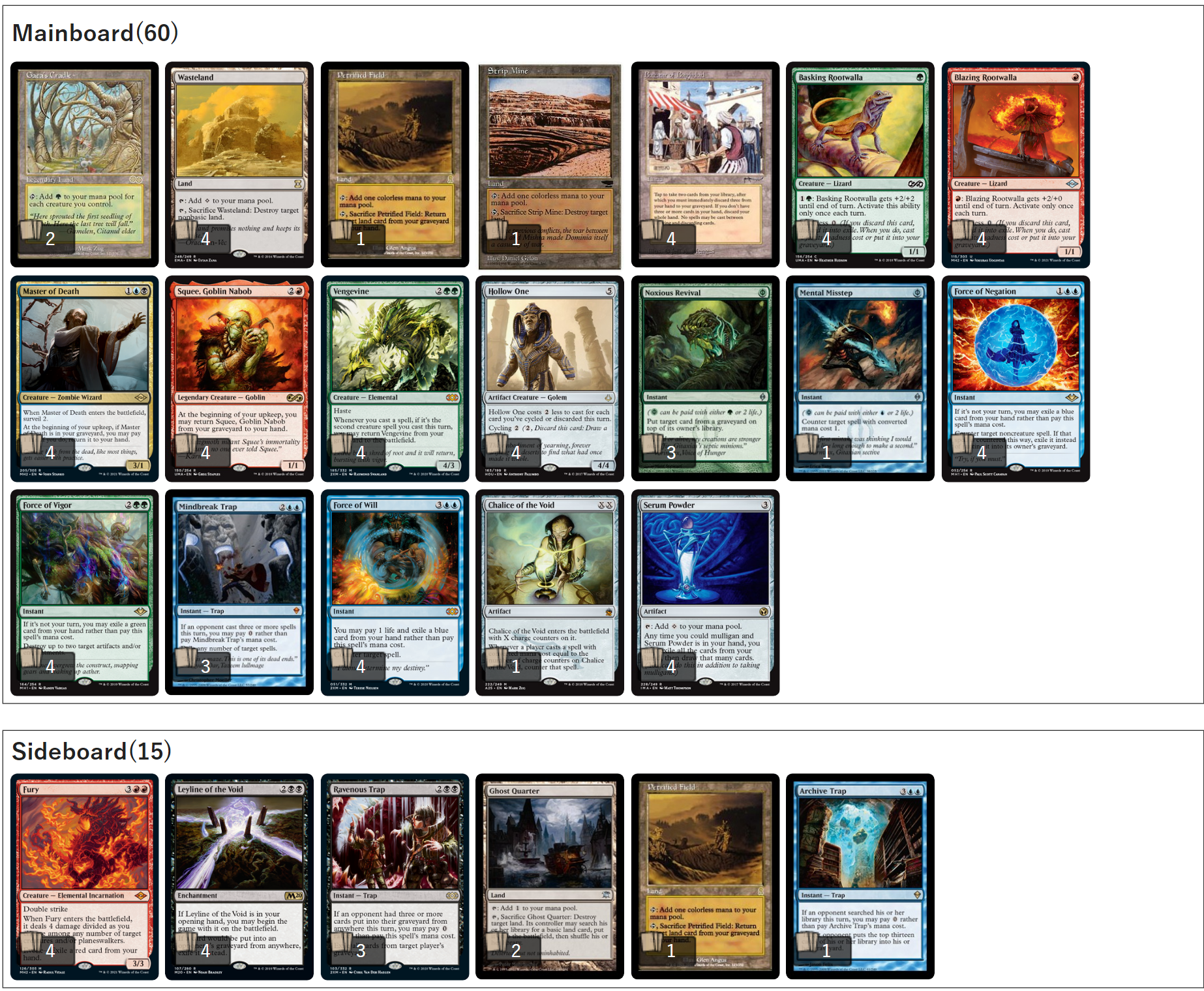 In the last iteration of 《Vengevine》 decks, Hollow Vine relies on 《Bazaar of Baghdad》 even more than Dredge. 《Bazaar of Baghdad》 itself functions as both offense and defense here. It puts 《Vengevine》 in the graveyard and provides 12 free creatures to bring it back.
Unlike Dredge, this deck needs some cards in hand, and 8 recursive creatures make sure there will always be some pitch for Forces. The good news is that all we have to do to win is to take care of 《Bazaar of Baghdad》, that's it. The bad news is that Hollow Vine has countermeasures to that. Our possible options are:
Destroy the land. 《Wasteland》 or 《Assassin's Trophy》 will do the trick and it's probably the best way to deal with it, 《Noxious Revival》 can be countered and 《Petrified Field》 gives you a turn to prepare, not speaking of our 《Deathrite Shaman》. I'm going to add some 《Surgical Extraction》 to the sb next time, a good hit with it should end the game.
Lock the graveyard. 《Yixlid Jailer》 will not stop this deck as it does to Dredge, but it'll prevent them from drawing tons of extra cards. Hollow Vine will bring 《Fury》 in after the sideboarding, keep that in mind.
Lock the card draw. 《Narset, Parter of Veils》 and 《Leovold, Emissary of Trest》. It'll considerably slow them down but won't suffice as a winning plan, it merely supports. If you manage to resolve 《Narset, Parter of Veils》, consider not activating her for some to keep her safe from 《Fury》.
Remove the Graveyard. It's a support option as well, it's unlikely your opponent will pull all eggs in a single basket and let you 《Endurance》 it.
I'd say our plan is the same as with Dredge, but with slight complications. If they manage to drop some creatures on the board turn 1, 《The Tabernacle at Pendrell Vale》 will fend them off, just make sure to deal with 《Bazaar of Baghdad》 first, you can take a hit or two.
Luckily for us, Hollow Vine does actually suffer from Mulligans, and sometimes digging up a 《Bazaar of Baghdad》 will cost them the possibility to play their 《Force of Will》 or 《Wasteland》.

vs. Hollow Vine
Doomsday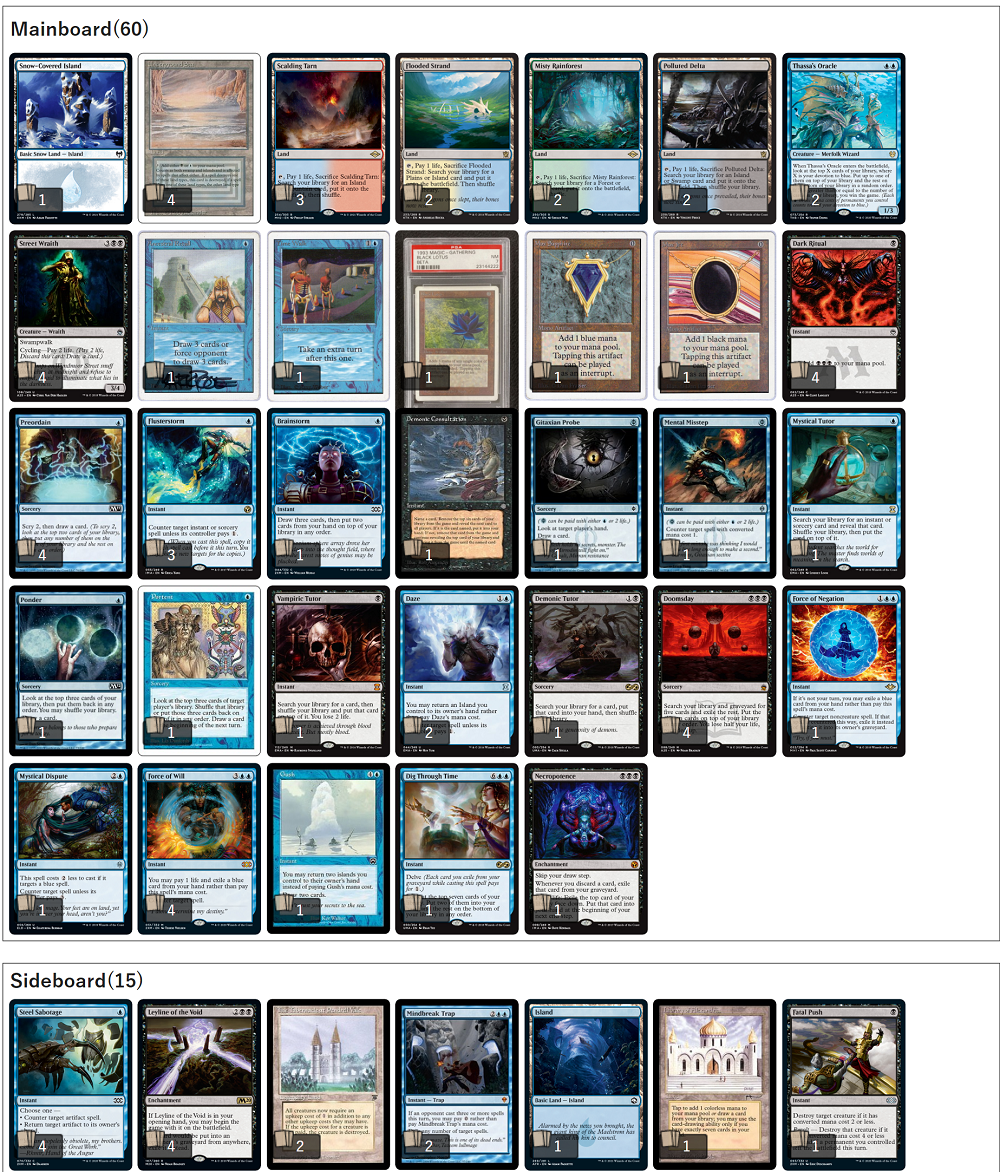 Doomsday can be very tough to correctly play against, but it has a weakness-only 1 way to win (I was beaten down by a 《Street Wraith》 once, though), meaning Sultai doesn't have to win, not losing on the Doomsday will be enough. I won't talk about the early game, you should be familiar with all that 《Ponder》 routine, let's proceed straight to the showdown.
If you have your hand stocked with countermagic and 《Endurance》, it would be easier to just let them resolve 《Doomsday》, which will put the clock on. First of all, the sample 5 cards are top to bottom.
I'm no Doomsday expert, but these are the average piles I've faced most of the time. The good thing is we can see what's exiled. I won't blame someone for trying to figure all cards in Opponent's hand and library left based on what's exiled, but I usually go only through a few things:
Is 《Ancestral Recall》, 《Gush》, and 《Brainstorm》 exiled? There are usually 2 of them exiled and the last one will be the opponent's cantrip spell.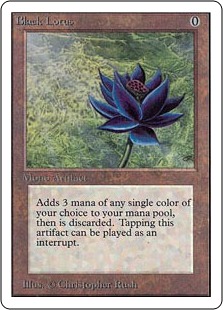 Is 《Black Lotus》 exiled? 《Black Lotus》 in means you should expect an aggressive 《Thassa's Oracle》 push with 《Flusterstorm》 or 《Mystical Dispute》. If 《Black Lotus》 is out you can try to win the game by destroying their 2nd blue mana source with 《Assassin's Trophy》 or 《Wasteland》.
How much Countermagic is left? The stock lists contain 4 《Force of Will》, 1 《Force of Negation》, 2 《Daze》, 3 《Flusterstorm》, and 1 《Mystical Dispute》. It's unlikely to be more than 2 of these left, so check carefully, you'll have to fight through all of them.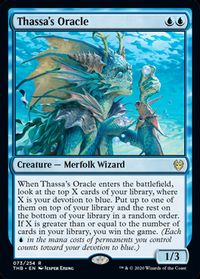 How many 《Thassa's Oracle》 are left? Since the second 《Thassa's Oracle》's place is often taken by a countermagic, it doesn't matter much, but in the case of 2 《Thassa's Oracle》, you'd get an extra turn sometimes.
With that information we should be able to relatively accurately figure our plan, how can we stop them?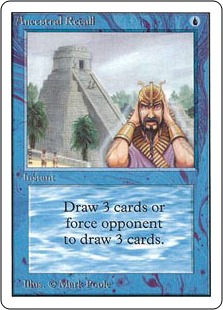 《Ancestral Recall》. The most elegant solution-just make them deck in response to Oracle, cheap and effective.
Countermagic. 《Force of Will》 backed up by a 《Flusterstorm》 is a good plan given that you know what Countermagic configuration they have left.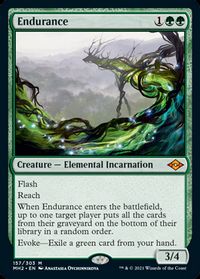 《Endurance》. If there is only one 《Thassa's Oracle》 left, that should be your all-in spell, it can't get hit by 《Flusterstorm》, 《Force of Negation》, and 《Mystical Dispute》. Don't bother to play it for mana if there is a possibility of 《Daze》.
《Assassin's Trophy》/《Wasteland》. If you have that option, check the exile pile for blue sources, there are usually 4 《Underground Sea》, 《Black Lotus》, 《Mox Sapphire》, and 1 《Island》, if you can cut them from 2nd blue mana-go ahead.

vs. Doomsday
Ravager Shops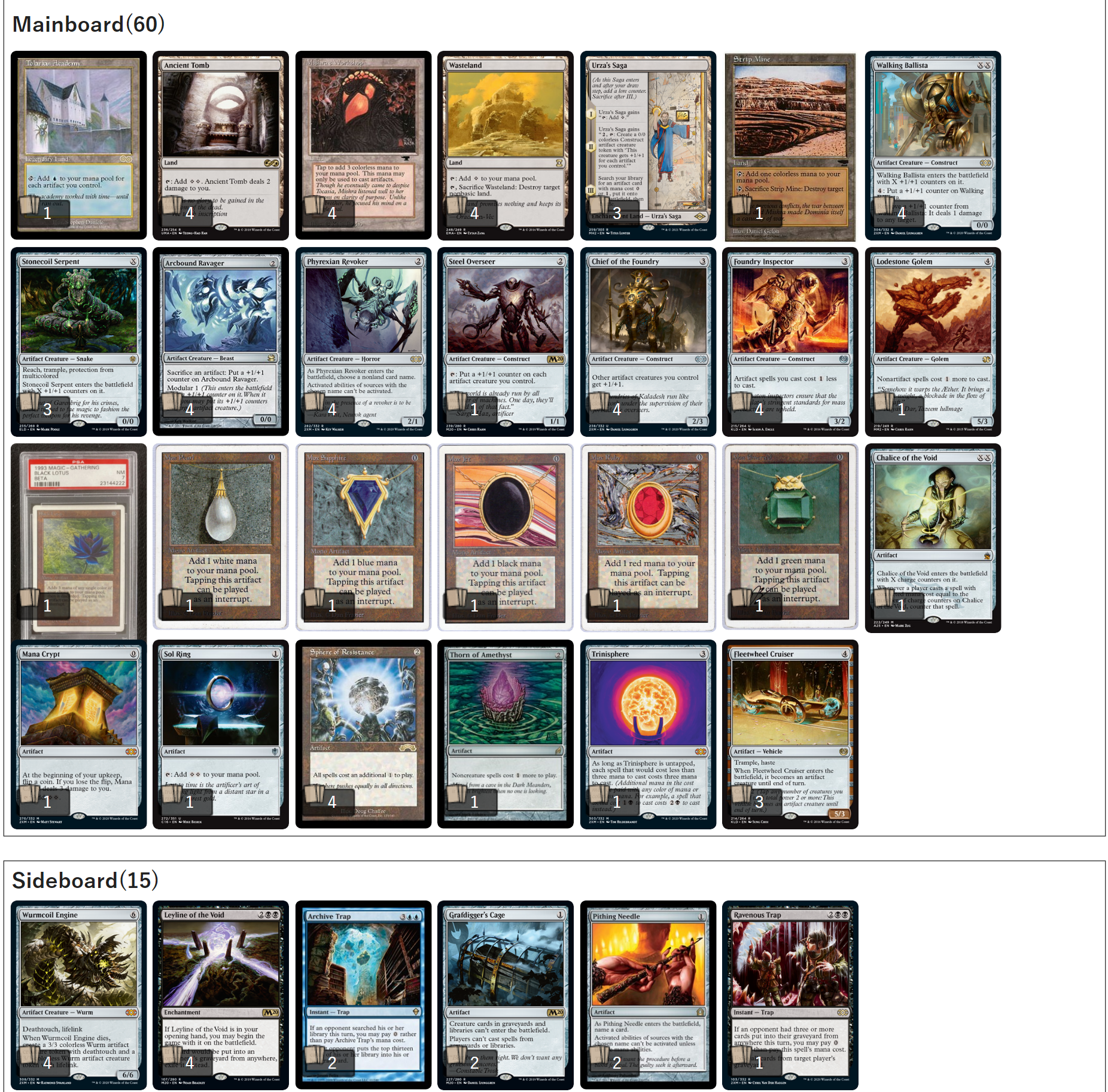 These decks play a different game, but they cause the same problems, so I won't make a big difference between them from Sultai's perspective. The first thing you should worry about is 《Sphere of Resistance》, 《Trinisphere》, and 《Thorn of Amethyst》, these will cause the most trouble, try to avoid them staying on the table. Technically there are some situations you could turn them to your advantage, but they are rare and if you see one, it means you no longer need my advice.
《Mishra's Workshop》 has 3 prime strategies vs Sultai:
As you can see all 3 are not instant losses and you have plenty of ways to fight back. The good thing is, except 《Sphere of Resistance》 they have no way to mess with your game, 《Wasteland》 and 《Phyrexian Revoker》 are a nuisance, but as long as you remember about them, they shouldn't be a problem.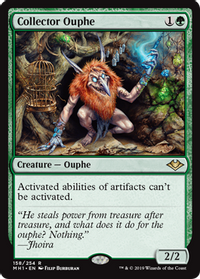 Don't rely on 《Collector Ouphe》, it's somewhat useful vs Ravager Shops build, but doesn't do much vs Golos build. 《Force of Vigor》 is your powerhouse here, don't rush with it, make both kills count.

vs. Golos Stax

vs. Ravager Shops
Conclusion
In the mirror it's all about sequencing, sadly I can't provide you with some short advice, so let experience be your best teacher!
Thanks for reading and see you in MOCS Showcase Qualifiers,
Dmitriy Butakov (Twitter)