Introduction
Hello, everyone!
After focusing on Standard and Historic testing for the Strixhaven Championship in June, I was glad to return to my favorite format Legacy with Modern Horizon 2's release. Joining in the justified hype, I started off with Izzet Delver, including MH2's powerhouse creatures 《Ragavan, Nimble Pilferer》, 《Dragon's Rage Channeler》 and 《Murktide Regent》.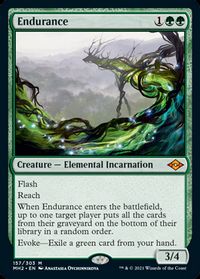 Following the first two weeks of 《Ragavan, Nimble Pilferer》's dominance, anti-Delver decks like Bant Miracles, which utilized 《Endurance》 well to combat URx's creatures, led to Izzet Delver losing some of its stranglehold on the format.
I saw a window for my trusty Sneak & Show deck to make a return, which has always had solid matchups against the classic anti-Delver decks like Miracles or Lands. Over the following weeks, I reached the Top 8 of five MTGO Legacy Challenges, finishing close to 100 matches of premier events with a 70% winrate.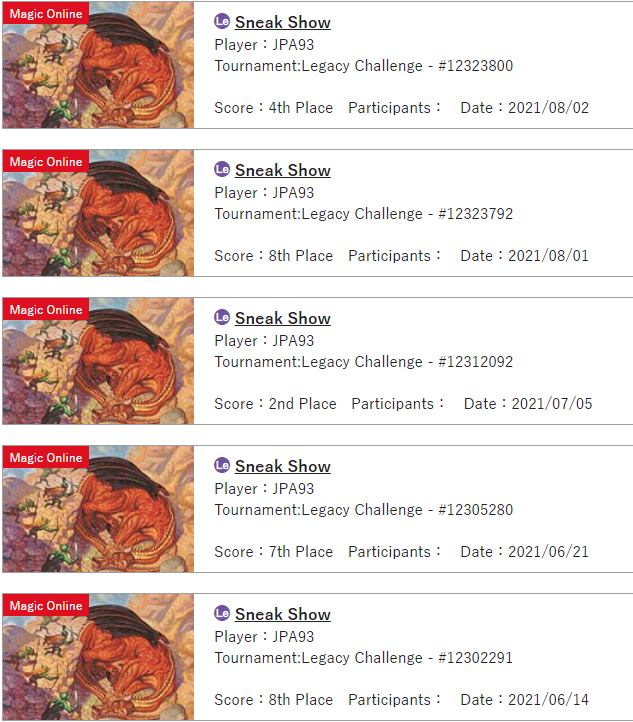 Today, I would like to give you a matchup and sideboard guide for my latest list, which I have been using for the past weeks. I hope you find it informative and enjoyable to read.
Deck List Changes
First, let's compare the latest posted decklist with the initial one from early June:
Sneak & Show in June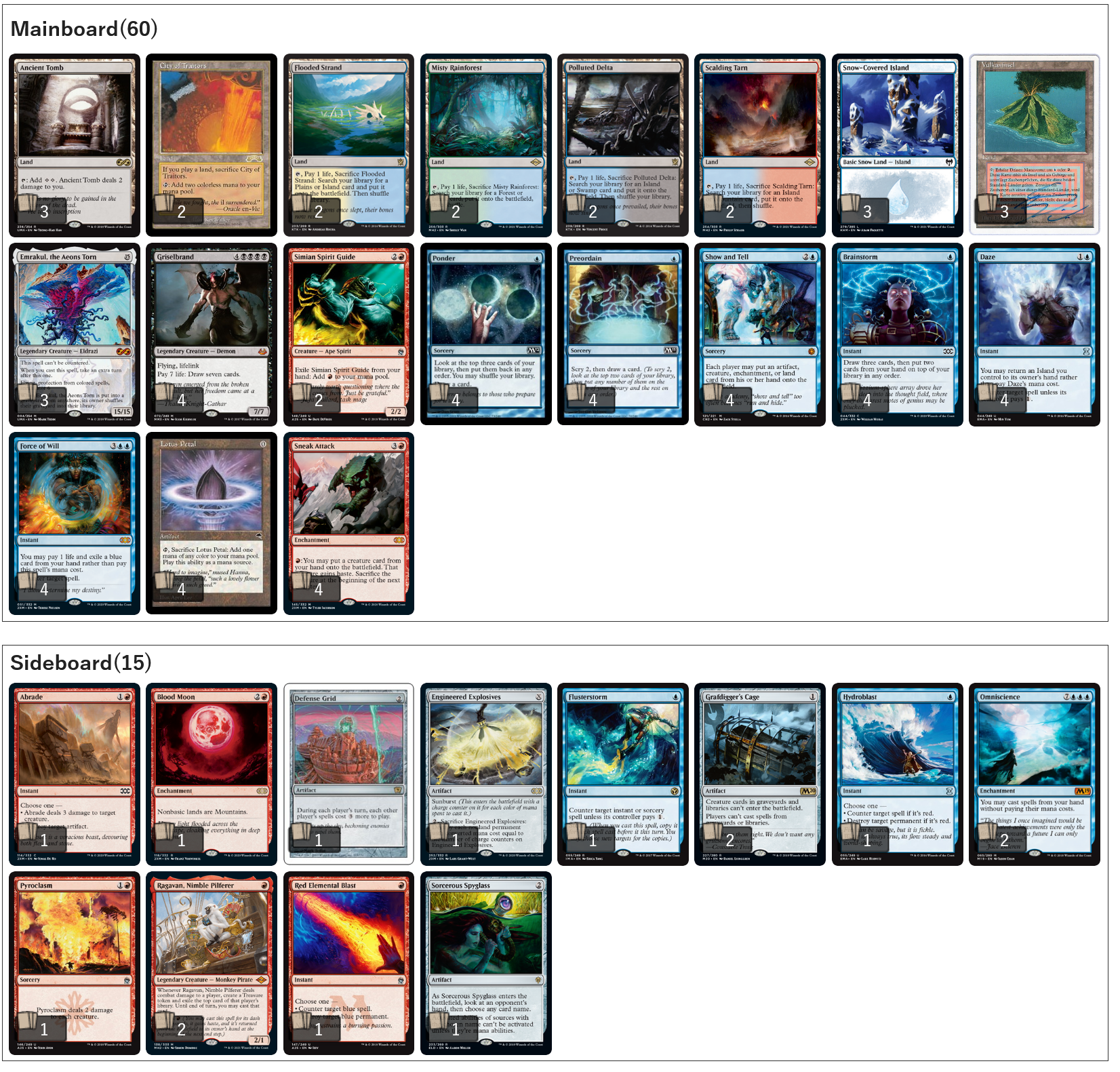 Sneak & Show in August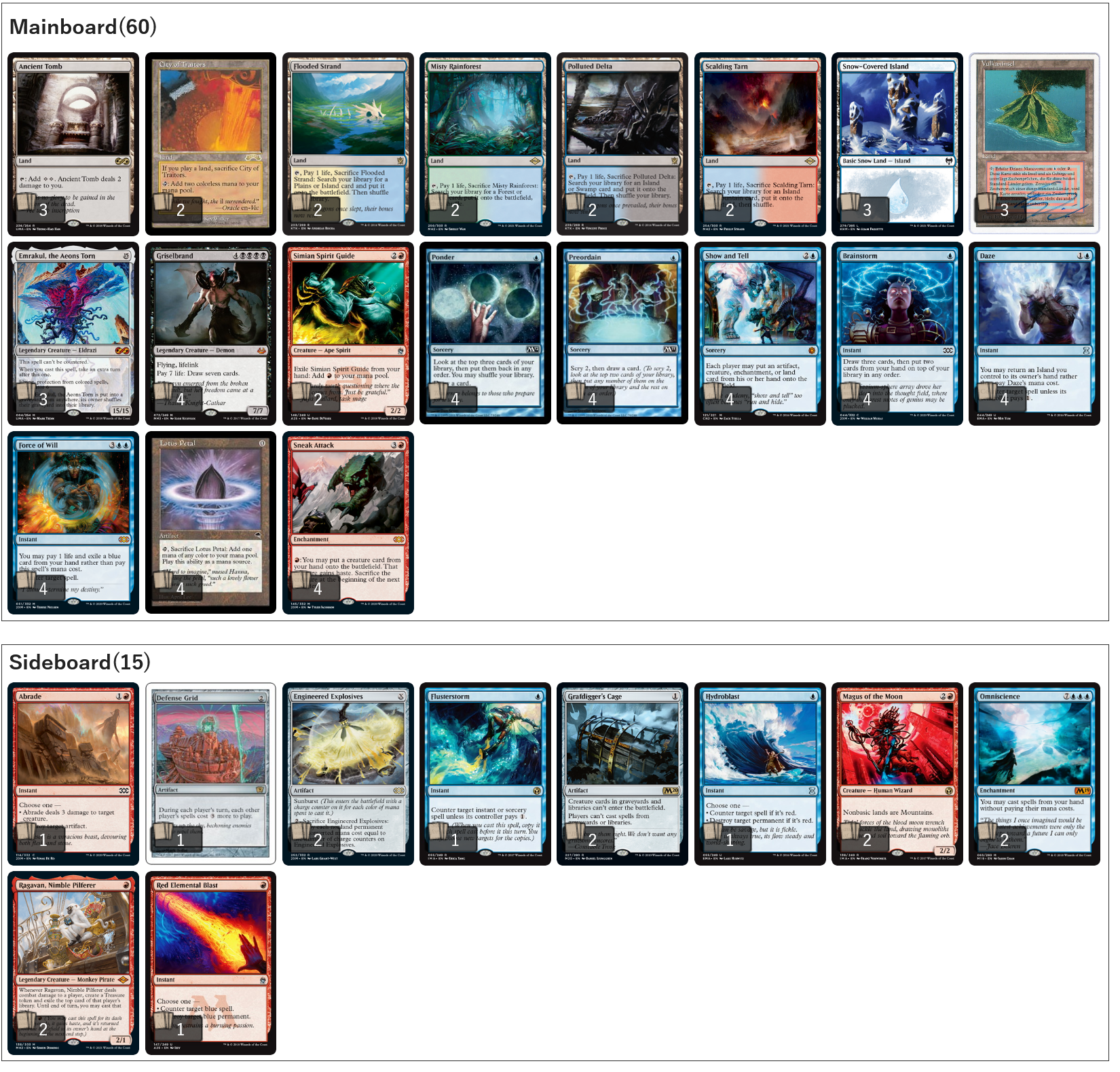 The only changes I made between June and August are found in the sideboard. 《Sorcerous Spyglass》 and 《Blood Moon》 were cut for 2 《Magus of the Moon》, which provide a similar effect in stopping problematic lands like 《Karakas》 or 《Dark Depths》 combo, and conveniently dodges 《Force of Vigor》.
Once your Selesnya Depths or Lands opponents start leaving in 《Swords to Plowshares》 or 《Punishing Fire》 to deal with 《Magus of the Moon》, it might be time to swap back to 《Blood Moon》 and/or 《Sorcerous Spyglass》.
The second change was cutting 《Pyroclasm》 for the second 《Engineered Explosives》. As you will see in the sideboard guide, my post-board plan against Izzet Delver includes boarding in removal on the draw, and 《Engineered Explosives》 has some upside over 《Pyroclasm》 in that matchup.
Firstly, it hits 《Dragon's Rage Channeler》 with Delirium enabled. Secondly, most lists play 4 《Ragavan, Nimble Pilferer》 nowadays. 《Engineered Explosives》 can provide instant-speed removal against Ragavan, where 《Pyroclasm》 on your turn might just lead to another dashed 《Ragavan, Nimble Pilferer》 on your opponent's.
Other advantages include the possibility to be cast and activated off basic 《Island》 and 《Ancient Tomb》/《City of Traitors》, as well as hitting problematic non-creature permanents such as 《Pithing Needle》 (much more common now with 《Urza's Saga》) or various bigger creatures.
Disadvantages are mostly its sometimes-higher cost of 3 mana, including activation, and not being able to sweep diverse hate-boards from D&T with 2- and 3-drops. 《Engineered Explosives》 is also more awkward with 《Omniscience》, where 《Pyroclasm》 can just be cast for free. Overall, I still like 《Engineered Explosives》 over 《Pyroclasm》 at the moment.
As a final aside, I have switched 《Hydroblast》 for 《Blue Elemental Blast》 in my latest list. It's a small corner case, but I want to prevent 《Dragon's Rage Channeler》 from getting a free Surveil trigger, if 《Ragavan, Nimble Pilferer》's ability hits my 《Hydroblast》, which, unlike 《Blue Elemental Blast》, can be cast targeting any permanent.
Now, let's get into the guide!
Closing Thoughts
On 《Daze》 in Sneak & Show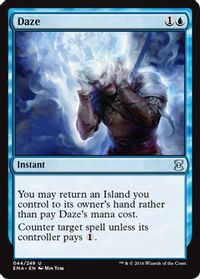 As you might have noticed in the matchups guide section, I am not as high on 《Daze》 in Sneak & Show as I used to be. This has mostly to do with 《Ragavan, Nimble Pilferer》's treasures invalidating 《Daze》 as protection very quickly.
While Delver and blue Midrange archetypes used to be constrained on mana if they wanted to deploy threats, this is no longer the case. Their threats are much cheaper, there are no more early tap-outs for two-drops like 《Dreadhorde Arcanist》 or 《Tarmogoyf》, and they actually generate extra mana with 《Ragavan, Nimble Pilferer》.
Additionally, 《Daze》 has become such a mainstay in Sneak & Show over the past two years or so, that many players expect and actively play around it. With 《Ragavan, Nimble Pilferer》 making matchups more play/draw dependent than before, putting yourself at an even further disadvantage for being on the draw by playing 《Daze》 in your list is quite detrimental.
Nevertheless, I haven't found a good alternative for 《Daze》, yet. 《Spell Pierce》/《Flusterstorm》, which I used to run before, might be great against Control and Combo decks, but are much worse against Delver and Tempo strategies. If they 《Force of Will》 your enabler and you have to use an additional mana source to fight back with 《Spell Pierce》 or 《Flusterstorm》, all it usually does is turn on their otherwise dead 《Daze》. 《Misdirection》 is another consideration, but it's only good for the counter-war and can't be used to counter problematic opposing spells.
For now, 《Daze》 is still the best, most versatile protection spell available to complement 《Force of Will》, but its slot is not set in stone anymore.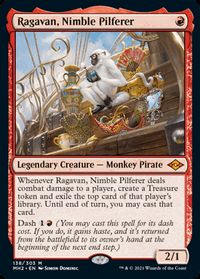 《Ragavan, Nimble Pilferer》 should be banned in Legacy.
He's ridiculously undercosted, the option to Dash adds so much flexibility and even if his trigger never hits castable cards, the treasure is enough value already. Once he hits castable cards like cantrips or creatures, planeswalkers, 《Sylvan Library》, discard spells, it becomes completely absurd.
Izzet Delver was the best Legacy deck before MH2 and has now gotten a complete upgrade to its creature-base.
If the community thought 《Deathrite Shaman》 and 《Dreadhorde Arcanist》 were too oppressive and did too much for their cost, they should think of 《Ragavan, Nimble Pilferer》 as just as ban-worthy. Legacy is still my favorite format and I will keep enjoying it, but I still hope action gets taken.
Until next time, I hope you enjoyed this article!
Jonathan Anghelescu (Twitter)