Introduction
Hola!
After the end of last season, I started exploring different formats I had played before. One of those formats was Vintage, which I played for a couple of weeks and I can say I enjoyed very much trying the different archetypes.
Vintage has these gameplay patterns that remind me of cube since there are a lot of possible broken interactions you can assemble with all the Moxen around.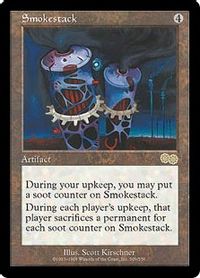 However, there is one archetype that was clearly the less appealing to me once I started playing but ended being my favorite one: Golos Stax. It doesn't play the card 《Smokestack》 anymore but the spirit remains the same!
Some of you might even remember from other articles that I am a big fan of the 《Crucible of Worlds》/《Life from the Loam》 so it made sense for me to at least try the archetype that was playing 4 (!!!) copies of that effect.
Sideboarding and Matchups
Sideboarding with Golos Stax is relatively easy, as our options as mono-colored decks are very limited.
Mirror
Playing first is obviously very strong the mirror. Other than that, the mirror is about mana advantage and Construct advantage. If one player can't manascrew the other, whoever resolves a full 《Urza's Saga》 will likely win, since that player can also get 《Pithing Needle》 and name 《Urza's Saga》 so the opponent can't get any tokens.
For that reason, consider holding the 《Wasteland》 effects if you think your opponent has enough mana so you can answer their 《Urza's Saga》.

vs. Mirror
Fair Blue
The most common Fair Blue deck is Jeskai, and their hate card is 《Shattering Spree》. They also run 《Dack Fayden》 which is a beating so that should be the default naming with 《Phyrexian Revoker》 as long as your opponent is not visibly manascrewed.

vs. Fair Blue