Introduction
Modern Meta is always changing from week to week. Do you have trouble deciding what to put in the sideboard for your deck? I will be talking about various sideboard cards which will help you prepare for the top various matchup which you will likely face in Modern.
Against Temur Rhino
Very Effective Cards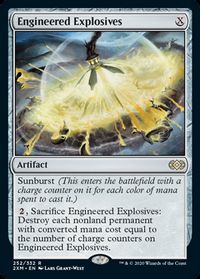 This answer both 《Crashing Footfalls》 tokens while also being effective as a sideboard card against multiple matchups.
Very Effective Cards
This is the best 1 mana answer to answer 《Urza's Saga》 permanently as it causes 《Urza's Saga》 to loses all ability and get the sacrifice.
We have been seeing 《Spreading Seas》 a lot in Azorius Control deck as it is basically a 2-mana cycle card that acts as a 1-time answer against 《Urza's Saga》. It can also stop problematic lands like 《Cavern of Souls》 and bounce land which also pairs well with 《Teferi, Time Raveler》.
Although 《Dress Down》 does not answer the land part of 《Urza's Saga》, but it does kill both constructs as it causes them to lose both abilities and become a 0/0.
Same as 《Dress Down》, it provides solutions to decks that can't answer big constructs which also serve its usefulness in multiple matchups.
Ineffective Cards
Decks that play 《Urza's Saga》 are usually aggressive deck which makes 《Blood Moon》 likely too slow against them as you do not want to waste 3 mana for the effect. Only board in against non-aggressive 《Urza's Saga》 decks.
Against Elementals
Very Effective Cards
This turns down the whole card advantage engine of Elementals and requires the Elemental decks to have 《Prismatic Ending》 in order to answer it. Even though they get to Evoke the elemental for free, it is easier to answer them without the CIP effect.
Elementals have to fetch for basic early if they do not want to be 《Blood Moon》 lock and it usually makes elemental unable to cast most of their spells even they have 2 basic lands in play.
Ineffective Cards
《Lavinia, Azorius Renegade》 only shut down the Evoke part of Elemental and the decks are usually capable to survive until turn 5 which is too low impact card to board in against them.
Not a fan of 《Hushbringer》 as Elementals usually play 3 《Lightning Bolt》 and 3 《Prismatic Ending》.
Against Boros Burn
Very Effective Cards
This sideboard card is only good if you expect to face a lot of Burn. This card is a 7-8 points life gain against Burn but you still need to put enough pressure against an opponent, if not they can just top deck enough Burn.
《Sunset Revelry》 is better than 《Blossoming Calm》 if your deck lack of removal as the 2 mana 1/1 can trade with 《Goblin Guide》 or buy you turn by chump blocking.
Same as 《Sunset Revelry》, if you are light on removal, 《Lightning Helix》 provides life gain and removal in a single card while useful against creatures decks.
《Force of Negation》 is usually good if your deck has enough blue cards to pitch. It allows us to progress with our game plan without needing to hold up mana for counter magic.
Against Tron
Very Effective Cards
The Best card against Tron is it turns off their Tron land as well as 《Blast Zone》, just make sure you have a way to interact early with their play as 《Blood Moon》 can be too slow on the draw.
As mention earlier, it is a 2 mana cantrip that also stops their Tron land.
Probably the most common sideboard card as it serves its usefulness against Tron, 《Valakut Exploration》 and 《Urza's Saga》.
Against Mill
Very Effective Cards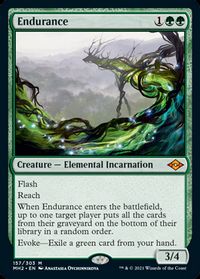 《Endurance》 helps us shuffle back the cards that was Mill. In order to beat 《Endurance》, Mill usually has to have 《Soul-Guide Lantern》 in order to exile the cards in the graveyard.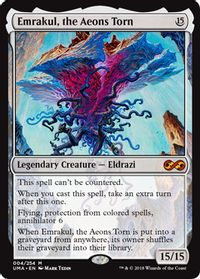 If this was being milled, it allow us to shuffle back our graveyard back to our library. This was also one of the solutions for the deck which is weak to 《Tasha's Hideous Laughter》.
---
That marks the end of my article. I am grateful for the opportunities that Hareruya have provided me and while this is my last article for Hareruya, if you have any questions, you can still find me at Twitter (@KelvinCh3w).
Kelvin Chew (Twitter)