Let's Play in the Standard of "Kamigawa: Neon Dynasty"!
Hi!
Kamigawa: Neon Dynasty has just been released Online, and I'm sure everyone is enjoying drafting and building various decks. This time, I'd like to introduce some of the decks I've made based on the new set's mechanics. If you're wondering what kind of deck to build, please take a look!
Boros Equipment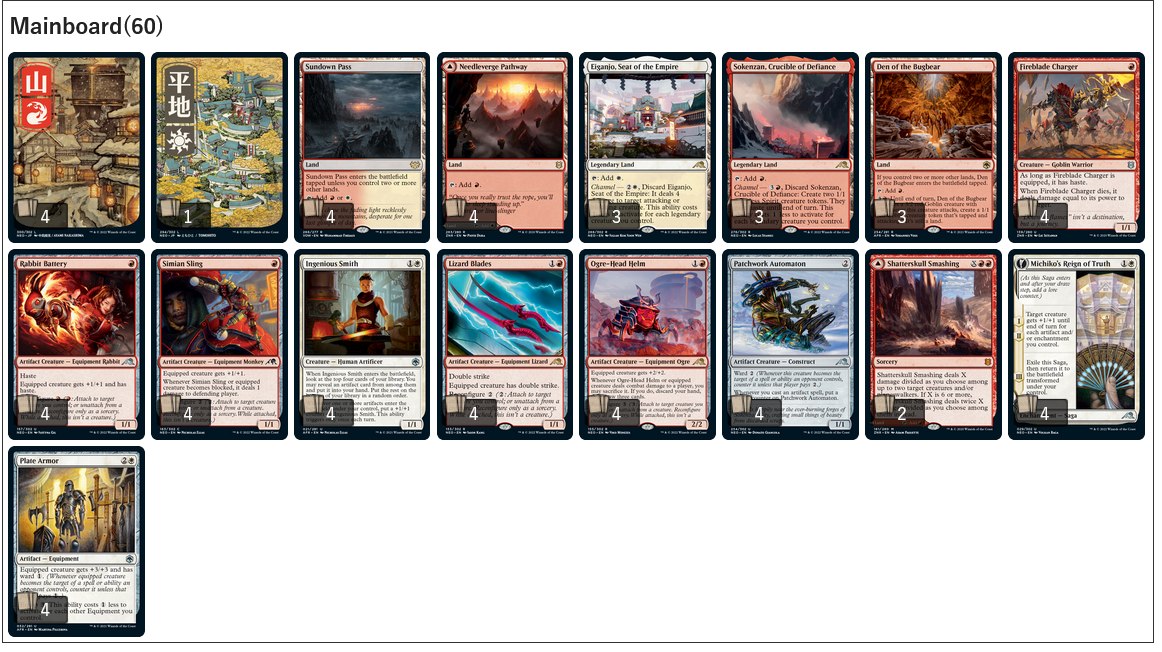 First is Boros Equipment. Equipment and creature balance is always tricky but we could solve it with the new mechanic. This deck tries to abuse 《Plate Armor》 along with the equipment creatures.
Bant Restoration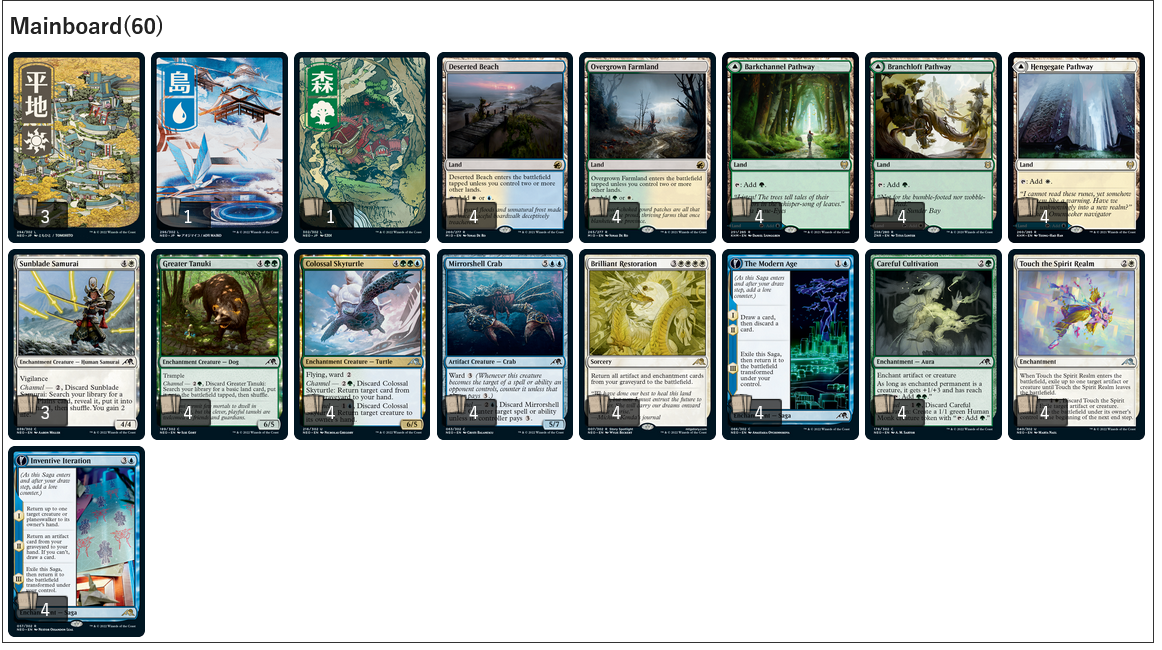 The second one is Bant Restoration.
Channel mechanic helps us stack up the graveyard with enchantment and artifact creatures. Our goal is to survive and resolve a big 《Brilliant Restoration》 to bring back all the channeled creatures.
Golgari Enchantment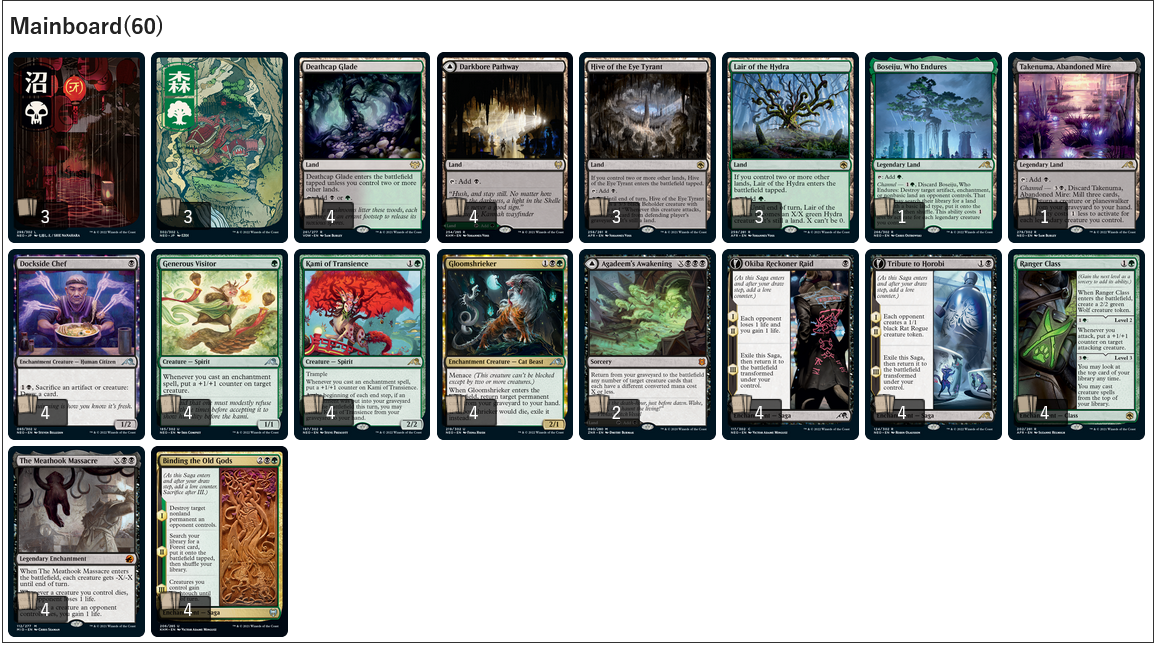 The third one is Golgari Enchantment Aggro.
《Generous Visitor》 and 《Kami of Transience》 are very aggressive creatures that work around with enchantments. Black provided some cheap aggressive enchantment to work along with them.
Selesnya Landfall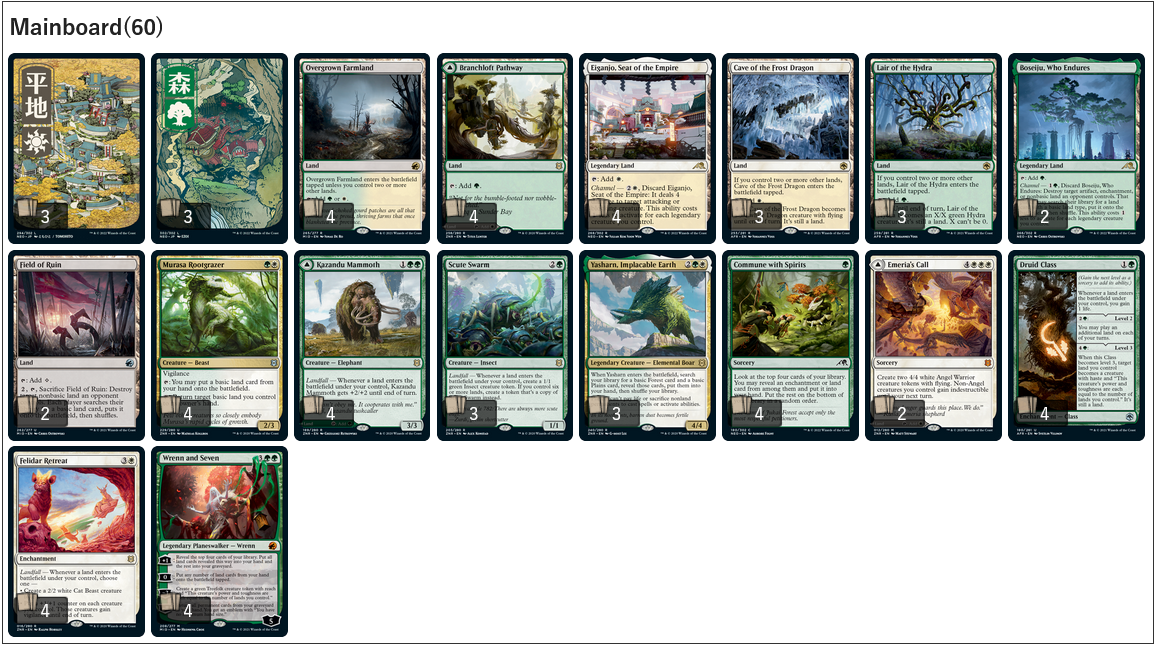 The last one is Selesnya Landfall.
The balance between lands and spells are difficult to handle. The new channel lands could help us pack the deck with enough spells. 《Commune with Spirits》 could smooth the deck by digging 《Druid Class》 as enablers or 《Felidar Retreat》 as payoff.
---
That's all for Kamigawa: Neon Dynasty #HareruyaWayFinder Lee Shi Tian edition.These are brainstorm decks I got after studying the spoiler.
I hope you guys like it and could it trigger more deck building ideas.
Lee Shi Tian (Twitter)