Introduction
Pro Tour Barcelona will be bittersweet for me. My poor record in Regional Championship Athens meant I failed to requalify, marking the first Pro Tour level event I will be skipping in six years. I always especially enjoyed and looked forward to playing Modern at the highest level, as especially throughout the MPL era occasions to do so were sparse.
Nonetheless, it will be exciting to follow the tournament and the metagame unraveling from the sidelines.
The Lord of the Rings: Tales of Middle-earth is the new, straight-to-Modern set that we get to play with. Despite some lukewarm initial receptions, the set seems to be taking Modern by storm, and it's all mostly a fault of a single key card.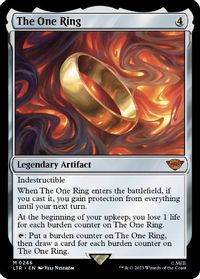 It's hard to imagine a card better suited to be the set's most powerful addition to Modern. What is slightly less flavourful is how the card ends up actually playing in games.
The life loss of 《The One Ring》 is not necessarily something to ignore, but crucially, in Ring's favor, it's delayed. You get the cards immediately, but the life loss only happens on your next upkeep – meaning you effectively only needed to pay one life to get to use three new cards, and three life to see six new cards!
Often enough, you'll prevent more incoming damage thanks to Protection compared to however much burden the Ring caused to you. Not only that, but the best way to make sure that you do not get punished too hard by the burden counters you amassed is by playing extra copies of the Ring, using the Legend Rule to reset the old one, and gaining yet another turn of Protection from Everything! In that sense, the Legendary supertype on the Ring gets turned into an upside.
《The One Ring》 defies the traditional play patterns accompanying draw spells. Typically, the turn where you deploy your relatively expensive card advantage engine would be when the player is the most vulnerable. Enters the battlefield Protection trigger means that you'll virtually always get the time to utilize your newly drawn cards and try to defend yourself. The mere existence of that trigger does a lot to hurt decks like specifically Hammer Time, who tries to use mana advantage to find a narrow window to win the game and has little to no stack interaction.
Decks Tempted by Rings
《The One Ring》 being colorless, we are in a phase where Modern players seemingly try to stick the card in every possible archetype. I've seen 《The One Ring》 Merfolk, Rhinos, or even Mono-Red Prowess, but one home seems to be the most natural and fitting.