I met with the Genesis team on Thursday prior to GP Richmond. I arrived pretty late so my first testing with the team started on Friday. On Friday I built this RUG Energy Deck.

---
The deck felt fine and after playing 4 matches in league going 4-0 drop and some face to face testing with the deck I was headed off to the GP. At the GP I was thinking and talking to some of my teammates about where to go in constructed. I did not believe that the RUG Energy Deck was good enough but after the matches I played with the deck I felt that 《Chandra, Flamecaller》 was great and I was pretty high on putting it in RUG Marvel.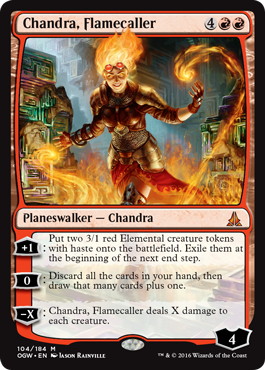 I both liked 《Chandra》 in the games I played but also in theory the fact that Zombies interred the format and 《Felidar Guardian》 left was both positives for the 6 mana planeswalker. Even before putting it all together I thought there was a pretty high chance that this was the deck I was going to play at the PT.
My limited testing was pretty much only on Magic Online I did around 25 drafts before the PT. Also I got a lot of advice from my teammates where my 25 drafts looked kind of weak compared to some of my team members.
Then as soon as we got home from the GP on Sunday we tried to see if 《Chandra》 would be a fit for the RUG Marvel deck and after just a few matches it was clear that it was. On Monday after some more testing I was locked in on RUG Marvel with 《Chandra》.

---
The sideboard plan was fairly straightforward and served me well throughout the tournament. I will show you sideboarding guide with new list on the bottom of this article.
Day 1:
For the tournament itself I started out drafting Black-White and I went 2-1 beating Red-Green in round 1, Red-White in round two and losing to Green-Blue in the finals. My deck was not anything special so I was feeling fine with 2-1 record. What I was more excited about was going into the constructed rounds.
Round 4 Mardu: A match-up I was feeling confident about and I got the victory without much trouble.
Round 5 Mardu: Pretty much a repeat of round 4 I got paired against Mardu and again without much trouble I got the win.
Round 6 Zombies: I won game 1 thanks to hard casting 《Chandra》 and wiping my opponents board and thereafter using her 0 ability to find a 《Marvel》 and cast 《Ulamog》. Game 2 I mulliganed to 5 and got triple 《Transgress the Mind》 so I lost that game but won game 3 was pretty easy with a turn 4 Marvel into Chandra.
Round 7 RUG Marvel: I got paired against the mirror. Game 1 I lost to a quick Marvel draw but I liked our sideboarding plan and won game 2 and 3 with it.
Round 8 RUG Marvel: I got paired against the mirror again and like in the previous match I lost game 1, but thanks to our sideboard I won the match anyway.
Day 2:
I drafted a Red-Green deck the two drops was not great but the spells and the rest of the creatures including a 《Glorybringer》 was above average good enough for a 3-0.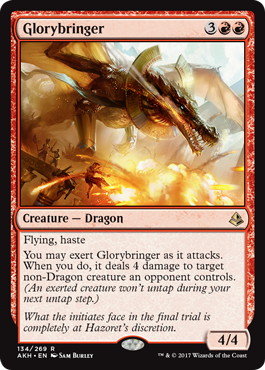 Beating Green-Black splash Red, Blue-White and Black-Red at 10-1 going into constructed I was feeling good about my chances for a Top 8.
Round 12 BW Zombies: My draws were really bad at this round. I won game 2 thanks to Chandra, lost the match anyway though.
Round 13 RUG Marvel: Both we had a pretty slow draw at game 1 and when I finally drew Marvel, he had a main deck 《Negate》 to stop it where he afterward casted his own, I then shortly lost the game. Game 2 and 3 I won on the back of the sideboard.
Round 14 Zombies: I was mana screwed most of game 1 but could probably have won anyway. However, I made a costly mistake and definitely did not give myself the chances of winning so I lost game 1. Game 2 I won a pretty normal game. Game 3 I mulliganed to 6 and my opening hand was below.
I would definitely keep this hand again being on the draw even though it did not work out. But I did not get there and lost.
Round 15 BUG Marvel: I resolved turn 4 Marvel and hit Ulamog on the second spin so I won game 1 easily. Game 2 I resolved the Marvel again but this time I did not hit as well needing to spin around 5 times before hitting Ulamog. Before he hit 10 mana, I should have used 《Confiscation Coup》 to steal 《Servant of the Conduit》 so he could not cast Ulamog but I fu*ked up and stole 《Glint-Sleeve Siphoner》 instead.
He then cast Ulamog and exiled my Ulamog and Marvel. Though, the turn before he could have exiled my entire library with Ulamog I played 《Chandra》 to swipe the board and get in for the last damage with a 《Tireless Tracker》.
Round 16: I drew and locked up Top 8!
Day 3:
Quarter finals Zombies: Game 1 went according to plan and I won without getting pressured too much. Game 2 looked great to begin with but ended up close. However, I got there through some pretty bad Marvel spins. Game 3 I got hit by two 《Lost Legacy》 hitting both Ulamog and Chandra but I assembled a combination of removal spells, sweepers and 《Tireless Tracker》 to win anyway.
Semifinals RUG Marvel: I felt unfavoured for game 1 and 2 and my draws definitely did not make up for it. Sideboarded games I felt it was more even, but my draws were not up to the task and I lost the match.
The deck felt great and our results show that it was a good choice for the tournament. Without further testing, I would only change the 2 《Aether Meltdown》 to 2 《Dissenter's Deliverance》.

---
And here is how to sideboard against top three decks.

Marvel

Zombies
In

Mardu
In
Conclusion:
Definitely a great tournament for both me and my team Genesis with whom testing was fantastic and I really cannot wait for Kyoto for the PT and GP. I am aiming to get Platinum level again for the next season which means that I will have to get at least 11-5 at the PT in Japan but also 4 points in the next few GPs which I already booked.
It is going to be an exciting few weeks and months and I hope I get there! Thanks for reading!
Martin Muller