Even if the Pro Tour Hour of Devastion was not a success for me in terms of results, I think I played the best standard deck for the tournament and I have no regrets about my choice. I was expecting a lot of mono red and zombies and my deck was great against both.
Unfortunately, I played against ramp and UW monument which is also winnable but not as great matchups as mono red is. Raphael Levy was the only other player who played the same 75 cards and went 8-2 with the deck.
Why we call it Marduck?
It is because the deck looks like a classic mardu vehicles deck but with 《Glint-Nest Crane》. Why play the duck? When we test for the Pro Tour it appears clear for me that 《Aethersphere Harvester》 was the best card for this tournament and second one was 《Walking Ballista》. Many creatures in mono red reduce way to block, crew a vehicle after the trigger is how you beat them. Zombies can't kill 《Aethersphere Harvester》 with 《Fatal Push》 or 《Grasp of Darkness》, at least easily.
I wanted to have these cards every game. 《Glint-Nest Crane》 just increases your chance to get these cards. The 1/3 body is great against some decks with too many power 2 creatures like mono red and zombies, it also perfect to avoid an easy 《Shock》 or 《Magma Spray》 on it. The one power is perfect to crew your 《Aethersphere Harvester》.
I first started to build a UW Deck like this.

---
But we had some problems with this list. First, it was too many vehicles in the deck so we had to cut at least two. The deck was good against mono red and zombies but very bad against black green decks, especially because 《Declaration in Stone》 is just bad against them. Black Green just kills your early creatures and have time to draw with their 《Clues》 and get card advantage over you. Also, this list had trouble against opposing vehicles especially 《Aethersphere Harvester》 was really difficult to beat.
At this point we decide to add red for the list to have access to 《Abrade》 and 《Unlicensed Disintegration》.
Marduck

---
The Manabase
8 lands can produce any color. 《Aether Hub》 can be used one time for free then you should get an 《Aethersphere Harvester》 to use it again. I think 《Abrade》 is better than 《Harnessed Lightning》 in this deck. With 4 《Thraben Inspector》, 10 artifacts for two mana, 《Spire of Industry》 can be used for colored spells pretty fast.
With the addition of 4 《Spirebluff Canal》 and 4 《Inspiring Vantage》 to the 4 《Concealed Courtyard》 you could have some troubles to get an untapped land for your turn 4 《Gideon, Ally of Zendikar》. This is why we choose to cut every 5 drop from the deck, because it was difficult to get it 2 turns in a row.
Vehicles and Creatures
As I said before, 《Glint-Nest Crane》 is a fine body even if you don't hit an artifact with it but it is good to have a decent % of artifacts in the deck to make it happen as much as possible. 14 is the minimum aritifacts number for the deck.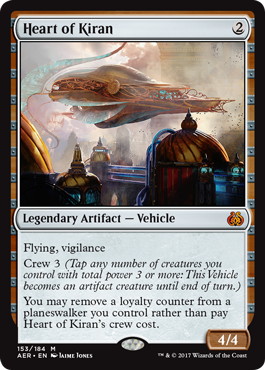 3 《Heart of Kiran》: I would not play 4 because it is legendary and also 《Glint-Nest Crane》 is digging in your deck and increase the possibility to have multiple copies.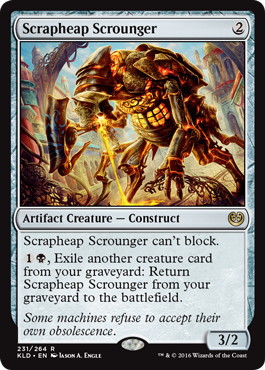 3 《Scrapheap Scrounger》: This card is necessary in the deck to be aggressive with 《Toolcraft Exemplar》, having additional ways to crew 《Heart of Kiran》 and having a good amount of artifacts in the deck. But here again I don't want 4. The card is not great against aggressive matchups and the "come back effect" is worse when you get the second one.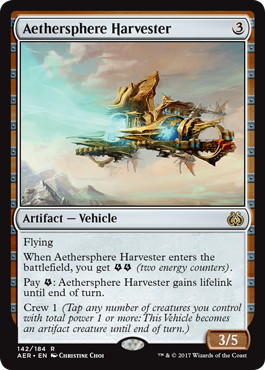 3 《Aethersphere Harvester》: The card is great but accumulate vehicles and don't have the possibility to crew is a way to lose the game.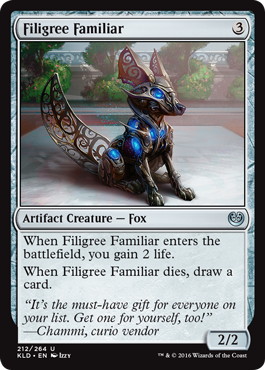 《Filigree Familiar》: it is your 4th 《Aethersphere Harvester》.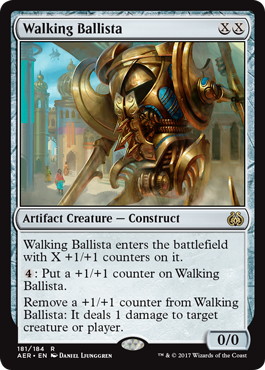 4 《Walking Ballista》: Perfect blocker against mono red in the early game, it is also a great finisher when you draw too many lands.
Removal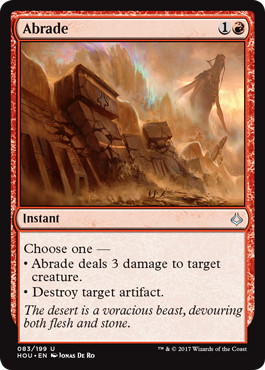 4 《Abrade》: Card is great and does almost everything. Destroy vehicles, Gearhulks, 《Oketra's Monument》 and early creatures.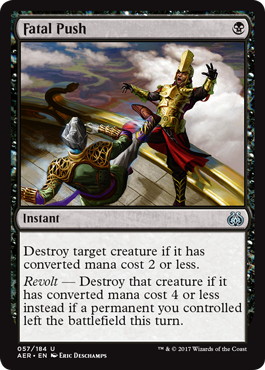 1 《Fatal Push》: card is good but less so than 《Abrade》, we choose to play one because it is a one drop and it increases our ways of killing 《Winding Constrictor》.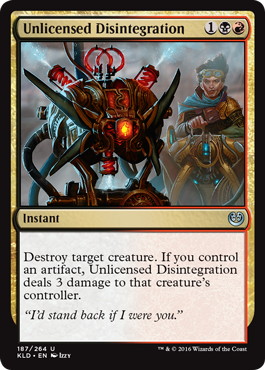 3 《Unlicensed Disintegration》: Cards is not so good in creature match because it is expensive and doesn't kill 《Hazoret the Fervent》 but it increases your game one chance in bad matchups.
Classic mardu cards
How to use sideboard

Versus Ramunap Red

Versus Mono Black Zombies

Versus Mardu Vehicles

Versus Black-Green Constrictor

Out

In

Versus Blue-Red Control

Versus Ramp

Versus White-Blue Monument
Changes
I would cut an 《Abrade》 for a 《Cut // Ribbons》 main deck. People will increase the number of 《Kalitas, Traitor of Ghet》 in zombies and Black Green to beat mono red. We need cards against it. It is also good to have a 《Fireball》 effect in an aggressive deck.
I recommend this deck if you expect a metagame similar to the Pro Tour.
Thanks for reading,
Jeremy DEZANI