Some people around the world are actually trying to make a good decklist with 《Hollow One》. It is always a pleasure for me to write about new decks and search new idea for it.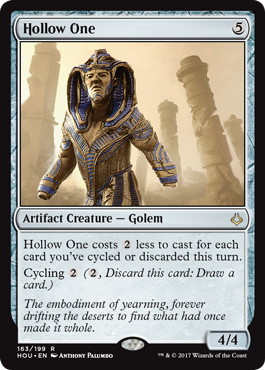 Most of the time these lists are 85% similar. The thing is the 15% different cards are complicated to find.
Let's start with the obvious cards you don't want to change and you should play in every list with 《Hollow One》.
Main Cards: 16 Cards
《Faithless Looting》 and 《Cathartic Reunion》 are the two-easy way to discard cards, but you are discarding 2 cards only with it. Because of this 《Hollow One》 is still costing 1 mana, if you want do amazing things you still need one more discard. For that the best card is 《Street Wraith》 and it is probably the most important card of the deck.
Additional Cards: 18 Cards
Having 《Street Wraith》 in the deck make us to want to add 《Death's Shadow》.
Playing 《Thoughtseize》 which also interact with your opponent plan. Sometime you are targeting yourself but its only if you can multiple 《Hollow One》 and 《Vengevine》 for it.
With so much Looting spell and Fetchlands, your graveyard will be big enough to play 《Gurmag Angler》 very easily.
《Vengevine》 is an interesting card and can be good too. In a perfect world, 《Hollow One》 would cost 0 mana, 《Gurmag Angler》 would cost one mana and 《Death's Shadow》 could be able to be put into play without dying really fast. (for all these 3 cards 《Street Wraith》 is doing a lot). You already have 8 cards with a looting effect. For all of this 《Vengevine》 have everything to be a good card in this deck.
There is one card which can discard cards and be a cheap creature for 《Vengevine》, it is 《Insolent Neonate》. The card is not the best as a discard spell and not the best as a creature. But it can do both and this increase the stability of a deck which is trying to get a little of everything to work.
Mana Base: 17 Lands, 1 Basic 11 Fetchlands and 5 Shocklands
Like a classic 《Death's Shadow》 deck, you will play cards which can decrease your life Points. For that, you will play Fetchlands and Shocklands to constitute your mana base.
The Last Cards For The Deck: 9
For these cards, you have multiple options.
1) Include Another Combo:

---
I'm believing this is the best option mainboard but it makes the deck really sensible to graveyard hate. In the actual metagame many decks are using graveyard and even if people are not expecting to face your deck they are already prepare for it.
2) Including Interactive Cards:

---
Including cards like 《Fatal Push》,《Terminate》,《Inquisition of Kozilek》 ,《Liliana of the Veil》and《Tarmogoyf》. These cards will interact more with your opponent and it makes the game longer and more grindy. It will look like a Jund Death's Shadow which have also the possibility to make strong start.
3) Bloodghast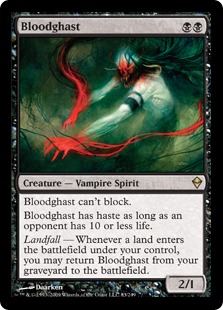 The card is great in the deck, you can value your discard spells and increase your board presence and race your opponent deck. It is of course worst against creature's decks. The problem is 《Bloodghast》 is a selfish card here, it does not help the rest of the deck to do well. It does not decrease 《Hollow One》 casting cost, does not help to get back 《Vengevine》 (even if you cast it) and doesn't decrease your life point for 《Death's Shadow》. It is just a good card inside the deck. I would cut 2 《Tarmogoyf》 and 2 《Liliana of the Veil》 from the previous list.
4) Play 52 Cards Only
To be honest I would prefer play a 52 cards list than all of these options. But wait! We have already cards which can do that. 《Traverse the Ulvenwald》 and 《Mishra's Bauble》.
We have Fetchlands, 《Street Wraith》 and Sorcery Spell which discard creatures. 《Mishra's Bauble》 is completing the delirium package for 《Traverse the Ulvenwald》 and also reduce the number of card in your deck.
《Traverse the Ulvenwald》 can search for exactly what you are missing, 《Hollow One》, 《Vengevine》, 《Death's Shadow》 or a 《Street Wraith》.

---
Sideboard:

《Collective Brutality》 is a great card which can help you to discard 2 cards if you activate all the effect of the card. With 《Hollow One》 It can make your deck reactive and proactive in the same time.
《Big Game Hunter》 will be a perfect 《Tarmogoyf》 and 《Death's Shadow》's Hunter with your looting cards.
《Faerie Macabre》 will be your 5th and 6th 《Street Wraith》 in the graveyard match. Also, could be search on 《Traverse the Ulvenwald》.
《Grim Lavamancer》 will have enough cards in the graveyard in this deck to be able to activate is ability every turn against small creatures, especially 《Collected Company》 's decks.
《Ancient Grudge》 is of course, great against Affinity but it is a free side in, if you expect your opponent to have artifact like 《Relic of Progenitus》 or 《Grafdigger's Cage》.
《Pyroclasm》 is against small creatures too. The thing is with 《Mishra's Bauble》 and 《Faithless Looting》, you have more chance to have it turn 2 in this deck.
《Nihil Spellbomb》 is another artifact for delirium, a graveyard hates with no card disadvantage and it remove everything. 《Faerie Macabre》 is cute for the deck but you can't play 4 and need stronger sideboard card against deck like dredge. 《Bojuka Bog》 could be an option if you play the delirium version.
With 《Traverse the Ulvenwald》, you can think also about another one-of creature to increase your toolbox maindeck or after sideboard. But you should take care, after sideboard your opponent will target your graveyard, you should side-out 《Traverse the Ulvenwald》 in a lot of matchup.
I am not sure which version is the best yet, I need more practice to be sure about it. I hope you will also work on it and find your favorite one.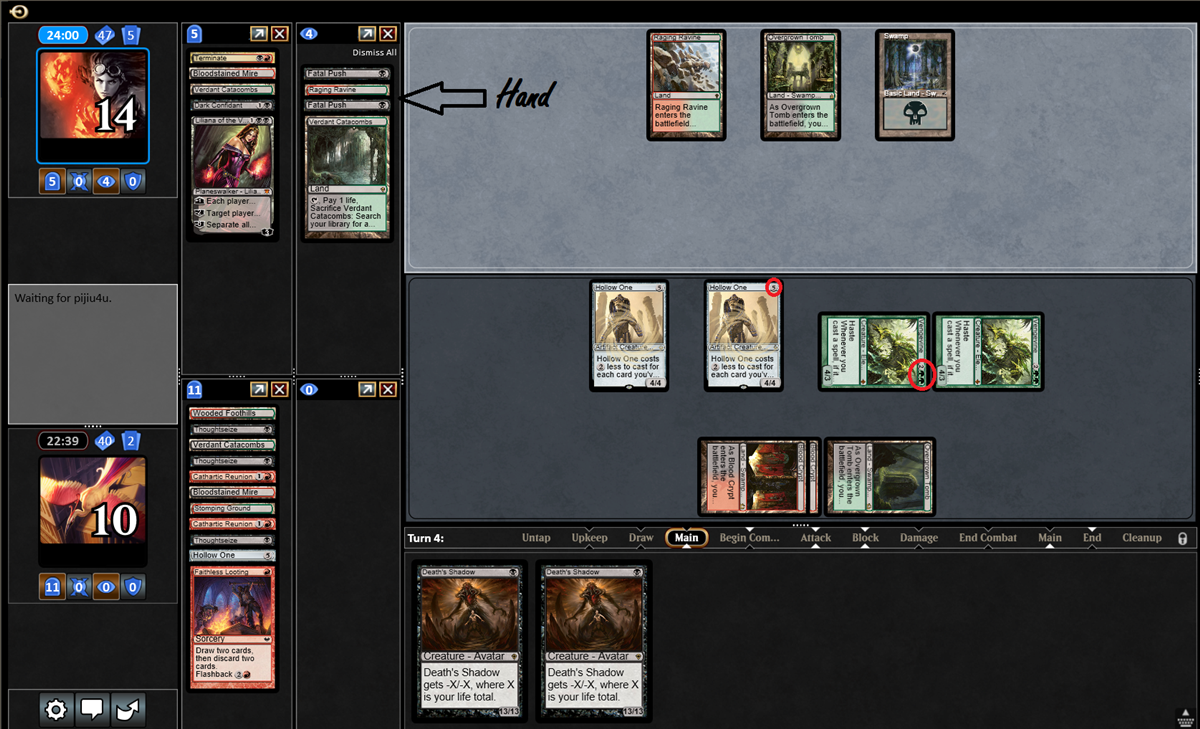 Click to Enlarge
Jeremy DEZANI