Grand Prix Shizuoka was the last 2017 MTG Grand Prix in Japan. The format was Ixalan Team sealed during the release week-end. Coverage: Grand Prix Shizuoka
My Team
After the good experience I had with Tomoharu Saito and Lee Shi Tian in Sydney, I wanted to team with them again. But Tomoharu was the organizer and can't register in a team for the Grand Prix. So, we were looking for a 3rd player with Lee Shi Tian and Kelvin Chew join us. Both of my teammates reached Platinum last season and plays MTG World Championship the week after where Kelvin Chew reached top 4. I feel proud to team with so great players.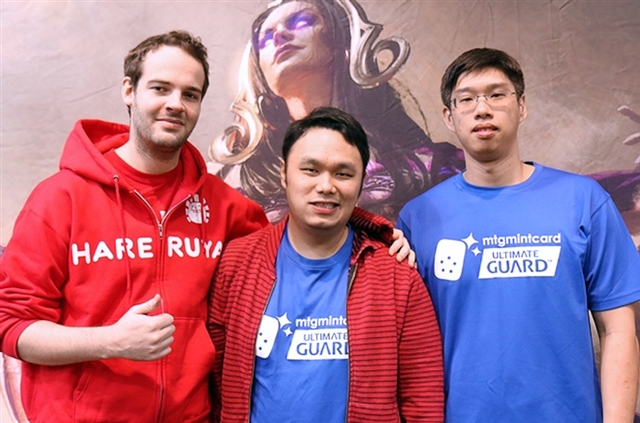 My Preparation
Pre-Release Week-end
I played 3 pre-releases in Hareruya Tournament Center.
1 Individual where I got a 3-0 with UW Flying.

---
What did I learn about cards after this?
《Siren Stormtamer》is great, it deals damages, activate your Raid effect and protect your important creatures against removals.
《Legion's Landing》is not just a good card, it is a limited bomb.
《Looming Altisaur》and 《Headwater Sentries》are 2 very strong and annoying blockers in Ixalan Limited. In a flying deck these 2 cards are important and can do a job similar as a removal spell.
And 2 team pre-releases:
1st one with Tomoharu saito and Ken Yukuhiro. I played UR Aggro.

---
It was my first team sealed to build and I realize how Ixalan do not let you many choices. The tribal cards force you to assemble some colors. I played a blue red aggro deck and went 3 times 2-0 with it, 3 times against slow green decks. The archetype is great, you have early pressure, distance damages to finish the game and counterspell. We had a vampire deck and GW dinosaur as 2nd and 3rd deck. Our GW dinosaur finished at 0-3.
2nd with Tomoharu Saito and Yusuke Osaka. I played BW Vampire.

---
This time I was the vampire player.
Here again our GW dinosaur deck didn't do well and finish at 1-2.
I added to this preparation some MTGO Draft, team sealed build and Discussions with my team mates. I learn many important points about archetypes and cards:
If you analyze the different possibilities following the creature type, we have:
– Grixis for Pirates: UR, UB and BR
– Vampire: BW
– Naya for Dinosaur: GR, WR and GW
– Merfolk: UG
UW and BG are almost impossible to build in team sealed because it split the tribal archetypes.
Splash a third color is good if you play enough cards who generate treasure. For example, if you open a 《Vraska, Relic Seeker》, the best way to play it is in a black Pirate deck as a splash.
This preparation shows me how Green slow dinosaur deck could be bad and easy to beat. It was clearly the first trap to avoid in team sealed. For me it was clear that the good way to play dinosaur is not about ramping and slow but having a curve and aggressive. Lee Shi Tian did a 9-0 record in draft with WR Dinosaur and became an expert of this archetype. We realize WR dinosaur is mainly possible if we have enough cards to build a good UG Merfolk deck. The last deck is most of the time a BW Vampire.
I learn a lot of important things. The most important one is about how to play match ups.
BW Vampire mirror match: It is almost impossible to have a fast win. Lifelink creatures and removals make this match up very grindy and long. This said, there is no reason to play first. Also, you should play a maximum of card advantage cards. With the presence of 《Queen's Commission》and 《Call to the Feast》, the number of creatures decrease and 《Duress》 become a strong card especially on the draw. 《Deadeye Tormentor》is also a good option on the draw
UG Merfolks: This deck can assemble 《One With the Wind》and 《Jade Guardian》 together. Your best chance is to race with lifelink creatures. 《Mark of the Vampire》is a good card for the match up, even if your opponent could play a bounce spell, you can wait the last moment to play it.
Naya Dinosaur: Against this match you are the aggressive player. You can play cards like 《Legion's Judgment》or 《Fathom Fleet Cutthroat》after sideboard to be able to deal with big dinosaurs.
Grixis Pirates: This match is more complicated, you have to list and analyse exactly what you saw to be able to sideboard well. For example, if you saw 《Wanted Scoundrels》and 《Pirate's Cutlass》you could add a《Legion's Judgment》. If you think it a slow black version you can side same as a vampire mirror match and add card advantage.
Grand Prix Shizuoka Day 1
You can see an article about our Deckbuilding Day one
DECKBUILDING WITH CHEW-LEE-DEZANI

---
3 Key moments during Swiss Rounds:
3) Round 1: I had a very bad start. I was able to win the game but I did a terrible choice and lost the game and match because of it. Fortunately, my team mates won their match. They were very nice with me, like a real team and they told me to focus and forget it. I refresh and doubled my motivation and concentration to make sure this will not happen again. I am pretty happy about how I play after and I lost only 1 match during the tournament after this one.
2) Round 4: We are tight 1-1, I lost game 1 of the last match and there is only 15 min left at the clock. I sided out all five drops and slow cards. Lee Shi Tian wrote Life total for me to let me focus on card manipulation and plays. I won the match at the last additional turn of the game 3.
1) Round 9: We are tight 1-1 and Lee Shi Tian is facing creatures and have only 3 lands on turn 5. He draws a 4th land and we start to think about how to survive, how to attack with our 2 creatures and finally decide to pass after simulate blocks. Our opponent decides to kill one of the 2 blockers and play 《One With the Wind》on a creature and attack with everything. Our bluff works perfectly, Lee Shi Tian cast 《Settle the Wreckage》and win the game few turns after. We finish day one 8-1 at the 3rd place.
Grand Prix Shizuoka Day 2

---
《Bishop of Rebirth》is an overrated card, very far from 《Sun Titan》. Only 3 / 4 for 5, he also doesn't trigger when it comes into play. It means you have to attack with it, and it is only possible when you have enough removals or combat tricks. It was clearly the worst deck I piloted during the Grand Prix, including top 4 and finish 2-1-2 with it.
TOP 4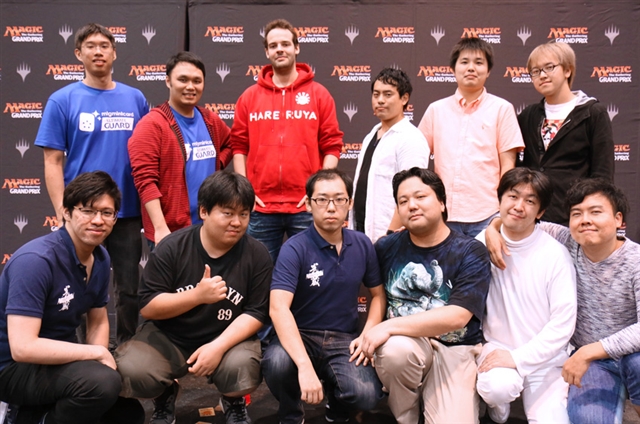 Grand Prix Shizuoka Semi-Final

---
《River's Rebuke》, this card is a bomb if you play an aggressive deck. I remembered the draft I played online and my first pre-release and decide to play a UW deck . The draft went very well for me and I finished with the best deck of the 6 players. Especially, because Lee Shi tian counter draft a lot and destroyed our opponent decks. He also won his match in 10 minutes, I just had to finish the work with my fabulous deck and won 2-0 easily.
Grand Prix Shizuoka Final

---
During the draft, I hesitate a long time between Temur colors, UG Merfolks, RG dinosaur and UR Pirates. I finally decide to not play blue at the end of the second booster. I played against the opponent who tried to play UG Merfolk , but I counter pick a lot of card during the draft and he had a bad deck. I won 2-0 this match. Unfortunately, this time, both of my team mates lost their match, but I can't blame them. They were fabulous all week end and we had a great time together, with only positive feelings. Good pressure for motivation but no stress.
My last 3 team Grand Prix:
GP Rotterdam: Raphael Levy and Tomoharu Saito: 3rd
GP Sydney: Tomoharu Saito and Lee Arson: 8th
GP Shizuoka: Lee Shi tian and Kelvin Chew: 2nd
2 more team GP in 2017 for me in Lyon and Madrid, hope to have the same kind of results.
Thank you for reading,
Jeremy DEZANI