Hello again! Grzegorz Kowalski here, and today I'll be talking about Ixalan limited!
It's almost month since set released, so probably everyone knows how to properly build the most common (tribal) archetypes. If not, there is a lot of articles about it and you can easily find something for you.
Today I'll try to focus on something that Wizards didn't really have in mind while making set, or at least didn't want it to be obvious at first glance. I'll show you my five best non-tribal archetypes in Ixalan limited with short explanation, tips how to build it and sample 3-0 decklists.
But first, few general thoughts about this format. We're living in a very aggressive world, tempo oriented, where the best way to win is just curving out with some cheap tricks in the meantime. It doesn't mean that every deck has to look like this, it only means that if you want to build some fancy control deck, you need to keep it in mind, and be sure that you can answer those.
Next thing that is worth to remember while drafting – removal is way worse than usual, on the other hand, tricks are very good. In good aggressive deck I can imagine picking 《Vampire's Zeal》 or 《Skulduggery》 over 《Vanquish the Weak》 or even 《Contract Killing》. Because of that, auras are better than usual. I would never play 《Swashbuckling》 in regular limited format, but here I believe it's a decent common, that you can easily build 3-0 deck around it. Let's talk about top5 hidden Ixalan archetypes.
#5 BG Explore
It's not exactly hidden archetype, as most of the explore creatures, and every explore payoff card are green or black. You say explore, you think BG. On the other hand it doesn't belong to any tribal, so I believe it's worth to write about it.
Personally I think it's the most powerful strategy in the whole format. You can ask, why only 5th place? Answer is simple. It's incredible hard to build. Almost every green and black creature with "explore" keyword on it is good in general. Everyone will be happy to play 《Tishana's Wayfinder》, 《Merfolk Branchwalker》 or 《Seekers' Squire》 even if they don't care about explore at all, and you have to get critical mass of them if you want your deck to be good.
How I want to build my BG Explore:
As many 《Wildgrowth Walker》s as possible. It's the best card in the archetype by far. If you are lucky to pick ~3 of them, then you can just pick every explore creature that you see during your draft and have a great deck.
As many 2 and 3 mana explore creatures as possible in order from the best: 《Seekers' Squire》, 《Merfolk Branchwalker》, 《Tishana's Wayfinder》, 《Ixalli's Diviner》.
3-4 Good high-end finishers. Your deck is defensive and you need a way to close the game. I would love to see here some good rares like 《Waker of the Wilds》 that can win the game on its own, but considering rares while talking about drafts doesn't have any sense, so let's focus on best uncommons and commons here: 《Thundering Spineback》, 《Deathless Ancient》 (even without vampires, I'm happy to play 4/4 flying for 6 here), 《Colossal Dreadmaw》. If I don't get enough finishers with evasion, I want to have one 《Cobbled Wings》 to turn my 《Wildgrowth Walker》s into finishers in late game.
Some air defense. Best here are 《Grazing Whiptail》, I would like to have at least two if possible. 《Cobbled Wings》 also counts here.
1-2 《Lurking Chupacabra》. It's not necessary and because it's good only in BG explore I'm not willing to pick it very high. Usually I just take it when I know I'm in archetype, and I don't have any other premium uncommon/rare in pack.
If I get enough cheap explore creatures (6+), I want to play only 16 lands, even with expensive cards on the top of the curve. I never really want to hit land from my explore trigger, and I get dig for lands when I want to by putting cards to graveyard.
When do I draft BG Explore?
It's almost impossible to force draft this archetype, as it's very hard to get. For me drafting BG usually happens, when I start with decent green or black cards and I get 《Wildgrowth Walker》 pick 4-8. Even after pick like this I'm not committing to explore deck, and just draft normally, maybe just prioritize explore cards a little bit more. Then if I see both black and green open or I can pick second 《Walker》, I want to focus on guide above and draft my deck this way.
Sample 3-0 list:

---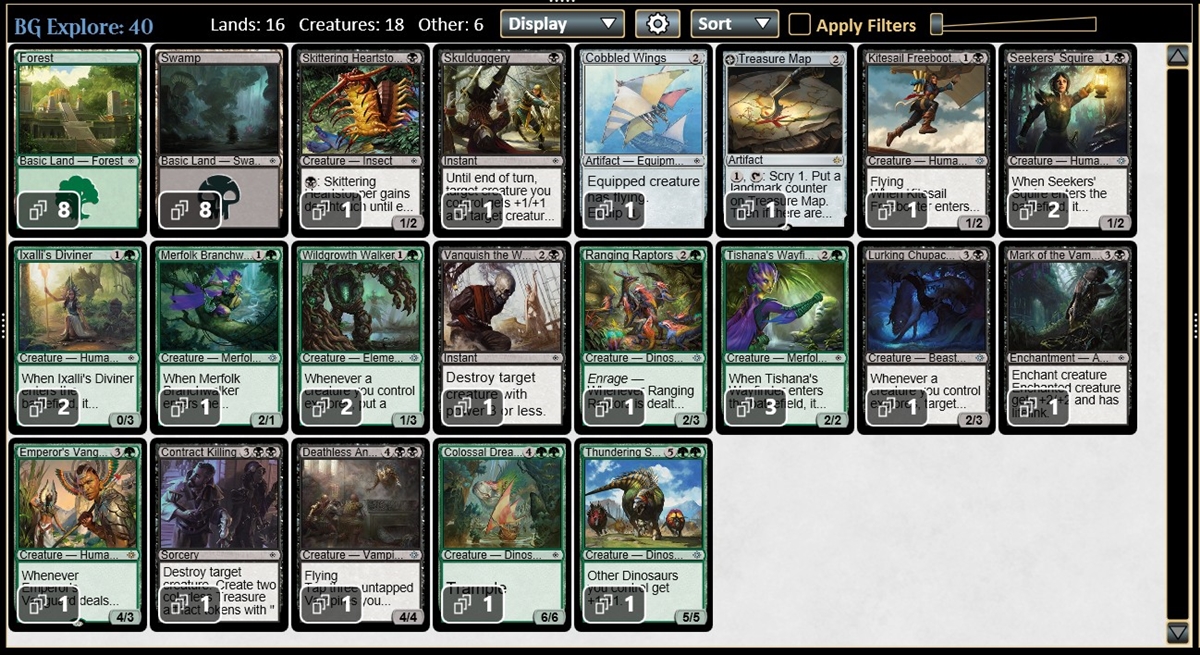 Click to enlarge
#4 Multicolor Blue Control
It's very similar to 5 color green ramps from previous set. Here, instead of green ramp spells we are using blue treasure makers that allow us to splash whatever we want from different colors.
The best way to build this archetype is to focus on two main colors and splash whatever is worth it. One of them obviously should be blue, the second color doesn't really matter, but from my experience the best are white or green. Both have good defensive early creatures that can help us survive till the moment, when we can win the game by casting our broken mythics.
How I want to build my blue control:
When do I draft Blue Control?
All my blue control decks started in the same way. I opened great rare, then got passed solid rares/uncommons in different colors. I tried to stay open and read signals and at some points I realized that blue is open.
Blue cards that you need to make this archetype viable are not great in general, so you can expect to pick them late and focus on picking best card in each pack without taking care about the color early. It is a great insurance when you want to stay open for a long time and you don't get any clear signals. This way you don't lose your early pick.
Sample 3-0 list:

---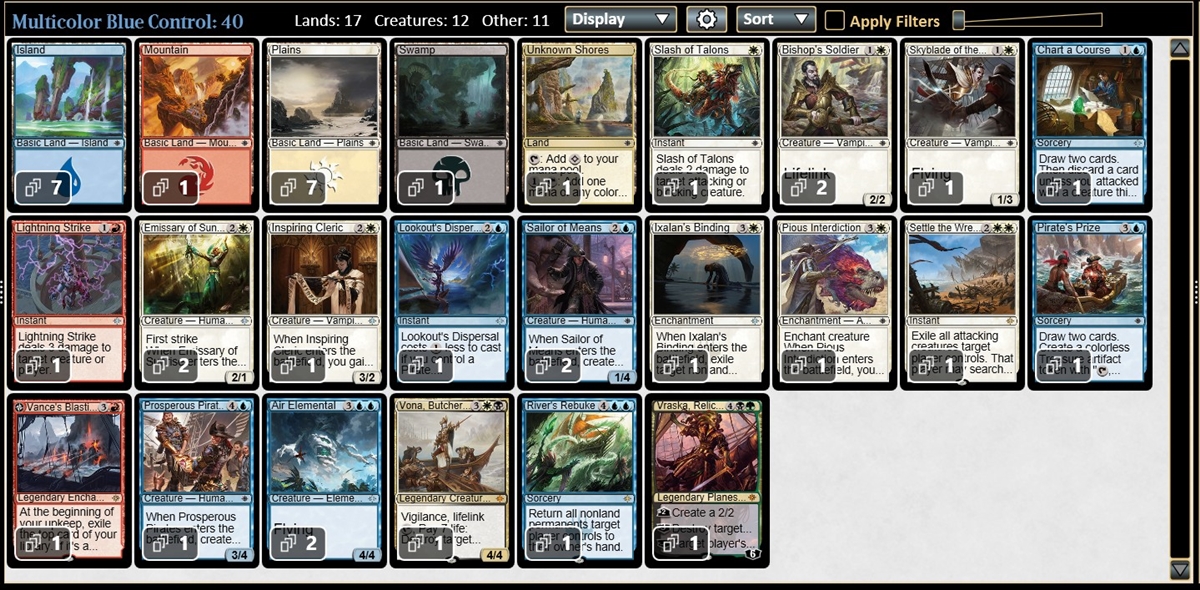 Click to enlarge
#3 WB Midrange
A lot of players, including me, at the beginning of the format thought WB = vampires. Obviously if you can get enough vampires, you can easily build your deck around this tribal, and abuse synergy, but I've found out that Black and White have both great removal and powerful creatures, so you don't really have to care about synergy to build good WB deck.
You have all tools needed to build good midrange deck in general. Powerful bombs, hard removal, lifegain, card advantage. Everything on commons and uncommons.
How I want to build my WB midrange:
When do I draft WB Midrange?
Nothing special here. When both colors are open. I don't really need any synergy here, so I can decide to draft it relatively late.
It's also easy to switch from other colors, because you don't care about creature types in your deck and you don't have to focus on getting enough pirates for 《Dire Fleet Captain》 or dinosaurs for 《Tilonalli's Knight》.
Sample 3-0 list:

---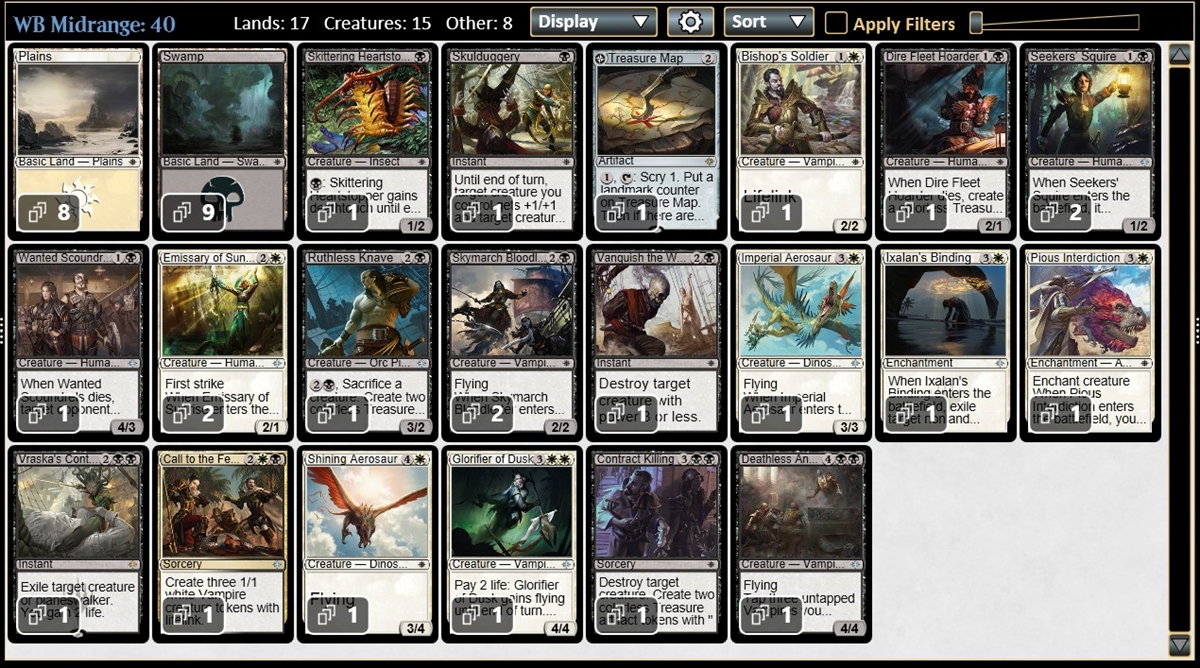 Click to enlarge
#2 WU Air Force
I love to draft this archetype. Idea is simple, protect the ground with high toughness creatures and kill our opponent from the air.
Focus on good mana curve, tricks, and evasion early and you get your ground blockers late, as they are not very useful in other decks. Even 《Looming Altisaur》 is fine here, and I got him at 14th pick multiple times.
How I want to build my UW air force:
Critical mass of 2 drops. The more, the better. My rank for best 2 drops here, from the best: 《Adanto Vanguard》, 《Bishop's Soldier》, 《Siren Stormtamer》 (not really 2 drop, but counts), 《Storm Fleet Aerialist》, 《Raptor Companion》.
As many 《One With the Wind》 as you can pick.
Some tricks, best are 《Vampire's Zeal》 (good in general) and 《Dive Down》 (gets better if you have more 《One With the Wind》).
Cheap removal and bounce. You are tempo deck, so bounce fits great here.
Some kind of ground defense. Not too many, you want to be proactive, but it's good to pick 2-3 creatures like 《Sailor of Means》, 《Looming Altisaur》 or 《Headwater Sentries》. Don't focus on them. Just take it naturally, when you don't have anything better in the pack.
When do I draft WU Air Force?
I like to be aggressive in general, so I'm willing to pick 2 drops higher than average player. Because of that I often start my drafts with 《Adanto Vanguard》 or some other aggressive white stuff. Then if I see 《One With the Wind》 in the middle of pack one, I know that my pod is underestimating enchantments and I'm happy to go this way.
Sample 3-0 list:

---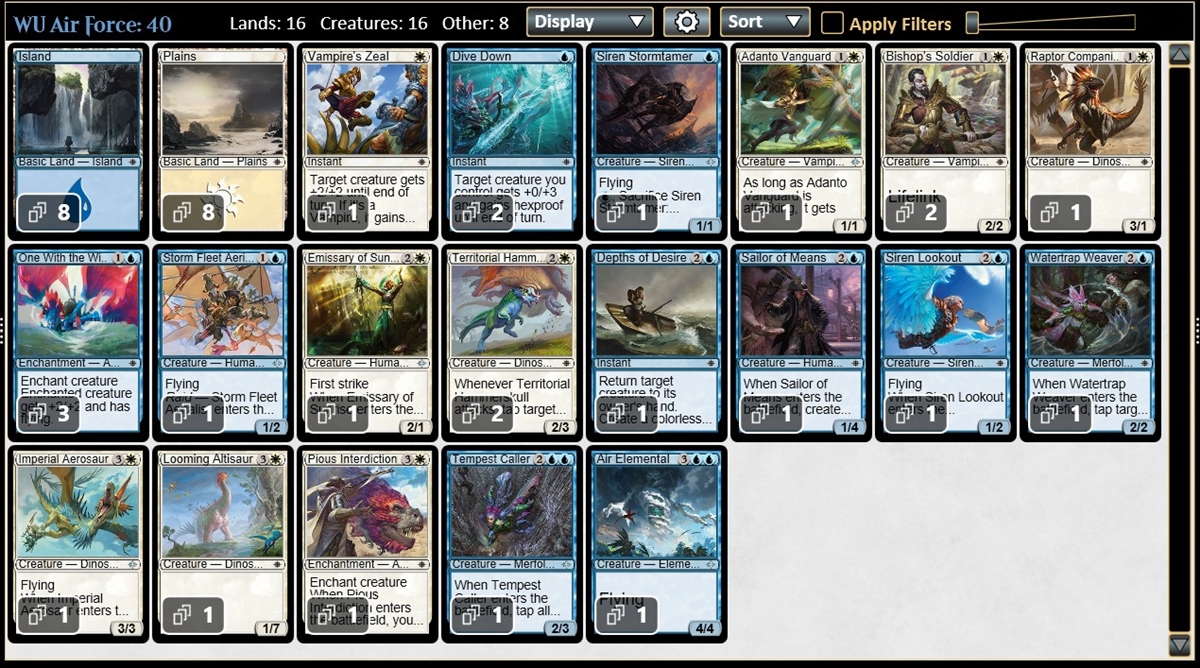 Click to enlarge
Note that I didn't have a single rare here.
#1 BR Aggro
My favorite hidden archetype. It was super easy to draft on MODO, because all this deck needs are just picks 10-14.
After Christian Calcano made 3-0 with this strategy on World Championships it's probably not a case anymore and people won't pass 《Swashbuckling》 that late but it is the real archetype anyway, even if you have to pick your one mana guys and enchantments a little bit higher.
How I want to build my BR Aggro:
When do I draft BR Aggro?
Same as with WU Air Force, I like to start a draft with good aggressive creatures, but if I have few of them (black or red) and get 《Swashbuckling》 and/or random one drops late in pack one I'll prioritize hyper aggressive cards in pack 2 and 3.
Sample 3-0 list:
Obviously there is only one possible sample list. All credits to Christian Calcano:

---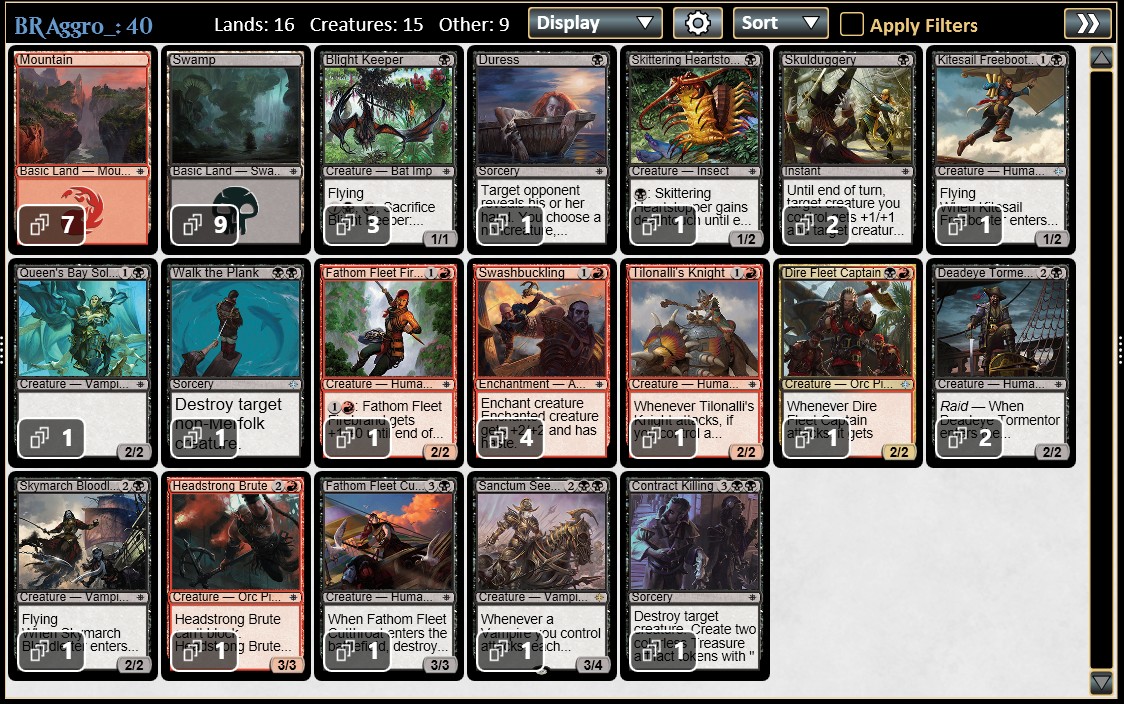 Click to enlarge
---
Thank you everyone for reading! I hope you enjoy this article. If you have any questions, feel free to ask me on twitter. I'll try to answer every single one!
See you next time!
Grzegorz.