Hello everyone!
Grzegorz Kowalski here, and this will be my third article for hareruya. I already wrote about Standard and Limited so today is time for Modern!
I believe this is a great time because of upcoming Modern Pro Tour and GPs! In last weeks two decks gained a lot of popularity – Jeskai Tempo and 5 color Humans. I wanted to try both decks, but I tried Jeskai first and I just fell in love and didn't even touch Humans after that. Deck is super sweet, fun to play with a lot of options. You can play as a classic tempo deck, full control deck or even burn deck if your opponent use "Fetchlands" and "Shocklands" too greedy.
Today I want to share with you my thoughts after playing over 20 leagues on Magic Online and some real life testing.
Decklist
This is my current list. Modern is very wide format and it's impossible to say which list is the best or make your deck being good against everyone. Everything depends on metagame and decks you face during event.
You should set your goals first and then, with this in mind build your 75. I want my Jeskai to be good vs mirrors and controls and also gain few percentages vs Storm and Titanshift, that's why I'm playing 1 《Vendilion Clique》 and 2 《Spell Snare》 in my maindeck.
If you want to focus on beating mindrange decks like Abzan or Jund, you can play more 《Cryptic Command》 and Planeswalkers in those flexible slots.
I will write more about card choices below.
Core Of The Maindeck
This is the core that I would never cut or go below numbers above if you want to play Jeskai Tempo. Mostly because of that core our UWR is so good versus any creature based aggro deck like Affinity or Humans (let's forget about 《Bogles》 for a moment :P). The high density of cheap point removal spells works well with 《Snapcaster Mage》 and 《Geist of Saint Traft》 as you can easily clear the path for 《him》.
Flexible Slots
Initially I started with 3, but versus fast decks you can't draw too many expensive spells, so I decided to cut 1 for cheaper interaction.
Great versus any creature decks. Also make the burn plan a real thing, which comes surprisingly often in game one.
Our counterspells. I like 《Logic Knot》 over 《Mana Leak》 because of 8 Fetchlands and bunch of one mana spells. It's always hard counter on turn two, exactly as 《Mana Leak》, but doesn't lose its power in the late game. As long as we're playing 《Cryptic Command》 in our deck we have to Fetch aggressively for blue mana so (U)(U) in mana cost is not a big deal.
《Spell Snare》 is just mana efficient counterspell that has relevant targets in big part of meta. Countering 《Snapcaster Mage》, 《Cranial Plating》, 《Cathartic Reunion》 or Titanshift's 《ramp》 for just one mana is a great feeling in tempo deck. It's also the best way to deal with creatures in Storm because you don't let them cast 《Rituals》 in response for 《Bolt》.
I believe 3 is a lot, but 《Geist》 is our best weapon to fight bad match ups and sometimes slam it turn 3 and slow down opponent with counterspell or removal is your only way to win. Match ups where you don't want to draw 《Geist》 are usually very good, so you don't care if you draw one bad card against Humans if you're very likely to win the match anyway.
In Jeskai Tempo you have to put some pressure on your opponent early, to make your deck works well. The best way is often to play turn 3 《Geist》, but in some match ups you just can't tapout your turn 3, and in those match ups is where 《Clique》 shines. Instant speed 3 power creature is good itself, fact that you can interact opponent's hand makes it MVP.
Sideboard
Modern is too wide to explain all sideboard choices one by one. Instead of that I'll try to make match up guide for most common archetypes in Modern and include my sideboard plans there.
General Gameplay and Tips & Tricks
Jeskai Tempo is a deck with various game plans and it's really important to understand when you should take a beatdown role and when play as a control. It's impossible to give you perfect solution for this question because it often changes during the game.
For example, versus 《Death's Shadow》 you are starting as a full control player, trying to counter every important spell and kill every creature he plays but at some point you have to take a beatdown role and close the game before he finds a way to protect any of his threats, because it's often enough for him to win the game, and we can't give him enough time to accomplish that.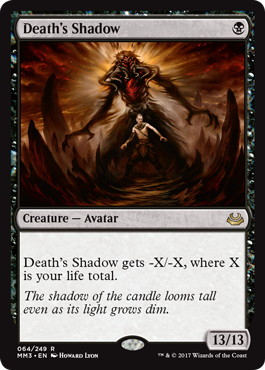 Ability to find a proper moment to switch our gameplan is the most important skill in Jeskai and requires a lot of time to master it.
Other than that I'll try to give you few quick Tips & Tricks. Experienced players should know all of this, but it might not be obvious to someone who is starting his adventure with Jeskai or Modern.
Match Up Guide
Mirror
The best threat in the mirror is 《Geist》, but is also not that easy to resolve. You shouldn't play turn 3 《Geist》 if your opponent has 2 mana open, because he may just counter it and play his own 《Geist》. The only exception is when you have your second copy. Then in the worst case scenario you can just play it next turn and block with it. Majority of Jeskai Tempo is not playing any Planeswalkers maindeck, so they don't have a way to punish you for tapping out in your turn 4 other than casting another 《Geist》 post combat.
I like to cast 《Spell Queller》 in end of my opponent's turn 3 without value to force some action. It's very unlikely that 《Queller》 will hold any spell for a long time, because of how removal heavy our decks are, so I don't feel like I'm wasting value when I cast it just as 2/3 flash guy. Obviously 《Vendilion Clique》 is better in that role, but you have only one.

Against Mirror
In

Against UR Storm

Against Humans

Against Eldrazi Tron

Against Affinity On the Play

Against Affinity On the Draw