Hello!

Personally, what I love the most in Magic is to search new ideas and create decks. I am feeling good in a format when it is not over and there is something to find. It is also a pleasure to play your own deck at a tournament. Your opponent is playing in the dark against a creation. He will misplay, use sideboard the wrong way and doesn't expect cards in your deck during games.

Clear examples; Mono Blue Devotion is one which I won the Pro Tour Theros or the GW Tokens which Raphael Levy and I played with 2《Chandra, Flamecaller》without lands which produce red. It surprised people and won unwinnable games for us. Raphael won the Grand Prix Manchester 2016 title with this.

I am in love with this actual Modern metagame. We can play a lot of great decks. Right now, some Modern decks are not popular but for me they could win in tournaments if you work enough on it. In Modern, you have access to cards since Mirrodin Block and 8th edition, or 14 years of magic . You have a big pool of card to find new ideas to create a deck or make ameliorations to an archetype.

Today, I wanted to focus on Black White 《Smallpox》. It is not a "new deck", but it is really unexploited and not optimized.

What I love with the deck is the sideboard possibilities. Modern is a lot about sideboard and hate cards you have access to. For me, Black and white are the best colors for that.

《Rest in Peace》 or 《Leyline of the Void》 against Dredge, 《Stony Silence》 or 《Porphyry Nodes》 against Affinity or 《Collective Brutality》 against Burn? Black White decks can be a real nightmare for many decks after sideboard.

But you should also have a game plan for your deck, and a main-deck to find.
The Deck
I started with a classic list of the archetype. Playing 《Smallpox》 and 3 lands to support it well: 《Fetid Heath》, 《Flagstones of Trokair》and 《Urborg, Tomb of Yawgmoth》.
The deck is discarding cards with 《Smallpox》, 《Liliana of the Veil》, 《Smuggler's Copter》and 《Collective Brutality》and this is why you are playing cards which can produce some value from the graveyard: 《Bloodghast》and《Lingering Souls》.
Rest of the deck is composing by great cheap black cards: 《Fatal Push》, 《Inquisition of Kozilek》and《Thoughtseize》

And use 《Gideon, Ally of Zendikar》as a finisher.
Black White Smallpox ver.1
With this version I had decent results but not good. Mana base was surprisingly great. But it appears to me some clear weak points. I see black-white as a disruption or a control deck, not an aggressive deck. The value you get with 《Bloodghast》 is very small. Not being able to block is a very bad point in your game plan with planeswalkers to defend. Except if you are playing a pure control deck, I don't see 《Bloodghast》 good in many match-ups, you will win the game with 《Gideon, Ally of Zendikar》, not with a grind of some life points.
Having 《Bloodghast》and《Lingering Souls》in the same deck make it really graveyard hate sensible and with other decks which use graveyard like Dredge, Storm or Grixis Shadow already in the metagame it is something I would prefer to avoid. Also, if you are planning to have《Rest in Peace》in the sideboard, it is really better if you are not running 8 graveyard cards. If you remove 《Bloodghast》, you are not running enough creatures to activate《Smuggler's Copter》and also decrease the impact of the looting effect.
So how can we replace these 《Bloodghast》and 《Smuggler's Copter》?
We are looking for other kinds of win-conditions, but not only. Because of the ton of discard effect in your deck, you can run usually sideboarding cards against your worst match up in your main-deck and discard it if it is not usable.
It appears to me that the most difficult match up was clearly Dredge, and as I said before, it is not the only deck in Modern abusing of graveyard's effects. So, I decided to play 2《Rest in Peace》and 1 《Runed Halo》main-deck. Replace the《Murderous Cut》because of the delve cost for 1 《Go for the Throat》. Add 1《Collective Brutality》to compensate the loss of 《Smuggler's Copter》's discard effect. Then, I wanted to try alternative finishers with 2 《Shrieking Affliction》, and 1 《Gideon of the Trials》. With the new planeswalker's rule, it is great to play it in addition to 《Gideon, Ally of Zendikar》.

Sideboard Changes:
Black White Smallpox ver.2
I increased my win-rate much more with this version. Not because 《Rest in Peace》was insane, but because I was not playing 《Bloodghast》and 《Smuggler's Copter》which does nothing. Any card can be better than these 7 creatures for the deck. Alternatively, 《Gideon of the Trials》, 《Runed Halo》and《Rest in Peace》won games for me. 《Shrieking Affliction》was cute but same as 《Bloodghast》, it is a life-point grinder and your real finisher is 《Gideon, Ally of Zendikar》.
As we could expect, I won MUCH more post sideboard games than maindeck. The sideboard cards you have access are extremely relevant.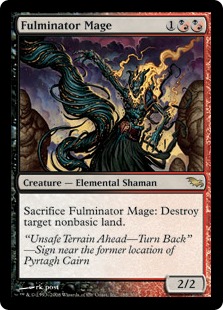 I used to side-in 《Fulminator Mage》 many times. I think Tron and Valakut are difficult match-ups main-deck with only 《Smallpox》 as a land destruction and become easier when you also play 《Fulminator Mage》. I also used 《Fulminator Mage》in other match ups and felt it was great against many decks. In the next version of the deck, I wanted to try in my main-deck.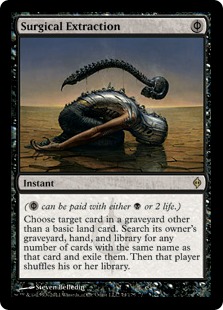 If 《Surgical Extraction》 is not as good as 《Rest in Peace》against Dredge, it is a more versatile card that you can use in many different ways. You can use it on 《Valakut, the Molten Pinnacle》 or a 《Urza's Tower》you destroyed with 《Fulminator Mage》, or remove all 《Death's Shadow》after a discard or a removal. It also doesn't conflict with your 《Lingering Souls》.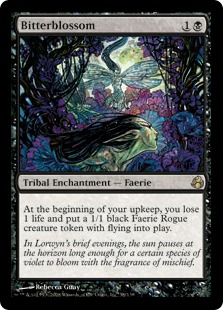 A win condition I wanted to try in the deck is 《Bitterblossom》. It is like a planeswalker which cost only 2 mana and It could help you to defend your 《Liliana of the Veil》and《Gideon, Ally of Zendikar》. The card is not good in every match-ups. I don't think you want to have 2 of it in play with only 《Shambling Vent》as a gain life card. I would start with one but if it is great, I could put more copies in the deck and use discard effect if I already got one in play.
《Gideon of the Trials》was not bad but with the addition of 3 《Fulminator Mage》, I have to take care about mana curve.
《Runed Halo》is a great card (article about it : The Real Power of Runed Halo in Modern ) but it could be weak when you are running many planeswalkers. It is great to name cards like 《Grapeshot》 or 《Valakut, the Molten Pinnacle》, but if you name a creature card and have to kill it after it is no sense. I would just like to have one in the sideboard.
Instead of playing a ton of 《Rest in Peace》, I wanted to give a try to a playset of 《Leyline of the Void》. Same here, you can discard extra copies during the game.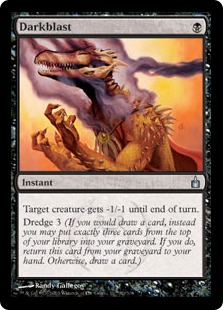 《Darkblast》is great against 《Noble Hierarch》 and 《Birds of Paradise》 decks and also Affinity. It digs you deck to find 《Lingering Souls》, but not sure it is necessary with the addition of the third 《Porphyry Nodes》.
Here is the list I would like to play next:
Black White Smallpox ver.3
Conclusion
The deck has clearly enough points to be real and competitive. I had the feeling Black White 《Smallpox》 could beat every deck but also can lose alone. Casting a 《Smallpox》 with or without 《Flagstones of Trokair》is not the same. Destroying your own lands can affect, especially when you are planning to cast《Gideon, Ally of Zendikar》.
When you choose a deck for a tournament, making innovations and using originality can surprise your opponent and give you a huge advantage. But, don't forget to be honest with yourself and do not hesitate to leave a deck if it doesn't feel good enough.
The goal is to catch your opponent not to trap yourself with a bad deck.
Hope you enjoyed to read.
Jeremy Dezani