Editor's Note: It was written before GP Lyon 2018 which Grzegorz won the whole thing with RG Eldrazi (played against Marcio Carvalho at the Finals is also notable!). Big congratulations for both of them, and enjoy the Deck Guide from the newest GP Champion!
Hello!
I finally came back home from my joint GP London 2018 – Pro Tour Rivals of Ixalan trip. Coming back without good results always hurts; it is even worse this time because I was clearly at fault. Out of the four drafts I played during GP and PT I messed up three of them. I'm not even sure why I drafted so badly. I felt decently prepared: everything was going fine, I had a good win-rate on MTGO (Magic Online) and a decent understanding of the archetypes in the format, but in the premier event's drafts I couldn't read the signals properly and due to this made way too many wrong picks.
Not everything was bad about the trip though: there is one thing that I did well and that I'm happy about and that is my deck choice for Modern. At the Pro Tour I played RG Eldrazi, a deck that our testing team brewed – and that everyone except for me discarded a few days before the event.
In the end I managed to go 7-3 in the Modern part of the PT, which was above what I expected considering the format. I'm proud that I was able to follow my gut and not get convinced to switch the deck up at the last minute. Due to this, today I have something special to show you. Exclusively for Hareruya, the deck guide for RG Eldrazi!
If you're interested in a more elaborate story of the fateful choice, you can take a look at the deck tech from Bilbao where I delved deeper into the topic.
In this article however I will focus on the strategic aspects, card choices, and a match-up analysis. You can only fit this much information into one article before it becomes unreadable and I want to fit as much useful information as possible for you, dear readers.
The Decklist
The Idea Behind The Deck:Why RG Over Tron?
Eldrazi Tron is sort-of-a midrange deck with big dudes, some disruption and hate cards. I don't particularly like this approach, since cards like 《Chalice of the Void》 can be great in some match-ups while being nigh unplayable in others. 《Karn Liberated》 is fantastic if you can get the whole Tron on turn three and pretty weak if that's not the case.
Overall there are too many things that can go wrong and in a format that's as wide as Modern I don't want to give my opponents time to do their things just because I drew the wrong part of my deck (my lands don't match with my threats, or my answers don't match with their threats).
RG fixes that issue in several ways. First of all, you have almost no cards that have the potential to be dead. Worst case scenario you can 《Lightning Bolt》 your opponent's face, so main deck there are only two copies of 《Dismember》 that you will be unable to cast against decks with no creatures like Lantern Control.
RG Eldrazi is also much faster than Eldrazi Tron thanks to the five mana dorks and eight haste creatures. Turn four kills are completely normal with this deck – even through one removal spell. 《Ancient Stirrings》 makes the deck very consistent as well – it helps with finding 《Eldrazi Temple》 or just searches for a threat when you have enough lands already.
The last thing going for RG Eldrazi was the surprise factor – the deck was not played and the decklist was not known. My opponents at the PT made a lot of mistakes, simply because they didn't know what cards I played. I killed a lot of 《Death's Shadow》 with 《Grove of the Burnwillows》 and won unwinnable games with 《Eldrazi Obligator》 because people didn't expect it. I even faced 《Meddling Mage》 naming cards that I didn't have in my 75.
Card Choices Explained
Ah, the classic Eldrazi package! Not much to add besides the fact that I didn't see any Eldrazi deck that was not playing the 12 of the basic Eldrazi.
The MVP of the deck. Makes it way more aggressive and allows for huge swings in the mid game. It's an all star against creature-based decks, but it's also a great follow up after 《Noble Hierarch》 against control and combo decks. A 4 power haste creature attacking on turn two is always going to be good against them.
A good way to fill the curve when you don't draw your nuts draw. It also is the only two drop that remains useful in the late game, so there's no reason to feel unhappy about casting an Eldrazi on curve, as 《Scavenging Ooze》 will provide value later in the game anyway. Graveyard interaction is important in current Modern, so having access to it maindeck is nice.
Acceleration, plain and simple. Really important for the deck, as they kinda count as 5th-9th 《Eldrazi Temple》.
A solid late game finisher offering a lot of utility. Sometimes – especially against 《Tarmogoyf》 decks – games stall out and 《Endbringer》 is the best way to pull out ahead in that situation.
《Demonic Tutor》 couldn't make it, but we got the next best thing. A big part of why this deck is so good is it's consistency, and this card allows for that.
Some early interaction is necessary – and another reason why I prefer RG over Tron. You have a lot of cheap interaction against creature decks. All of your removal costs one mana, so it's very easy to play double spells and gain tempo advantage. Against non-creature decks the Bolts provide some additional reach which is relevant more often that not considering how aggressive RG Eldrazi is.
Certainly worse acceleration than one mana dorks, but it's our only game one insurance for 《Blood Moon》. With 4 《Ancient Stirrings》, one-offs like this are workable as they allow us to find 《Mind Stone》 when we need it. Worst case scenario – we can just cycle it.
Tips And Tricks
《Grove of the Burnwillows》 – your best weapon against 《Death's Shadow》. Mana abilities don't go through the stack, so if your opponent doesn't expect this card – and it happened at the PT – you can just play 《Grove of the Burnwillows》 from your hand and add colored mana to kill 《Death's Shadow》 instantly. Your opponent cannot crack a fetch land or cycle 《Street Wraith》 in response to this.
《Eldrazi Obligator》 – since we're talking about killing 《Shadow》 – you can simply do it with this card. After stealing 《Death's Shadow》 his Power/Toughness refers to your life total, so if you're above 12 life the 《Shadow》 dies to state based effect. It's worth noting that even though you killed his 《Shadow》, your opponent won't get revolt for 《Fatal Push》 – technically 《Shadow》 died on your part of the battlefield.
Just remember that you can't use 《Eldrazi Temple》's second ability to pay for 《Obligator》's triggered ability (you can pay for 《Obligator》 itself though), so if you have one 《Mountain》 and two 《Eldrazi Temple》, you won't be able to steal a creature this turn.
《Cavern of Souls》 – in the match-ups where you don't expect countermagic it's worth to name "Ooze" or "Human" with 《Cavern》, as it fixes your mana better. You will name "Ooze" is more often because you don't have all that many green sources and casting 《Scavenging Ooze》 from 《Cavern》 gives you one more activation that turn. If you name "Human", casting 《Noble Hierarch》 from 《Cavern》 instead of 《Karplusan Forest》 might be also relevant against aggressive decks.
《Noble Hierarch》, 《Birds of Paradise》 and colored mana – remember that mana dorks can provide you with third color of mana for 《Engineered Explosives》, so you can blow up their 《Blood Moon》 if you have a 《Hierarch》. You can also save two life for 《Dismember》 with 《Birds of Paradise》.
《Kessig Wolf Run》 – it's obviously a great late game utility land, but other than that it also kills 《Phantasmal Image》. Simply tap red, green, and target 《Image》 with X=0 to grant it +0/+0 and trample. Pure profit! 《Endbringer》 works the same way against 《Image》 – pinging it for one is enough to kill it regardless of what creature it copies.
《Ancient Stirrings》 – always remember what you put on the bottom of your library. The order doesn't matter (unless you're playing against Lantern Control or some kind of mill, of course), but it helps you predict what you can see with another 《Stirrings》. It might be useful to make the correct decision about how you want to play a given turn.
You also have 2 《Wooded Foothills》 in your deck so you should know if you want to crack it before you cast the next 《Stirrings》 – or maybe not crack it at all if you have enough mana sources and you put 4 lands on the bottom already.
Common Match-Ups.
To describe the match-ups I'll use a simple scale:
Below I'll list some useful tips on how to play and sideboard against the most popular decks in Modern. For the less popular decks (judging by statistic aggregated on mtggoldfish) that I don't have an extensive experience I just list how I believe they stack against RG Eldrazi, just to provide some insight about what you can expect before picking up this deck for a tournament.
UW Control / Jeskai Control – Good / Great
Both decks feel very similar to play against. Jeskai is the better match-up because they have more dead or weak cards like 《Lightning Bolt》, and have less – often none – mass removal in the main deck.
《Cavern of Souls》 naming "Eldrazi" is the best card in this match-up. You should play it just before you casting an Eldrazi spell out of it to avoid counterspells – they can deal with lands by means of 《Field of Ruin》 or 《Spreading Seas》 (the latter is especially true for UW).
Remember that if they play 《Runed Halo》 naming your 《Thought-Knot Seer》, you won't be able to target them with any trigger so they also won't be able to draw a card when 《Thought-Knot Seer》 leaves the battlefield.
They don't have creatures that are worth stealing so you should cast 《Obligator》 as soon as possible and use it to push through more damage. Beware of 《Electrolyze》 from Jeskai – you usually don't want to have two 《Obligator》 on the battlefiend against them at the same time.

Against UW Control

Against Jeskai Control
《Natural State》 is useful against UW Control because of 《Runed Halo》, 《Search for Azcanta》 and 《Spreading Seas》.
《Dismember》 is OK because it deals with 《Celestial Colonnade》 and 《Gideon of the Trials》.
Grixis Shadow – Great
I had over 80% win-rate against them on MTGO before the PT. Obviously a big part of the win-rate comes from the surprise factor, but even if your opponent knows what to expect the match-up is still very much in your favour.
Our best cards here like I mentioned earlier are 《Eldrazi Obligator》 and 《Grove of the Burnwillows》. You should try to keep your opponent's life total high even if there is no 《Death's Shadow》 on the battlefield. 《Shadow》 is the only relevant threat against you and if you can slow him down to set up a good turn with 《Eldrazi Obligator》 you're in a great spot.
The 《Death's Shadow》 players sometimes bring themselves to low enough life total that it allows you to kill them with a single random attack and a 《Lightning Bolt》 to the dome.
Still, the match-up is skill intensive and you should practice it before playing a tournament. It's very important to get a feeling for when you should start attacking. The rule of a thumb is that you usually should do that if you can kill your opponent in two turns at most or you have an 《Obligator》 prepared for the next turn. The decision making here is way deeper than that and depends upon a multitude of factors.

Against Grixis Shadow
5C Humans – Bad
One of the more popular decks in the format is unfortunately one of the worst match-ups for RG Eldrazi. Their fast clock, big creatures and 《Reflector Mage》 can be a nightmare for us. The match-up is still winnable though – luckily I went 2-0 against Humans at the PT – but it's definately bad for us.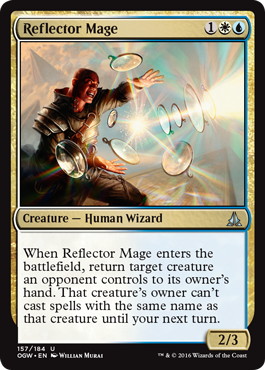 The best way to win the game is to be as aggressive as possible and race them hoping they don't draw 《Reflector Mage》. Don't waste removal other than 《Forked Bolt》 on 《Noble Hierarch》 – it's very important to kill the first threats instead of mana acceleration. Humans are very good in curving out anyway, so it's better to kill a 《Mantis Rider》 or 《Champion of the Parish》 and buy more time instead.

Against 5C Humans
Burn – Slightly favored
It's very dice roll dependent. On the play you are highly favored, but on the draw you can often be too slow if they get a reasonable draw. Eldrazi creatures are big enough to kill him in a hurry and if they are forced to waste a burn spell not named 《Searing Blaze》 on your creatures it's really hard to lose.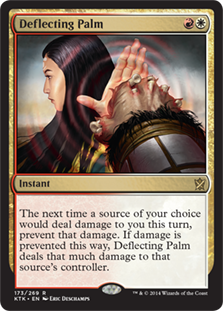 Post-board be aware of 《Deflecting Palm》 – it's a great card against you and often the best target for 《Thought-Knot Seer》.

Against Burn
《Kozilek's Return》 is not great, but you have to board-out both 《Dismember》.
Affinity – Slightly favored
Game one is usually a coin flip with RG Eldrazi being the underdog ever so slightly. As is usual with Affinity, post-board everything changes. Other than 《Blood Moon》 they don't have a good sideboard vs RG Eldrazi and we have a bunch of artifact hate cards.
Do not use removal on irrelevant creatures – you don't have to kill everything to win a game and your creatures are outclassing 《Memnite》 and 《Ornithopter》 anyway. If you have a choice between killing something with a 《Lightning Bolt》, 《Dismember》, 《Ancient Grudge》 or 《Natural State》 – use removal in that exact order.
《Lightning Bolt》 is the worst so it should be used first to kill whatever creatures. 《Dismember》 is better simply because it kills bigger creatures and stacks better vs 《Arcbound Ravager》 and other big creatures. 《Ancient Grudge》 is your premium removal because it can kill 《Cranial Plating》 in addition to everything I mentioned before and 《Natural State》 is the best since it also kills 《Blood Moon》.
It's important to remember that 《Obligator》 always kills a 《Ravager》 – for some reasons if your opponent doesn't sacrifice 《Ravager》 in response to your trigger, you can sacrifice him for himself even if you have no other artifact creatures.

Against Affinity on the Play

Against Affinity on the Draw
《Chalice of the Void》 is good on the play and always cast for X=0.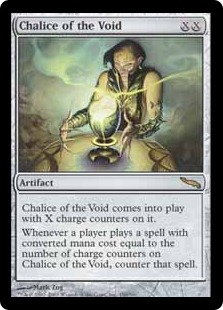 BG Tron – Even to Slightly favored
Most often it comes down to turn three Tron: if they have it, you will most likely lose and if they don't you're fast enough to just kill them. The match-up is relatively easy to play, just put out as much pressure as possible and try to finish the game before they can set up big plays.
《Expedition Map》 is a very good target for artifact removal as long as they don't have enough mana to fire it. The second best target is 《Oblivion Stone》.
《Obligator》 is a great way to steal 《Wurmcoil Engine》 or kill 《Karn Liberated》 the turn after he plays it so unlike the UW/Jeskai Control match-up it's often better to keep with the intention of stealing something – unless you have a second copy in hand.

Against BG Tron
UR Storm – Even
Their nuts draw wins against your nuts draws, but other than that the games are really fair. You have 《Thought-Knot Seers》 which as per usual are MVP against Storm and cheap removal for Storm's mana dorks. You also sport graveyard hate postboard.
Try to be fast, and always kill 《Baral, Chief of Compliance》 and 《Goblin Electromancer》 as soon as possible.

Against UR Storm
《Engineered Explosives》 is mainly boarded-in for 《Empty the Warrens》, but it's also a backup plan for 《Blood Moon》.
Do not board in 《Natural State》 for game two, but if you see a 《Blood Moon》 on the other side, it's fine to board it in for game three.
Other Popular Match-Ups
As for the less popular match-ups, I feel that RG Eldrazi generally stacks up against them like this:
| Deck | Congeniality |
| --- | --- |
| Grixis Control | Very good |
| Mardu Pyromancer | Very Good |
| Eldrazi Tron | Good |
| Dredge | Good |
| Traverse Shadow | Good |
| BG Midrange | Good |
| Abzan | Good |
| Titan Shift | Slightly favored |
| Bant Knightfal | Slightly favored |
| Counter Company | Even |
| Lantern Control | Even (game one is terrible but postboard games are fine, so don't be afraid to concede game one if they get a soft lock, to save time for games two and three) |
| UR Madcap Moon | Even (always keep 《Obligator》 for 《Platinum Emperion》) |
| BW Eldrazi Taxes | Slightly unfavored |
| Infect | Slightly unfavored |
| UR Pyromancer | Bad |
| BR Hollow One | No idea, but I expect it to be bad |
| Bogles | No idea, but I expect it to be bad |
| Living End | Truely no idea |
| Ad Nauseam | Truely no idea |
What About The Unbanning?
《Jace, the Mind Sculptor》 and 《Bloodbraid Elf》 were unbanned on 2018-02-12. What does the mean for RG Eldrazi?
The cards don't affect our deck directly – I don't expect 《the elf》 to be playable in this deck, despite it being in the right colors. 《Jace》 is a powerful card against us but to be honest it fits only into decks that are our great match-ups.
If the unbanning increases the popularity of those decks it's going to be great news for us. With eight haste creatures, and 4 《Lightning Bolt》, there is still a lot of ways to answer this powerful planeswalker.
Summary
The deck is very powerful and has a lot of ways to surprise and outplay your opponents, which makes it fun to play – at least in my opinion.
I can honestly recommend it to anyone who wants to try something new. I believe that RG Eldrazi won't let you down! If you have any questions, please don't hesitate to ask me on Twitter – I'll do my best to answer everyone!
Until next time,
Grzegorz Kowalski.